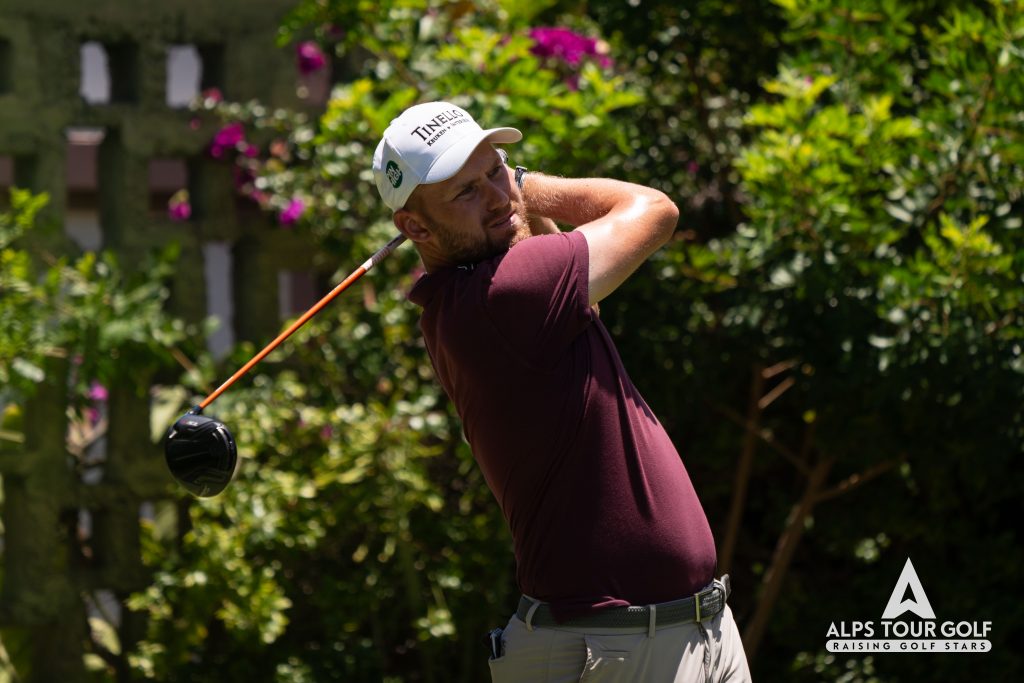 28th July 2023 | Alps Tour Golf
Davey Porsius moves into the lead after a 62 in Round 2 at the 2023 Abruzzo Alps Open.
Round 2 Notes
Miglianico Golf & Country Club
Pescara, Italy
27
th
-29
th
 July 2023
Alps Tour Media Contact: [email protected]
Leaderboard

| | | |
| --- | --- | --- |
| Pos. | Name | Score |
| 1 | Davey Porsius (NED) | -12 |
| 2 | Oihan Guillamoundeguy (FRA) | -9 |
| 3 | Manfredi Manica (ITA) | -8 |
| | Franck Medale (FRA) | -8 |
| | Xavier Poncelet (FRA) | -8 |

Quick Links
---
Davey Porsius moves into the lead after a 62 in Round 2 at the 2023 Abruzzo Alps Open. 
Miglianico, July 28th 2023- 
After two rounds at the 
2023 Abruzzo Alps Open, 
Netherland's 
Davey Porsius
 is the tournament leader with a two-day total of 12 under-par. France's 
Oihan Guillamoundeguy
 is in solo 2
nd
 place with a total score of 9 under-par. There is a three-way tie for 3
rd
 place at 8 under-par that includes Italy's 
Manfredi Manica
 and French duo: 
Franck Medale
 and 
Xavier Poncelet
.
It was another beautiful day with great scoring opportunities for the players competing at Miglianico Golf & Country Club in the Abruzzo Region for the 2nd round of the 2023 Abruzzo Alps Open. The weather conditions were very favorable with sunny skies, a warm temperature and some light winds. Play began at 7:30 am from both the 1st and 10th hole. This is the 9th edition of the 2023 Abruzzo Alps Open.
Round 2 Player Quotes
Davey Porsius, 27 years old from Netherland shot an incredible 8 under-par, 62 in today's round for a two-day total of 12 under-par to find himself in the lead ahead of the final round. He was in a 7-way tie for 3rd place after the opening round, but he made 9 birdies and 1 single bogey during his 2nd round to move into the lead. He currently is 13th in the Order of Merit rank and looks to make a move towards the top 5 spots. Porsius became an Alps Tour winner when he captured the 2022 Hauts de France-Pas de Calais Golf Open title last spring and now looks forward to trying to capture another win. After the round, Porsius commented on how "I hit it a little bit better than yesterday but was able to hole some nice putts during the round which is always good, I enjoyed it for sure. Today was a really good day, I mainly focused to hit one shot at a time and it works nicely. I feel like the wind was less strong than yesterday, maybe it was just the difference in the two waves but that made it a bit easier but the conditions overall were quite similar to yesterday." When preparing for tomorrow's final round, he plans to "rest and do some stretches, I want to make sure my body stays in good shape." Porsius got ill right before the start of the 2023 Croara Alps Open, subsequently he had to miss out on a few events, "it would mean so much to win tomorrow, after getting sick, I knew I needed to play well the remaining tournaments to get into the top 5 in the Order of Merit rank. A 3rd place in Tenerife and a win this week would mean I can skip first stage of DP World Tour Q-School and would put me in position to have a better chance of making it to the Challenge Tour next year."

France's Oihan Guillamoundeguy who is just 18 years old, who was tied for the lead after yesterday's 1st round, finds himself in 2nd place with a two-day total of 9 under-par after today's round 2. He shot a 4 under-par, 66 today with 5 birdies and 1 bogey. Guillamoundeguy represents Golf Club Seignosse and is a past winner on the Alps Tour as he captured the 2022 Red Sea Little Venice Open title when he was still an amateur player.  He then turned professional at the end of 2022 and this is his first season as a professional player. After the round, Guillamoundeguy proudly commented: "that today was a great round. I take the momentum from the 15th hole for my great finish. I can say that my long game was definitely better than yesterday however my putting wasn't as sharp."  He went on to add that he finds Miglianico Golf & Country Club, "in good shape. The greens are slightly soft but they were better today even though I didn't make as many putts. My strategy was good and I will stick with the same plan tomorrow. I will try to just be myself in the final round and play the golf I know I can play and see what happens. I've been playing well but need to put all pieces together to try and earn my first professional win."
Twenty-seven years old, Manfredi Manica from Italy, winner of the 2023 Aravell Golf Open by Creand, was tied for 19thplace yesterday but is now in a three-way tie for 3rd place with a total score of 8 under-par. He followed his opening-round of 2 under-par, with a bogey-free 6 under-par,64 in the second round for a two-day total of 8 under-par. During today's round, he made 6 birdies. After his round, Manica was very pleased, "I played very solid today especially my long game. I found that the course was playing slightly easier today. There was less wind and the pins were more accessible like the 6th and 8th hole."

France's Franck Medale is also in the three-way tie for 3rd place with a two-day total of 8 under-par alongside Manica. He is 28 years old and represents Golf Espalais. Medale is a winner on the Alps Tour as he captured the 2021 Open de La Mirabelle d'Or. He has earned various top 20 finishes so far this season but is looking to breakthrough and earn another win. During today's 2nd round, he made 1 bogey on the 5th hole and 5 birdies for a 4 under-par,66. Following his 4 under-par, Medale commented: "it was a solid round, I made good decisions the entire day. Unfortunately, I missed a few opportunities that would have made it an even better round. I feel like I just have to keep putting myself in good position and let the putter do his magic to hopefully win another tournament."

Xavier Poncelet from France is the third player in the three-way tie for 3rd place with a two-day score of 8 under-par. He shot a 5 under-par, 65 in today's second round where he made 2 bogeys and 7 birdies. Poncelet has earned a win and various top 5 finishes over the years in his Alps Tour career. When he completed today's round, Poncelet was very happy with the way the day went and he found "today was very hot. I overall played well today and can't really point out anything specific. It was a fun day where I thoroughly enjoyed shaping the ball and putting a good round together."

First-round leader, Spain's Victor Garcia Broto shot a 2 under-par, 68 today and finds himself in 6th place with a two-day total of 7 under-par.Final Round
The final round of the 2023 Abruzzo Alps Open will begin at 8:00 am local time from the 1st and 10th hole.
A total of 55 players (46 pros and 9 amateurs) made the cut which was set at 139 (-1). The final group will tee off at 9:40am local time from the 1st hole.
The winner of the 2023 Abruzzo Alps Open, will earn the winning check of €5,800 and 6,525 Order of Merit points.
Tournament Promoter
Like the majority of the Alps Tour events that are played on Italian soil, the 2023 Abruzzo Alps Open is organized by the Italian Pro Tour, which is a branch of the Italian Golf Federation. They are responsible for promoting the majority of the professional golf events that occur in Italy.
The main sponsors that support the Italian Pro Tour include DS Automobiles, Fideuram Intesa SanPaolo Private Banking, Kappa, Rinascente and Poste Assicura. In addition, Dipartimento per lo Sport, is the Institutional Partner of the Italian Golf Federation for the 2023 Ryder Cup. Their media partners are the following two Italian newspapers: Corriere dello Sport and Tuttosport. The Italian Pro Tour featured social partner is Sport Senza Frontiere Onlus and with an official advisor, Infront Italy.
Follow along on www.alpstourgolf.com or the official "Alps Tour Golf" app to keep up on all the latest news (available on App Store for iOS devices and Play Store for Android).
#risinggolfstars
#raisinggolfstars
18th May 2019 | Alps Tour Golf
Timon Baltl wins Gösser Open with course record
18 May, 2019 – Maria Lankowitz (Aut) – With four Austrian players in the top ten positions, home crowd had all the reasons to flock to Golfclub Erzherzog Johann to attend the final day of the 27th edition of Gösser Open. And they certainly weren't disappointed, as the youngest and most promising of their local heroes, Timon Baltl, went around the 18 holes with an exciting course-record 62, 10 under par, and could finally grab the coveted trophy – and the 6,162 Euros cheque – with a three-strokes advantage over his nearest contender, experienced Frenchman Xavier Poncelet.
« It was such an amazing experience to get first win on Alps Tour at home – said Baltl, 24, who is on his third season on our satellite circuit – probably I couldn't choose a better tournament to win ! It's really unbelievable for me, having my dad on the bag (Max Baltl, a pro himself) and my mom watching makes this feel even better». About his 62 (-10) on the last round – with eagle on the start hole and then 9 birdies and one bogey – Timon explained : « It was a really really good round, I've almost made every putt, it was crazy ! Everything was falling into the right places. I was minus 3 after 2, I was hoping for such a start then I knew I could have a chance if I just could keep it going ; I've tryed not being distracted by the situation and the crowd, of course I was really nervous since the second hole, but somehow I kept my composure and kept playing shot by shot. The bogey I had on the 16 was certainly a bit of lack of concentration, I don't like the tee shot on that hole, I've sliced the driver into the water hazard and went for the safer solution – I've might have chipped out on the fairway and go from there to the green and try to save a par, but I preferred to go back and drop ». It was a wise choice in the end, since the advantage he had from the other players was big enough and his confidence was strong : « I haven't counted how many putts I've hit in all, but in the back 9 they were 11 I think ! ».
It was a great tournament also for Xavier Poncelet, 33, who confirmed his good and consistent form improving round after round (70-66-64, -16) and finishing with a bogey-free -8 which moved up his ranking to a solo second place.
In third position at -15, another Austrian player, Clemens Prader, 40, tied with young French amateur Jeong Weon Ko, 21, who has been showing his talent with two places in the top 20 in the two previous tournaments he played : « I'm suprised by the strong level of the fields on the Alps Tour – he said – I realized that I really have to score low if I want to be in contention ! ». He certainly shows a high rate of maturity in his game, with just one bogey in three rounds (the first day), one eagle and 14 birdies – one of our rising stars to watch !
The 8th tournament on the 2019 Alps Tour season was promoted by the Murhof Gruppe (www.murhofgruppe.at) and could count on the support of partners such as Gösser Beer, Lipizzaner Heimat, Austrian Golf Federation (www.golf.at), the city of Maria Lankowitz (Wallfahrtsort Freizeitparadies) and Steiermärkische Sparkasse, and as media partners Gepa Pictures, Antenne Steiermark, Kleine Zeitung.
The Alps Tour schedule resumes in just four days in Italy when the 6th edition of Memorial Giorgio Bordoni presented by AON will take place at La Pinetina Golf Club, near Como, with a prize fund of 40,000 euros.
Final round results: click here
Order of Merit : click here
Stay tuned! www.wp-alpstour.ocs-sport.com and the app « Alps Tour Golf » (on App Store for iOS devices and Play Store for Android) will keep you updated on every news about Alps Tour.
Instagram @alpstourgolf
Facebook @Alpstourgolf Satellite
Twitter @AlpsTourGolf
9th May 2019 | Alps Tour Golf
Perfect day to score low at Valdeluz, four share the lead at -10
Contenders of the Alps de Las Castillas in Spain took advantage of the perfect weather conditions to go low in the first round at Golf de Valdeluz (Guadalajara). Chill and strong winds experienced yesterday during the Pro-Am (won by the team of Italian Luca Cianchetti) gave way today to sunshine and milder temperatures, more appropriate in this season and in this part of the world, and 117 players scored under par (out of 144).
The course, situated some 60 km North-East of Madrid, showed some kindness to most of the players, leaving them plenty of birdie chances – statistics report a total of 843 birdies and 53 eagles on 18 holes – with only few bogeys (299) to stain their cards. On top of the leaderboard seat four players: a duo of young French rookies, Pierre Pineau, 19 years old from Paris La Boulie and Edgar Catherine, 20, from Aix-en-Provence, who returned two very similar bogey-free scores, both with eagle on hole 11 (a par 5) and eight birdies; Order of Merit leader, Spaniard Sebastian Garcia Rodriguez, 30, with one eagle (hole 14), one bogey (hole 17) and 9 birdies; and experienced Frenchman Xavier Poncelet, 33, from Bordeaux, who finished his front nine with an eagle-2 at hole 18 and totalled eight birdies, five of them in a row towards the end of his round, from hole 4 to 8.
« It was pretty good round – sayd Pineau, who has played 4 out of 6 tournaments in-money with 2 top-tens – my long game was not great today but chipping and putting was very solid. I made a good eagle on 11 holing a 5 metres putt, and a 20 mt putt on 17 for birdie brought me to minus 9, giving me the sprint to finish with another birdie on 18. Tomorrow's strategy will be the same as today, hit as many drivers as I can trying to repeat the same solid short game ».
« I didn't have to make really long putts today – said Edgar, number 35 in the Order of Merit after six tournaments – the longest were from 5 metres at hole 6 and 10 metres for par at 16, otherwise I was generally pretty close to the hole. My eagle came after a super drive, 136 mt to the flag, I hit my wedge at 1.5 metres and made the putt. All my game was pretty regular and tuned today, during my practice rounds I realized that the course could give good chances to score low – which is always good fun in tournaments! – and I thought that I should try and be among those who would go a lot under par… which I did, so I'm happy I've reached this first goal ».
« I've played very well and solid the whole day – said Garcia Rodriguez, who won three weeks ago in Italy and was second in a Challenge Tour event in Spain, last week – the course is in good conditions and I could hit the ball the way I wanted. It's obviously a favourable moment for me, I'm trying to accumulate as many points as I can in order to keep the top positions in the Order of Merit and have an easier second part of the season for grabbing one of the card for the Challenge Tour ».
« Today? It was obviously very good!! – loughed Poncelet, who debuted in the Alps Tour in 2009 – my driving above all, but everything worked really well, I've hit 18 greens in regulation or better. Tomorrow I think it will depend much on the wind, today in the afternoon it picked up quite a lot – I haven't played this course with no wind yet, so we will see. This year I didn't start the season at my best, I think I was still suffering from the final place of last season – one outside those admitted to the Challenge Tour – so I've changed a couple of things during the winter, and now all the pieces are finally coming together ».
Alps de las Castillas, promoted by JGolf 18.0, is possible thanks to the Royal Spanish Golf Federation, Castilla La Mancha Federation, Castilla y León Federation, La Liga 4Sports, the Consejo Superior de Deportes, and the collaboration of Kyocera, Bodegas Barbadillo (official wine), Agropecuaria Fraile, Asendia, Volvo Auto Elia, Wilson Staff, IT Regalos.
1st round results: click here
2nd round draw : click here
Stay tuned! www.wp-alpstour.ocs-sport.com and the app « Alps Tour Golf » (on App Store for iOS devices and Play Store for Android) will keep you updated on every news about Alps Tour.
Instagram @alpstourgolf
Facebook @Alpstourgolf Satellite
Twitter @AlpsTourGolf
4th April 2019 | Alps Tour Golf
Poncelet leads at -6 after first round at Katameya Dunes
A new venue is hosting the final leg of the Egypt Winter Series, the Katameya Dunes Open, on magnificent Lakes course of Katameya Dunes, part of the Westin Cairo Golf Resort in New Cairo.
After the Dreamland Pyramids Open, played on Dreamland course and won by Austrian Lukas Nemecz, and the New Giza Open played on spectacular New Giza Golf and won by Italian Lorenzo Scalise, now the 125 players in the field at Katameya Dunes are competing in the last of the Egyptian series event for the 40,000 euros prize money and for accumulating precious points to climb the ranking.
After the first round, the best of them all was experienced Frenchman Xavier Poncelet, 33, who was very consistent with three birdies on the back nine (he started from hole n. 10) and three more on the front nine, for a total of 66 (minus six). « I'm really happy about the way I've managed the course, there was quite a lot of wind especially towards the end and it was not easy. I did not make any mistake with the putting, when I was far away I've always two-putted, so I'm quite satisfied of my day. The course is very good, you need to avoid the bunkers because they're pretty difficult, the sand is different from the other courses and you need to be patient on the green, they're quite fast ».
Two players are sharing the second position at -5, Italian Luca Cianchetti, 23 (8 birdies and 3 bogeys in his scorecard) and surprising French amateur Victor Trehet, 21 (7 birdies and 2 bogeys for him) who was playing in one of the last groups of the day.
« I've started from hole n. 10 with a bogey but I've recovered straight away with two consecutive birdies wich gave me a lot of confidence » said Cianchetti, who in 2015 won the Abruzzo Open when still an amateur and the following year won the European Amateur Championship. « In fact I was able to hit the ball well from the tee, giving me many chances of scoring on this beautiful course. I love it, it is a bit more difficult than the two others we've played before here in Cairo – Dreamland and New Giza ; here you have more trees along the holes so I think you need to be more careful with your shots, and the greens are a bit faster and more complicated, with many slopes.
Only 16 players finished their round under par ; tomorrow at the end of the day, only the top 40 and ties will be admitted to the final round to share the prize money at stake.
First round results: click here
Second round tee times: click here
Stay tuned! www.wp-alpstour.ocs-sport.com and the app « Alps Tour Golf » (on App Store for iOS devices and Play Store for Android) will keep you updated on every news about Alps Tour.
Instagram @alpstourgolf
Facebook @Alpstourgolf Satellite
Twitter @AlpsTourGolf
16th October 2018 | Alps Tour Golf
Alps Tour Grand Final concludes 2018 season
Rising golf stars of the Alps Tour are heading this week to Lake Maggiore (Italy) for the culmination of the 2018 season, the Alps Tour Grand Final. 
The top 50 players of the Order of Merit, the Alps Tour official season ranking, will compete against each other starting this Thursday to determine the overall winner of the 2018 season. 
On top of being in the top 50 following the last tournament of the regular season (the Abruzzo Open), players must also have played in at least 6 tournaments in 3 different countries this season to be able to take part in the Grand Final. 
At the end of this week's Grand Final, the top 5 of the ranking will take a full category on the Challenge Tour next year. As an amateur, Adria Arnaus won the 2017 Grand Final and finished first in the Order of Merit. Arnaus is currently ranked 9th overall on the Challenge Tour and will play on the European Tour next season. 
Santiago Tarrio, the leader of the Order of Merit with 26,702.45 points, will not participate in this week's Grand Final as he's been invited to play in the European Tour's Valderrama Masters in Spain. « I'm sad not to be able to play in the Grand Final. I like the course very much and I feel very welcomed there. But there are tournaments I can't turn down » Tarrio said.      
«  I can't wait to start playing on a course where I have played well there twice finishing tied for 6th (Des Iles Borromées Open 2018) and tied for 9th place (Grand Final 2017) » England's Marcus Mohr, who is ranked in 4th place in the Order of Merit, said. «  I said at the start of the year that I wanted to give myself a chance and I have » he continued. «  I will be nervous and excited when the Grand Final starts on Thursday but I know that if I play my game, I will come out where I deserve to be at the end of the week » Mohr concluded. 
«  I just want to end the season with the same state of mind I've had all year long, that is determined and at the same time serene » Frenchman Xavier Poncelet said. Poncelet is ranked 5th in the Order of Merit but is closely followed by David Borda (ESP) who is 133,44 points behind him.  
The €45,000 prize money tournament will be played over 72 holes of traditional stroke. But because it is the Grand Final, 70 000 points will be distributed to give the opportunity to players not in the top positions of the Order of Merit to jump in the top 5 with this last tournament. The winner of the Grand Final will get 11,000 points while the runner up will grab 7,000 points. 
This is the second year in a row the Golf Des Iles Borromées is hosting the Grand Final. It is also the second time this season the Alps Tour makes a stop at the Golf Des Iles Borromées after a tournament played there at the end of July. 
The Golf Des Iles Borromées, a 18-hole par 71 golf course located 500 meters above sea level, is surrounded by beautiful nature and an exceptional flora. The course has spectacular views of the Swiss Alps and of the Ticino Plain. From the 18th tee, one can see the skyline of Milan and four lakes: Lake Maggiore, Lake Varese, Lake Monate and Lake Comabbio. The Golf club is also the home of a very dynamic junior school managed by a former player of the Alps Tour, Federico Colombo.
19th June 2018 | Alps Tour Golf
Open International de la Mirabelle d'Or is next up
Rising golf stars of the Alps Tour are making their way to Metz (France) this week for the Open International de la Mirabelle d'Or June 21st through June 24th. 
144 players, including 76 Frenchmen, are scheduled to gather at the Golf de la Grange aux Ormes to take part in the tournament which celebrates this year its 15th anniversary. The golf course features 27 holes spread over two complementary paths, Burnt Wood (18 holes) and Le Breuil (9 holes). The Domaine de la Grange aux Ormes offers a quality golfing environment in a friendly atmosphere where everyone can satisfy his passion in the best conditions.  
Defending champion Maxime Radureau (FRA) as well as past winner Xavier Poncelet (FRA) have entered the tournament.  
The €45,000 prize money tournament is played over 72 holes of traditional stroke. Following a cut after 3https://twitter.com/OsoBogehttp://osobogey.com/6 holes, the top 40 and ties will qualify for the final 2 rounds of the tournament. 
The mascot @osobogey will be on site on Friday to entertain 300 school kids from the area. 
21st July 2017 | Alps Tour Golf
Poncelet took the lead heading to final day
France's Xavier Poncelet shot second round 68 for -13 total after his opening day with 63 at Lignano Open. A group of 3 players is one shot behind, Austria's Markus Habeler and Frenchmen Raphaël Marguery and Fabien Marty.
Overnight leader Italian amateur Giacomo Fortini could not keep the pace after his amazing score, 62. He shot 73 today. The course struggled to defend itself against high level of game. The cut felt at -4.
Maxime Radureau, currently at 6th place in the ranking missed the cut and Julien Brun, 7th, is playing on Challenge Tour in France so the opportunity for Thomas Elissalde and Lukas Nemecz is real to enter the top 6 after this event and get an exemption for European Tour Q School and go directly to Stage 2.
16th February 2017 | Alps Tour Golf
Brun claims maiden win as pro in Sokhna
France's Julien Brun claimed maiden win as pro in Egypt. He signed for 69 final round to win by one shot the Ein Bay Open with -13 total. Compatriots Xavier Poncelet and Alex Daydou are ties for second. Brun had already won a pro event as an amateur in 2012 on Challenge Tour in France.
It has been ages since it was so cold and windy in Sokhna. Rain, wind and clouds were on the menu of the final round in Egypt. The joke of the day was that weather was better in Paris or Milan. Julien Brun had a very good start despite the tough conditions.
He holed for birdie on the first hole and gained two other shot on the par 5 7th and the 9th. Meanwhile in the last group, overnight leader Alex Daydou turned 38 after first nine. He admitted he made some mistakes here and there and did not putt as well as the previous two days. He holed for birdie on the last hole to finish second, a one thousand euro putt.
His playing partner rookie Lars Van Meijel played solid and was tie for the lead on the 15th when Brun dropped a shot but the Frenchman took advantage of the last par 5 of the course and holed for birdie on the 17th. Van Meijel dropped a shot there due to a bad tee shot and a 1,5 meter putt missed for par.
In the penultimate group, Xavier Poncelet climbed on the second step of the podium thanks to back to back birdie from the 16th.
Quotes :
Julien Brun
« I started well so it helped to feel more comfortable on the back nine even if i could feel the pressure about a win. I am so happy with this win at the beginning of the season.
I missed a very short putt on the 11th. It kind of knocked me out and I struggled to get back in the pace but what is done is done and I am very satisfied with this win.
I saw the leaderboard on the 15th when I dropped a shot. I realize that there were many guys not so far away and I needed to finish well because they could finish with a hat trick of birdies. I gave myself chances, I had 3 birdies opportunities and I holed one on the 17th.
Alex Daydou
« All in all it was a good though. I played pretty well today compared to the past 2 days but I did not hole as many putts unfortunately but it happens, that is the game. I played par today, a bit disappointed with the way I started the day. It was brutal with the wind and the rain. I did what I could and I made a few mistakes here and there. On the back nine, I played really better and I managed to holed two birdies. »
Xavier Poncelet
« When I woke up this morning I saw it was very windy so I knew it would be tough conditions. I did not look too much at the leaderboard but I saw the one on the 15th and it helped me to play to some nice shots and to finish well.
I am happy because I have been working nicely with my coach -my brother- this winter. We worked less but better I think and I do lots of sports and it seemed to be the right thing. »
From Sokhna Golf Club
Agathe Séron
9th September 2016 | Alps Tour Golf
Poncelet and Elissalde neck and neck in Preisch
French duo leads heading to the week end in Citadelle Trophy International-Golf de Preisch. Thomas Elissalde fired flawless 64, -8 to tie for first place with Xavier Poncelet, 68 today.
The two Frenchmen know how to win a tournament. They both engraved their names on an Alps Tour trophy but a slight advantage could be given to Thomas Elissalde who has just won a fortnight ago in Castello di Tolcinasco Open.
Poncelet is very solid. The former Challenge Tour player has been working hard to regain his lost status. He shot back to back 68 to take the lead after two rounds. A similar energy feeds Thomas Elissalde. The player from Biarrtiz already graduated for Challenge Tour as but struggled to develop his best game. His goal is to come back stronger on upper circuit. What does not kill you makes you stronger they said.
Alps Tour leader, England's Matt Wallace shot 67 to day after shy 73. The latter made history on the mountain logo circuit. He won 5 events in a row this season and is tied for 10th place in Preisch with 2 rounds to play.
The cut felt at level par.
23rd October 2015 | Alps Tour Golf
Israel Masters 2015 – Day 1
Highlights of the first round of Edmond de Rothschild Israel Masters, the Alps Tour Grand Final, at Caesarea Golf Club. Four players tie the lead at -5 under par: Italy's Leonardo Motta, Spain's Eduardo Larranaga, France's Jean-Pierre Verselin and Xavier Poncelet.
Latest Alps Tour Golf News