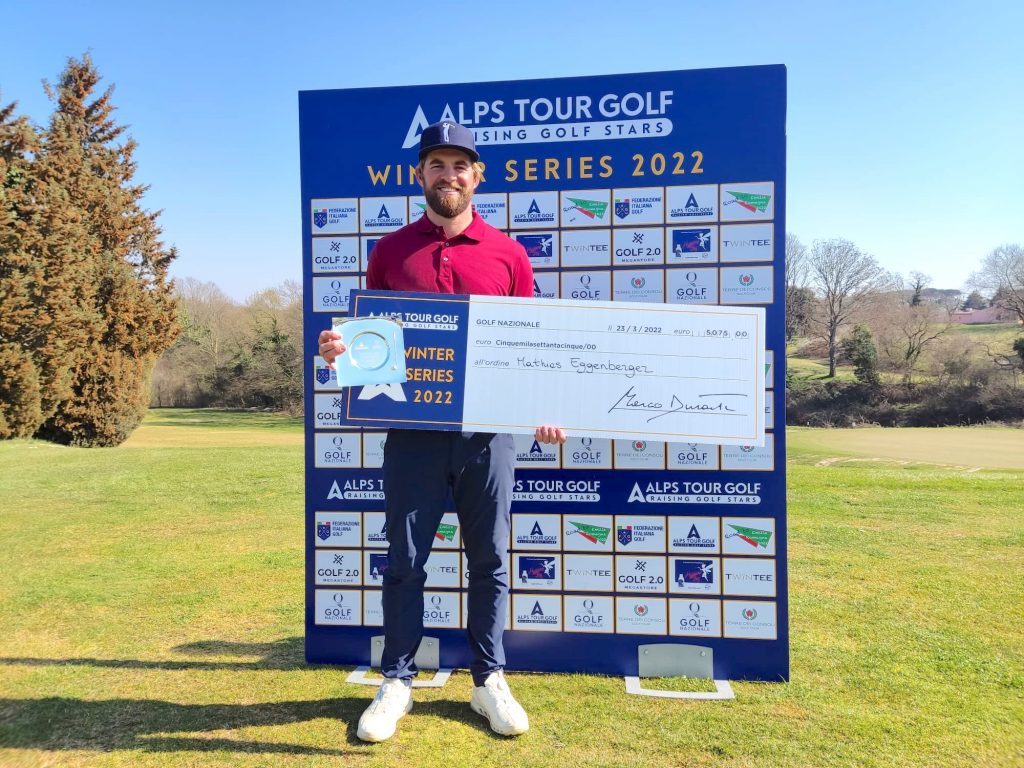 23rd March 2022 | Alps Tour Golf
Mathias Eggenberger wins the Winter Series Golf Nazionale with a 5 strokes margin
Italy, March 23, 2022 – Swissman Mathias Eggenberger wins the second leg of our Italian Winter Series at Golf Nazionale with a 5 strokes margin and a total score of 206 strokes, -10 (67-71-68).
Eggenberger, 30, who earned his card for the Alps Tour in 2018 and had his previously ever-best score right here on this very course last October where he finished 2nd at the Golf Nazionale Alps Open, maintained the lead since R1 thanks to a solid game in one of the hardest courses on the entire Tour.
He dropped only 5 strokes during the week (3 today) and managed to hole a great number of birdies (14).
Eggenberger had a tough start due to 2 bogeys on 3rd and on 4th which complicated his round but his short game was by his side. In fact, he managed to hole 7 birdies to card a daily -4, the second best score today after Tomas Bessa Guimaraes who nailed an impressive -6.
"I'm really happy. It took me a long time but it finally came. I got very close last year but now I'm simply glad I won. My next tournament will be in Pescara and hopefully I will play as good as I have been playing here. I had a really solid game along the 3 days and I managed to hole some important putts at the end which is great. I didn't know I was leading the tournament until the 18th when I looked at the leaderboard and turned out I had a 4 shots margin on the 2nd place. That made the last putt easier". 
Two golfers finished tied at the second place on -5: Dutchman Davey Porsius, 26, representing Goyer, who has been playing nicely since the start of the season, and French amateur Tom Vaillant, just 20 years old from Cannes-Mougins, who has been among the top players this year since the first tournament on the Alps.
"I'm very happy – said Vaillant. To end a tough week with 3 rounds under par is always good. This is my best result on the Alps Tour so I'm proud of it and now I'm looking forward to battle again for the win". His game has been pretty solid throughout the whole week (70-70-71) and now he is on the launch pad for the next stop at the Abruzzo Alps Open 2022.
"I had a really great start – said Porsius – and thanks to a good tee shot on 5th , where I holed a 5 meter putt, and a great up & down on 7th, I managed to close the front nine 3 under par. My putts didn't fall on the back nines but it is really good to finish on T2. I've hit really a lot of good shots and this is very important. We'll see what will happen in Abruzzo".
It is a 3 way-tie for the 4th place: Portuguese Tomas Bessa Guimaraes, 25, winner of the 2022 New Giza Open, Dutchman Koen Kouwenaar, 24, and French amateur Julien Sale, 24,  3rd in the Order of Merit, finished with a total score of 212 strokes (-4). Bessa Guimaraes carded the lowest score of the tournament during the final round thanks to a brilliant series of birdies (6), 1 eagle on 5th and just 2 bogeys on 12th and 17th.
Italian Stefano Mazzoli, who finished on 8th place on -2 due to a daily round in 74 strokes, keeps the lead of the Order of Merit after the 5th tournament of the season with 12,076.50 points. Chasing the first place there are on 2nd and on 3rd position respectively Bessa Guimaraes with 10,984.50 points and  Julien Sale with 10,768.50 pts.
Golf Nazionale confirmed once again to be one of the hardest courses of the season. Only 15 golfers ended their tournament under par with the front nine holes playing an average of 37.28 strokes and the back nines with a 37.71 strokes average.
The Alps Tour Season will move to Miglianico Golf & Country Club which will host the Abruzzo Alps Open 2022 from April 13th to 15th. All the previous winner will be attending the tournament won last year by Italian Jacopo Vecchi Fossa with a total score of 198 strokes.
Final Result: click here or check on the Alps Tour Golf app.
Stay tuned! www.alpstourgolf.com and the app « Alps Tour Golf » (on App Store for iOS devices and Play Store for Android) will keep you updated on every news about Alps Tour.
#risinggolfstars
#raisinggolfstars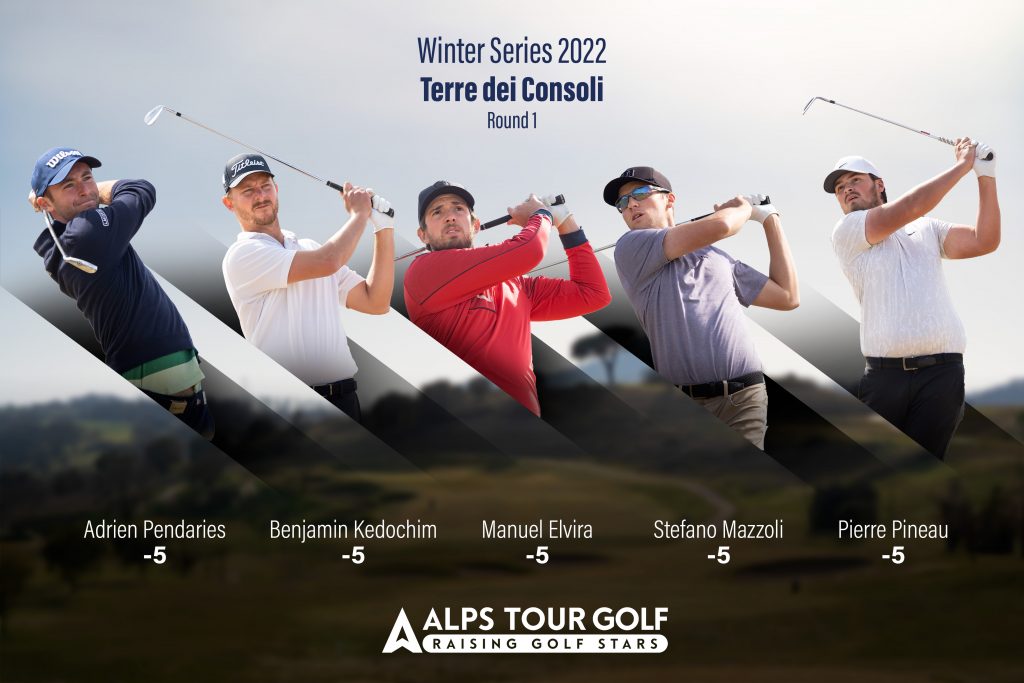 16th March 2022 | Alps Tour Golf
R1 suspended with a 5 way-tie provisional lead at Terre dei Consoli
Italy, March 16, 2022 – This morning, due to persistent fog, starting times of the Winter Series held at Terre dei Consoli Golf Club have been delayed by 2 hours and 66 players have not been able to finish their first round.
Therefore, those who played late in the afternoon today, will have to start early tomorrow morning and finish the missing holes before re-starting for R2.
It is a 5 way-tie for the provisional lead with 67 strokes: Spaniard Manuel Elvira, 25, Italian Stefano Mazzoli, 25, winner of the Ein Bay Open last February, Frenchman Pierre Pineau, 22, from Le Vaudreuil, who finished 3rd in the first tournament of the season this year at Sokhna Golf Club and his two compatriots Benjamin Kedochim from Biarritz Le Phare Golf Club, and Adrien Pendaries, son of European Tour player Marc.
Elvira concluded the front nine holes in 35 strokes with one bogey on 3rd and two birdies on 4th and 9th. Then, he scored a great bogey free back nines where he added 4 birdies on 10th, 11th, 15th and 17th.
"Today the weather conditions were perfect, a little breeze, but super nice. It was just a little bit annoying to have to wait for two hours because of the fog, but we couldn't control it. The course is in great shape, quite firm, but the ball on the greens rolled pretty good. My game was very solid specially around the greens where I made some good up & downs during the day and some good putts as well".
Mazzoli went through a solid start this morning. He made 7 pars in a row and a birdie on 8th during the front nine. Then, he went through some up and downs with an eagle on 11th and two double bogeys on 12th and 13th. However, he came out of this situation quickly, recovering with 4 birdies in a row from 14th to 17th. "Even if the rough is low, it is very important to stay on the right way. It's a shame because I made 2 mistakes on the 12th , which to me is the easiest hole on the course, and on 13thwhere I had a bad bounce and I did not manage to have an up & down. However, I'm happy with this daily score and hope to continue like this also tomorrow".
Pineau had a slow start making 7 pars in a row on the front nine but then he holed 5 birdies from 8th to 12th. "The course is very firm and it is very difficult to hit iron shots close to the pin".
Same feeling for Benjamin Kedochim who went on the roller-coaster today. He carded 3 bogeys, 1 double bogey and 3 birdies on the front nine and 2 eagles and 2 birdies on the back nine. "I've been driving and putting very well even if I've missed some fairways and some putts too. I love this course because it drives you through easier holes where you can easily make birdie to holes where if you don't hit the ball as you should, you are not gonna leave the hole safe. Just look at my scorecard. Anyway, inside 3 meters, I've holed everything, all the important putts".
Adrien Pendaries did not make lots of mistakes here during R1 at Terre dei Consoli. "I've been driving off the tee as I wanted to. The greens and the fairways are very firm and being able to have a great lie is very important". He just scored a bogey on 9thhole but he finished R1 scoring 4 birdies and 1 eagle. "Hopefully tomorrow I'll be sharper with my wedges and be able to put the ball closer to the pin. It is such a fun to play here".
French Julien Sale, who has been one of the best amateur player in Egypt, finishing on 3rd place at 2022 New Giza Open, today ended up his round with 68 strokes, tied on 6th place. He has lost some shots on the front nine but he came out on the back nine where he carded 7 birdies. "The course is a little different from the last time I played it during the Qualifying School. I've been struggling during the front nine and almost nothing of my game was working. Then, suddenly something clicked and I managed to hole a lot of putts and I made 7 birdies in 9 holes which is incredible. I only have to work on a couple of things to have a better start tomorrow".
Today the front nine holes were a little bit easier than the back nine. In fact, players on the first ten positions lost 13 strokes on the front nine holes while from 10th to 18th they lost just 6 strokes. In particular, the 3rd hole, a par 3, enrolled a significant number of bogey and proved to be the hardest of the course.
Tomorrow round 1 will resume at 7:20.
Partial results R1: click here or check on the Alps Tour Golf app.
Stay tuned! www.alpstourgolf.com and the app « Alps Tour Golf » (on App Store for iOS devices and Play Store for Android) will keep you updated on every news about Alps Tour.
#risinggolfstars
#raisinggolfastars
6th February 2017 | Alps Tour Golf
The 2017 Season is here in Egypt
For the fourth time, the Alps Tour will start the season in Egypt, at Sokhna Golf Club (Ain Sokhna, near Suez) on the Red Sea with two tournaments:
-Ein Bay Open from 14th to 16th February
-Red Sea Little Venice Open from 20th to 22th February.
Our Rising Golf Stars will (re)discover the wonderful resort of Sokhna Golf Club with its undulating fairways and prefect greens. Scores should be interesting!
After the victories of Englishmen Steven Brown, Andrew Cooley in 20104, Frenchmen Thomas Elissalde and Alexandre Widemann in 2015 and France's Franck Daux with a back-to-back last year. Who will write his name on the trophy this year?
4th February 2015 | Alps Tour Golf
Winter Series in Egypt
Alps Tour will open its season in Egypt as in 2013 and 2014. But relationships with this friendly country and representatives have grown and there will be 3 events from February the 17th to March the 4th.
Alps Tour players are now used to fly to Cairo to avoid European low temperatures and to warm up in Egypt after winter break. Sokhna Golf Club is pleased, once again, to host the Red Sea El Ein Bay Open from the 17th to the 19th of February and the Red Sea Little Venice Open from the 23rd to the 25th of February. The resort on the courses offers great facilities to practice and to relax after golfing day. All former players of the event know that Egyptian hospitality is high ranked on this part of the Red Sea.
A third event will be played near Cairo and Dreamland Golf Club will host the inaugural Dreamland Pyramids Open from the 2nd to the 4th of March. The 7200 yard back tee course will be a real test for the players.

26th February 2014 | Alps Tour Golf
Andrew Cooley keeps the trophy
England's Andrew Cooley did an impressive final round at Red Sea Little Venice Open to manage to keep his trophy as defending champion. He equalized course record 64 for -15 total. France's Clément Berardo and Thomas Elissalde finished respectively second and third.
Ain Sokhna is tough for rookies. Last year, Wales' Rhys Enoch was leading and had a very disappointing last round. This week, Thomas Elissalde and Borja Virto, both playing their first season as pro teed off in the last group but things did not get well for them.
Meanwhile, Andrew Cooley signed for amazing front nine 30, -6. He was only one shot back of the lead at this moment. But the English birdie machine kept on grabbing some precious strokes. He holed birdies on 11th, 12th and 16th. His playing partner, Italy's Giorgio De Filippi seemed to be very happy his fellow. He even said at the end of the round that the Englishman could have signed for 59 easily.
He eventually scored 64 missing the birdie on last green by a few centimetres.
« When I played first nine in -6 I thought I just keep going because the guy was 14 under I expected him to go even lower on the back nine. I just take one shot at a time. I had good memories and for example on 16th I was in very similar spot to where I was last year and I holed it. But it is a dream, really. »
France's Clément Berardo shot 69 for -12 total despite struggling with reading the greens. He recorded his second podium in two weeks.
« Since the beginning of the week I struggled to read the greens. But all in all, two really good weeks. We have worked very efficiently with my coach Alain Alberti this winter and I improved my level of game. »
After the winter series, England's Steven Brown leads the Alps Tour ranking, compatriot Andrew Cooley and France's Berardo ties second place.
From Ain Sokhna
Agathe Séron

25th February 2014 | Alps Tour Golf
Elissalde aims maiden win in Egypt
France's Thomas Elissalde continues to enjoy his debut on Alps Tour. Young player from Biarritz shot 67 for -12 total. Spain's Borja Virto is two shots back and France's Clément Berardo is on his toes to complete the podium.
A sunny windy day for second round of Red Sea Little Venice Open. Elissalde, 20 year old rookie, confirmed good form and will play last round for maiden win as pro.
« My wedging was way better than yesterday so I was closer to the pins. I putted well but not as well as yesterday. I managed to handle the wind, it did not disturb me. I hit a lot of fairways, I only missed two of them. »
« Today I had four chips to do and I missed three including one of the 8th, my only bogey. »
« Last time I was leading teeing off the last round was during Frayssineau-Mouchy – important amateur event in France – last year and it was great. »
Another rookie from Spain is aiming to put his hands on the trophy. Borja Virto, 23 year old, signed for solid 66, score of the day. Virto was in Spanish national team until last year after three years spent in the USA in university.
« I did not play well in the USA, I could not adapt to life there very well. I prefer to stay in Europe. I am happy, I played well today, everything went together. My goal for this season is to play and see what happens. »
France's Clément Berardo, 27 year old, and second year as pro, managed to stay in contention despite struggling with his game.
« It was early this morning, wasn't it? I woke up at 5:30 and honestly, on first tee, it was tough to focus. My game was not as sharp as yesterday. My driving was so and so as my long game. So scoring 3 under was a good result reference to the level of my game. »
From Ain Sokhna
Agathe Séron

24th February 2014 | Alps Tour Golf
Elissalde back in form in Egypt
France's 21 year old Thomas Elissalde signed for 7 under par 65 to lead by one stroke over two compatriots Julien Foret and Clément Berardo and Spain's Alfonso Gutierrez.
Elissalde just turned pro at the end of last season. He missed the cut last week but managed to improve his level of game to tame the course this week. He signed for flawless card with five birdies and one eagle.
« I did not drop any shot. I played the pars 5 cleverly, I had two birdies and one eagle. I putted really well because each time I was in danger, far from the pin, I ended with a gimme. I holed some great ones as well, so all in all, a very nice day. »
« In comparison to last week, I stroke the ball about the same but beside my driving, I played poorly last week. My short game really bad. Today my driving was not so efficient but my short game was really sharp. It has made a big difference. The only thing not really at the top level was my wedging. »
Former European Tour player, Julien Foret had a really good round. The New Caledonia born decided not to go back home this winter but spent time in Morocco in Samanah golf club to practice.
« This morning, there was no wind when I started. So I could play my first nine, from 10 to 18, in good conditions. There are plenty of birdies opportunities on these holes. I holed some good putts and hit the green close to flags. And on the back nine, even with the wind starting to blow I manage to earn a few more strokes. »
Eventually, in the afternoon draw, France's Clément Berardo confirmed his good form of last week. He finished on the podium of the Red Sea El Ein Bay Open and recorded a brilliant 66 but in a very colorful way. He started hitting the green on first hole and holed 6 meters for eagle and was 4 under after four holes but his 5th hole was a long, long journey to the hole. He drove in the waste area, find water hazard with second shot, finally reach the green quite nicely as he ended no more than one meter to the cup but missed it and dropped two shots.
Being asked leaving the last green how much he played, Berardo smiled and confessed that he didn't know.
« I was annoyed with my double bogey on the 14th (his fifth hole) so I stopped counting. But I think I shot 6 under. I am really happy to get benefits from all the work done. »
The first Egyptian player shot 73, one over par to share 59th position.
From Ain Sokhna
Agathe Séron

23rd February 2014 | Alps Tour Golf
Practice day at Ain Sokhna
Players enjoyed fair temperatures in Ain Sokhna to play last practice round before the Red Sea Little Venice Open resumes tomorrow.
It has been a week now that Alps Tour settled on the Red Sea west banks. The Jaz Little Venice resort and Sokhna golf club are, in everybody words, a great place to play, practice and start the season.
2013 graduate England's Steven Brown won the first event in Egypt last week succeeding to compatriot Andrew Cooley defending champion.
Cooley is also the winner of maiden edition of Red Sea Little Venice Open as he defeated his compatriots Tom Shadbolt and Jason Palmer after first extra hole. These latters are back this year to take their revenge.
There are four Egyptian players in the field, two amateurs and two pros. They will do their best to reach the international golf standard to make the cut and promote their sport in their country.

20th February 2014 | Alps Tour Golf
Brown captures third Alps Tour crown in Egypt
England's Steven Brown overtook the overnight leaders, Virto and Etchart, to win the Red Sea El Ain Bay Open by one shot thanks to solid flawless 66 6-under-par last round for -10 total.
The 26 year old player whose home club is Wentworth, is one of the 2013 Alps Tour graduates. He had two victories last year and one top 3 to finish at third place behind compatriot Jason Palmer and France's Edouard Espana.
« I was relaxed playing here at the beginning of the week as I will play Challenge Tour this season. But today, when I saw I was only 3 behind, I started to feel a little pressure because I wanted to catch them up. Last time I won when I was not leading (France 2013) I finished my round more than 2 hours before the leaders. This time I was in the fourth group.
I did not want to know what was the score. On the last green, I could not avoid to see it but I am working with a psychologist since a few weeks and we decided I should stay focus to the things I can influence, my routine for example. I played really solid today and I holed good putts. A win is always nice even if Alps Tour is not my circuit anymore. It is a nice way to start a season. »
Brown was very efficient from tee to green today and his putter did a wonderful to reduce, step by step, the distance to the top of the leaderboard. Borja Virto and him were neck and neck almost all round as Virto dropped two shots on the fourth. Brown holed a precious last birdie on the 17th after brilliant bunker shot. A few minutes later, Virto dropped a shot on the 16th to finally gain two strokes on the last two holes and to finish -9.
« I am happy with this last putt, it was a great one. I missed a short one on the 16th so these two birdies on the last two holes were nice.
This is my second tournament as a pro, I had played Preisch Open in France last September. I went though the Qualifying Stage in La Cala and i am happy with this maiden result. It was nice to play with Borja, we chatted a little and i did not feel the pressure. I only became nervous on the 16th. »
France's Clément Berardo is the third guy of the podium. Alain Alberti's protege (Raphaël Jacquelin's coach) is playing his second year on Alps Tour. He recorded two top 5 and one runner-up place in 2013. He admitted his swing was still in building last year but he feels ready now.
« This course is not stressful. It is is good chap but even if you miss a shot, you won't think you are going to make double bogey. But the greens are different from one side of the main road than from the other. From 5th to 13th hole, greens are more like on a links, quit firms and they are receptive on the other part of the course.
I played solid today, I did not think about the result, only shot by shot. My regret is the bogey on the last hole, a 1000 euro putt (500, in fact as he would have been second tied with Virto). I had a great drive, a 94 meter wedge, I told myself -you did it a hundred time- and I miss the green on the left. But I am satisfied and the goal for this season is to be in the top 6 this summer to get the exemption from Qualifying Stage 1 of the European Tour. »
From Sokhna Golf Club
Agathe Séron

19th February 2014 | Alps Tour Golf
Etchart and Virto co-leaders in Red Sea El Ein Bay Open
Spaniard rookie, Borja Virto shot 67 today to share the lead with his compatriot Borja Etchart at -7. He makes a good start for his first season on the Alps Tour. He is happy to be here where the weather is nice after long weeks of rain in Pamplona. "I played pretty good overall. I'm very comfortable with the tee shots, and irons to the greens. I made 28 good putts. And, I finished very well with a birdie on 6th hole and an eagle on the 8th hole."
Borja Etchart returned a scorecard of 69 this afternoon. He will play in the final group tomorrow. The game promises to be very interesting.
Behind, the Austrian Tobias Nemecz signs a 69 today and takes the provisional third place.
At the 4th place, we find the Frenchman Clement Berardo who also shot 67 (-5) with six birdies and one bogey, all made possible thanks to a good driving and good tee shots. "This course is very pleasant and provides a comprehensive picture of our game at the start of the season."
The first amateur is the Belgian Kevin Hesbois from Keerbergen GC who signed a 67. "A good wedge game and putting help a lot. I started with a birdie then I made six other birdies in a raw on the back nine. I'm happy to start the season here where the weather conditions are perfect to make good scores.
I'll stay amateur this season and I hope to be part of my national team to play the World Amateur Championship."
On the national field side, no Egyptian player managed to make the cut this week and the first in the ranking is the amateur Soliman El Aser. Next week will be better for sure.
Cut is fixed at +2 and 42 players will dispute the Final Round tomorrow from 8.30 am.
Latest Alps Tour Golf News