28th September 2020 | Alps Tour Golf
Alps Tour in Spain: Next Stop Salamanca
Salamanca, (Spain), 28th September 2020 – After Andalusia, the Alps Tour players head north to the autonomous community of Castile and León and the western province of Salamanca for the Alps Tour de Las Castillas.
This eighth edition is being held for the first time at the Salamanca Golf & CC – Zarapicos. Situated in the Monte de Zarapicos, around 30 kilometres outside the historic town of Salamanca, the club boasts two magnificent 18-hole courses.
And yet again, it is a full field signed up for the tournament. Of the 120 players we have 105 professionals and 15 amateurs. The large Spanish contingent of 61 players will be hoping for a repeat of last week's result where all three top spots went to home grown players. Lucas Vacarisas, winner of the Alps de Andalucia, a victory that rocketed him to second place on the Order of Merit, and the tournament runner up, Jordi Garcia Del Moral, currently top of the OofM and winner of the Cervino Open will continue fighting to maintain one of the top three places to gain a card on the Challenge Tour for next year. Their compatriot, Angel Hidalgo Portillo, in sixth place will definitely give them a run for their money though.
But stiff competition will come from Italy with Stefano Mazzoli, winner of this year's Red Sea Little Venice Open and the other Egypt series victor, Lars Keunen from the Netherlands with his Ein Bay Open win.
Whilst from France, Thomas Elissalde would like nothing more than a repeat of his 2018 victory at the Alps de la Castillas and follow on from last year's win by fellow countryman Frédéric Lacroix who now plays on the Challenge Tour. There was another notable French winner in 2016, when Victor Perez took the title, the current top French player, 54th in the OWGR.
The tournament will be played on the Zarapicos course, designed by the former European Tour and Ryder Cup player, Manuel Piñero. Although located in a scenic hilly setting, the course is relatively flat with an abundance of holm oak trees. The main challenge comes from the numerous strategically placed bunkers both on the fairways and around the greens. An impressive artificial lake comes into play on four of the holes of the Par 72, 6860 yard/6273 metre course.
The weather conditions for the Pro-Am tomorrow and the first day of play on Wednesday promise to be warm and sunny.
The Alps de la Castillas enjoys the support of Federación de Golf de Castilla-Leon, Federación de Golf de Castilla-La Mancha, Salamanca Golf & CC – Zarapicos, Consejo Superior de Deportes, EDP Solar, Kyocera, Tag Heuer, Bodegas Barbadillo (official wine), Agua En Caja Mejor sostenible, pura y natural, and Jgolf.
Entries: click here
Stay tuned! www.wp-alpstour.ocs-sport.com and the app « Alps Tour Golf » (on App Store for iOS devices and Play Store for Android) will keep you updated on every news about Alps Tour.
Instagram @alpstourgolf
Facebook @Alpstourgolf Satellite
Twitter @AlpsTourGolf
16th November 2018 | Alps Tour Golf
In their own words: Adria Arnaus and Victor Perez
Adria Arnaus (ESP) and Victor Perez (FRA) both had a tremendous season ending on the Challenge Tour. The Alps Tour alumni will play on the European Tour next season. They took a few minutes to talk to us about their season and more.
You both had a great season on the Challenge Tour! Tell us about it.  
Adria Arnaus: "It's been an amazing season, I'm really happy with what we've been able to achieve. At the beginning of the season, my main goal was to get my European Tour card and as the season went on, I realized we could aim a little bit higher. My plan was to try to be as high as I could in the rankings. My win last week (Ras Al Khaimah Challenge Tour Grand Final) was amazing, to be able to finish the year like that is unbelievable. I'm really happy I could move in 2nd place overall in the Challenge Tour in the rankings, that was so cool".  
Victor Perez: "My season ended very well with a victory in China (Foshan Open) and a second place in the Challenge Tour Grand Final to finish 3rd overall in the season ranking. It's great after a first season that had already gone well. Last year, I missed the European Tour category by not much finishing in 18th position overall. I'm happy to confirm this season and move up to the ET. I'm just very happy at what is happening to me". 
How do you apprehend next season on the European Tour?
AA: " I'm just going to try to do the same things I've been doing, focusing on things I can control as best as I can. My goal is to aim high again in the rankings and have my chances to win. This is all I can say at this point, I still need to seat down with my team to determine what my objectives will be next year. But I'm definitely aiming high."
VP: " I have to be really focused on my game. I proved with my results that my game was good, I must not try to change anything or think too much, I think that the recipe I have today works pretty well, I must try to keep the momentum going and continue on the same path."
What can you tell us about your year on the Alps Tour ? 
AA: "The Alps Tour was really a good learning experience for me. It's on the Alps Tour I started getting into the mix with professional golfers and it was great to see I was able to compete with them even as an amateur. At the end, being able to win the Order of Merit as an amateur was so special. To play very good and to finish that way was something I could not even imagine at the beginning of the year. It was a great stepping stone for this year and being able to do what I've done on the Challenge Tour. It gave me a lot of confidence. At the end, for me, it's really important to stay on the process, to stay focused on working well and giving myself time for things to come and they will come! It's just been a process of going through Alps Tour, through the Challenge Tour and hopefully, next year, things will be very good and we will be talking about bigger things then."
VP: "Upon my return from the US, I played the PQ1 but did not make it and therefore, I had to start at the lowest level with the first stage of the Alps Tour's Qualifying School in Spain. I got to play on the Alps Tour and after quite a few tournaments, I had the chance to win a tournament (Alps de Las Castillas 2016) which allowed me to finish in the top 5 of the Order of Merit. It's true that it was somehow a pivotal year for me. The Alps Tour is challenging because at the end of the season, there are only 5 players who move up and every year, there are more than 5 players who have the level to move up so you have to play your cards right. You need  to have a little bit of success and, as I often say, it is important to stay focused on your game level and to try to improve your game without too much watching the scores and the results even if we're interested in knowing what position we are in, if we are performing well, if we will move up, etc, etc … Beyond that, we must be able to focus on what we can do, on what we control, on our game level, and from there, to see where it takes us. My season of Alps Tour ended well but if I had finished one spot behind, I do not know exactly where I would be. I may had done a second year on the Alps Tour with possibly some doubts settling in."
Do you have any advice for players who will compete on the Alps Tour next season? 
AA: "I want to encourage everyone to play on the Alps Tour. It's really great because I think if you're able to compete on the Alps Tour, at the highest level, then you're ready to do more. There is a good level on the Alps Tour and definitely, being able to finish consistently in the top 5 on the Alps Tour tells you that you're ready for more. People coming into this year's Alps Tour should see it this way. They should try to compete their best and be able to give them chances to improve and to learn because it's a great tour. Also, you learn the basics on travelling, on sharing stuff with other people, and also, you're supported by a great group of people in the organization. You definitely make really good memories. I do have many of them. Alps Tour is definitely something I will always remember."
VP: "If I have any advice for a newcomer on the Alps Tour, it would be to really focus on his own game level, to really look at what he needs to perform well during the week, to work the shots that he will need during that week. It is really important to stay focused on his own performance rather than looking at last year's score even though it may give an indication. The Alps Tour rookie must be aware of this but not be obsessed by the scores, by the results, by looking at what others are doing. The player must really focus on him, on what he knows to do and how he can improve his game because in the end, in golfing, we control really just that."
Thank you Adria and Victor and good luck on the European Tour next season! 
15th September 2016 | Alps Tour Golf
Lauro Golf holds the Alps Costa del Sol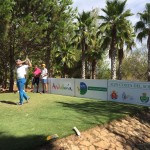 Today starts the Alps Costa del Sol at Laura Golf Resort in Alhaurin. Borja Etchart, defending champion is in good form and will be part of the favourites.
Three of the current Top 5 of the Order of Merit, France's Victor Perez – winner of the Alps de Las Castillas 2016 – and Franck Daux, and last week winner, Federico Maccario (Italy) will battle for the victory.
Alps Costa del Sol is the penultimate tournament of the season, qualifying for the Grand Final in October. All players are focused to gain or keep points to obtain one of the five cards to the Challenge Tour the next season.
122 players including 53 Spaniards look for a victory or a podium which could change their future. Among the national players, Borja Etchart comments: "I am eager to play here. In recent weeks I played very well and I would love to do well this week. I am very happy to return to Andalusia to compete. Summering in Andalusia since childhood and I feel something special for this land. I have been preparing the season and the goal is to get the European Tour card I had four years ago. Lauro Golf tournament is special for many things. It is the penultimate tournament schedule and there is much at stake. In addition, in August there was a break in the schedule and all the players are well prepared for this final straight."
Gabriel Canizares, Alfredo Garcia-Heredia, Jordi Garcia del Moral, Sebastian Garcia, Carlos Rodiles, Javier Ballesteros, the Senior Juan Quiros or Jesus Legarrrea are some of the rivals this week.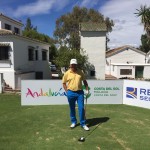 The Alps Costa del Sol will distribute 48,000 € of prizes and will count for the World Ranking, as all other Alps Tour events. After the first two rounds, the top 40 and ties will qualify for two other rounds.
This tournament receives the support of the Tourism Office Costa del Sol, Turismo y Deporte Andalucia, the Royal Spanish Golf Federation, the Sports Council and the Royal Federation of Andalusia. Reale, Solan de Cabras an,d Kyocera complete the private sponsorship. Thanks to the promoter, JGolf18 too!

23rd July 2016 | Alps Tour Golf
Alps de Las Castillas – Maiden win for Victor Perez
France's Victor Perez won his maiden title thanks to final round 67. He managed to tame Lerma golf course to put his hands on Alps de Las Castillas trophy with -15 total. Spain's Daniel Berna and France's Fabien Marty are tie for second place two shots back.
Overnight challenger, Raphaël Marguery, second heading to last round, could not do better than level par today and slept to 5th place. The best score of the day was recorded by double winner Franck Daux with 65, -7. He finished 7th and confirmed his third place at Alps Tour ranking. Wallace is still untouchable but Perez is now at second place with almost 2000 points more than Daux. Marty is 6th behind Di Nitto 4th and Pitoni 5th.
21st July 2016 | Alps Tour Golf
Daniel Osorio shines in Lerma
Spain's Daniel Osorio, 31, completed his round birdie –eagle to take Alps de Las Castillas lead thanks to 8 under par card 64. France's Fabien Marty is one shot back on golf Lerma in Burgos area.
Osorio's best results this season were during his Egyptian campaign. He recorded a third place during 2016 first tournament, Ein Bay Open and finished 6th in Dreamland Pyramids Open. He turned first nine 2 under par and but came back to the club house in a more efficient way to eventually signed for 64.
Marty made most of his score, -5, from 10th to 18th as well but it was his fist half of round. He had a rollercoaster back nine with two bogeys and 4 birdies to record -7.
A group of three players is one shot further, Spaniards José Ignacio Marin Casado and Alfredo Garcia-Heredia and Victor Perez of France.
The latter had a amazing series from 4th to 9th : he birdied all holes except on par five 8th where he had an eagle.
2nd July 2016 | Alps Tour Golf
Matt Wallace won fifth trophy in Open Frassanelle
England's Matt Wallace won his fifth tournament in five events he attended. He shot final round 65 to win by 4 shots -17 total. France's Victor Perez finished second on his own and David Morago of Spain third one shot further.
When you arrived in Italy, what was your plan ?
Plan was to prepare as well as possible. I arrived on Wednesday around lunch time so couldn't play the course but I knew it and I asked a few people if anything had changed for last year. I few new tee boxes but that was all that was new. I played well last week at cinque ports for open quali so I wanted to keep the momentum going.
Could explain the improvement of your golf and mental during the past 3 months..?
I've learned mentally how to deal with grinding out scores when not playing well. I didn't play great on the second day for the first 10 holes but was still -2 and finished strong for -6. Also how to deal with being in the lead. I sleep a lot better and play better in this position from the past few years.
How does your experience on European Tour helped you this week?
Playing in Sweden and Austria helps to know what level I need to be at to compete. I'm working towards it and looking forward to the next chance I get. I'm using my experience of those events as motivation because it was so much fun.
1st July 2016 | Alps Tour Golf
Wallace heading to last round in pole position
England's Matt Wallace shot flawless round 65, -6 to lead the Open Frassanelle with -11 total. Italy's Corrado De Stefani holed two birdies on the last three holes to stay one shot away. Spain's David Morago is two shots back.
Wallace teed off from the 10th and turned his first nine holes -2 thanks to birdies on hole number 13 and 15. But on back nine, he dug his advantage with first, one shot gained on the par 5 second and a hat trick of birdies from the 6th.
"Yes feeling really good about my game. I worked hard last week preparing for open q but it wasn't meant to be on the links course. Over the weekend I had never hit so many balls in my life because after playing in Sweden and Austria it has given me the motivation to want to play on the European Tour every week.
I'm looking forward to tomorrow to see if I can once again go wire to wire. It will be hard but I'm up for the challenge. It's great to be back playing on the alps tour. The course, food, organisation and the Italian people are great. It makes it even more exciting."
De Stefani signed for 64, lowest score today, to let only one shot advantage to multiple winner Wallace. The Italian player had the perfect round without any bogeys and if he keeps on playing this way, he might be a real threat to the leader.
Spain's David Morago, fired best score tie of the day 64. The 22 year old player from Barcelona had eight birdies versus only one bogey today. Morago's best result this season is a runner up place in Guadalupe where he was defeated by France's Léo Lespinasse during the play-off.
A group of 3 players including overnight leader France's Victor Perez, Enrico Di Nitto and Federico Maccario from Italy are -8 total. The cut felt at -1 including 44 players.
30th June 2016 | Alps Tour Golf
Wallace is back on top tie with Perez
England's Matt Wallace just had a 5 week break from the Alps Tour but not the game. After 4 back to back wins, he is back in Italy, soil of his last triumph and lead by one with 66, -5 tie with France's Victore Perez. Italy's Aron Zemmer is one shot further at Open de Frassanelle.
Alps Tour leader was kind enough to leave the place during 3 events to let the other players a chance to lift a trophy. Wallace played on European tour thanks to invits, tried to qualify for The Open and eventually came back this week in Italy. He holed 6 birdies and only dropped one shot on the 16th.
Tie for pole position, rookie Victor Perez, 23, is the only player who managed to catch up with the flying Englishman. Perez is in good form and he is more and more consistent. He recorded five top 10 out of 9 events and did not miss a cut since end of February.
Aron Zemmer just finished on the podium last week and shot 67, -4 to stay in the race.
16th December 2015 | Alps Tour Golf
Gallegos won the Q School
Spain's Javier Gallegos won the Final Stage of Q School in La Cala. He shot 68 thanks to great finish with 2 birdies on last two holes for -10 total. France's Victor Perez took second position one shot back.
Perfect weather to complete the final round on Asia course in La Cala. The head green keeper, Rafael Linares Garcia, ranked in top 3 in Spain, is very happy with the shape of his courses and players confirm his feeling. His 18 man team did a very nice job to be ready for the Alps Tour Q School.
"They were even better 3 weeks back but the weather has been so hot for this time of the year. We have worked a lot this year. We changed the irrigation system on Europa course. We improved the quality of the water used on all courses. We ventilated the greens every 2 weeks."
"We have ambitious works planned for next year as well, to change the irrigation of the Asia Course which is now 25 year old and we will rebuild 2 greens, the second and the 10th to optimize pins positions."
Javier Gallegos made the greens home during the final round. He holed two eagles and four birdies to win by one single shot.
"My game plan was to be aggressive. I wanted to do as many birdies as possible so I went for the pins on each hole. Sometimes I missed and dropped shots, but all in all my goal is achieved, I wanted to win."
He had a little help from France's Victor Perez who dropped a shot on the very last hole. Overnight leader, Alexandre Daydou, 19, battled with fever and sinusitis all day and felt eased entering the scoring area. He is one of the 3 men on the podium alongside Nicolas Tacher and Santiago Tarrio.
"That was the never ending day. I am so happy it is done now. I am so tired."
His team mate from France National Team, Léonard Bem, who just made the cut, signed for the best score of the day tie with Tacher, 66 and recorded a 7th position.
"I was way more relax on course. I managed to enjoy the game and my putting was efficient. My long game was better as well so all of these made the difference at the end."
The cut for full category felt at +3 for 38 players, including 9 amateurs.
From La Cala
Agathe Séron
15th December 2015 | Alps Tour Golf
Daydou soared in La Cala
France's Alexandre Daydou shot a 6 under par card on Asia course, -10 total, to lead the Q School Finale by 2 shots over fellow countryman Victor Perez.
Daydou, 20, scored flawless card on Asia course, six birdies to take command going into final round. The young man, born in La Réunion island, is one of the young French talented amateurs. He came in Spain with one goal, gain a full Alps Tour category for 2016.
« My game plan was simple and I stuck to it. I worked on it with my coach, Renaud Gris. Here, you have to be careful with tee shots and that was my routine for these past 2 rounds. I kept of targeting the safe places on fairways to have good angles to hit the greens.
Most of the time, I did not hit the driver and I have to admit it was a good thing because I am so sick, sinusitis, that I would not have been able to finish my round. »
On his toes, Victor Perez, 23 year old from Tarbes, South of France. He graduated from University of New Mexico last June and had a win there as a freshman. He came back to Europe as he just missed by one shot the Canadian Tour card during Q School and is delighted to be play to play well in La Cala.
« My game was very solid on my first nine, from 10th to 18th. Pins positions were difficult on the 17th and 18th so I did not go for them. From the first hole of my back nine, I have admit a little lack of focusing, same rythm of play, warm temperature, I saved 2 pars on holes 3 and 4. Then I had a nice eagle on the 5th then erased by a double bogey on the next hole, a bad bounce. But all in all a nice day and as I played first stage, I am getting to know Asia course pretty well now. »
Spain's Roberto Sebastian -7 total and Javier Gallegos -6, are respectively 3rd and 4th, one shot further, a group of 4 players tie for 5th place, England's Ben Wheeler, Spain's Gonzalo Gancedo and Italy's Nicholas De Pedrazzi (am) and Federico Colombo.
The cut felt at exactly 65 players at +4. The youngest player of the field, Austria's Laurids Lohr, 16, missed by only one.
From La Cala
Agathe Séron
Latest Alps Tour Golf News