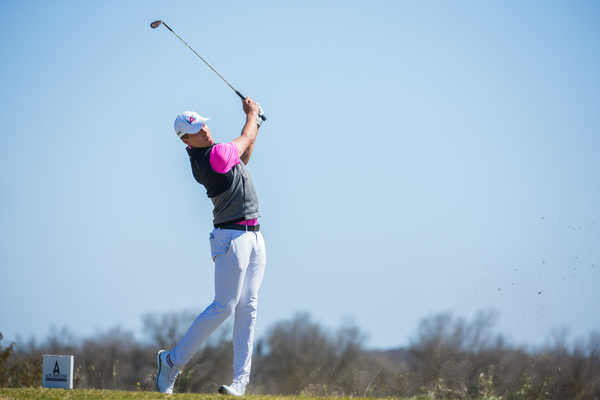 13th April 2022 | Alps Tour Golf
Koen Kouwenaar leads with a 7 under par after the First Round at Miglianico Golf.
It was a beautiful morning with perfect scoring conditions to start the 2022 Abruzzo Alps Open at Miglianico Golf. This week the course is playing as a par 70 for the 138 players competing.  Thanks to Miglianico Golf and Country Club President, Mr. Mario Dragonetti and course superintendent Mr. Carmine Berardocco for the outstanding work preparing the golf course in excellent conditions allowing the players to have great scoring opportunities.
At the end of the first round of the Abruzzo Alps Open there is a packed leaderboard. Netherland's, Koen Kouwenaar leads the field with an amazing 7-under par 63. He has a 1 stroke lead over Italian amateur, Flavio Michetti, Austria's Uli Weinhandl, France's Pierre Pineau and Portugal's Tomas Bessa Guimaraes who all shot a 6 under par round 64.
Koen Kouwenaar turned professional at the end 2020 and is currently 8th on the Order of Merit. This is his first season on the Alps Tour, due to the fact that he had a wrist injury which ended up needing surgery last year and was unable to play. Koen after his amazing 7-under par round which included 1 eagle, 7 birdies and 2 bogeys said, "I played well today. The long game was good, not as sharp as always but it was good, especially my driver. My putter was very hot today which is why I was able to make a lot of birdies. The course conditions are great. The fairways are firm and fast and the greens are very pure. The greens are slightly soft with allows for shots to be close to the pin. For the next two rounds, my key is to stick to my process. I know I can play well so I want to stick to my process and see what happens."
Defending champion, Jacopo Vecchi Fossa, who is currently playing this week as the Challenge Tour has an off week, shot a 3-under par round 67 and is 4 shots back of our current tournament leader. After the round, Jacopo said "I played well from tee to green, however once I got on the greens, I was struggling with my green reading. The course and the greens are in perfect conditions like always, it's overall consistently very well maintained by the course superintendents. The weather is good with a slight breeze and I'm looking forward to the rest of the tournament"
Italy's Flavio Michetti only 18 years of age, had a great start to the 2022 Abruzzo Alps Open with a bogey free round of 6-under par 64 round and currently tied in second place. After the round he was very pleased about his performance today. Michetti was pleased to comment "I played very well today especially around the greens in fact I didn't lose any strokes with my short game or putter. My long game was pretty consistent and I was able to keep my ball always in play. I was very concentrated for all 18 holes which allowed me to have a 6-under par round. The greens are tricky but they are in very good conditions and roll very well." 
Tomas Bessa Guimaraes, 25 years of age, who is a previous winner of this season at the 2022 New Giza Open and currently second in the Alps Tour Order of Merit had a good start to the tournament this week. He started his round with 6 birdies on his front nine for an incredible score of 29, 6 under par and continued with 2 bogeys and 2 birdies on the back nine to end his round.
"The course is in really good condition with maybe a few slight differences from the past years, maybe a little bit softer. I hit a lot of good drives which gave me a few easy birdies like on the 4th hole and the 8th hole where I had two eagle opportunities. My long iron game was very solid which allowed me to have 3 birdies on the par 3's which for me is the toughest part of this golf course." These were the comments from France's Pierre Pineau after he completed a 6 under par, bogey free round this afternoon. He also said- "There was only a slight breeze therefore we had perfect conditions overall and I'm happy to have taken advantage."
Uli Weinhandl, 45 years of age was consistent in his round today with a front nine score of 32 and a back nine score of 32 which included 8 birdies and 2 bogeys.
The 2022 Abruzzo Alps Open is an event organized by the Italian Pro Tour, promotes all golf professional events played on Italian soil.
Among the 138 players competing this week you'll find 119 professionals and 19 amateurs. This week's field is represented by 14 nationalities, the majority of which are French, Italian, and Spanish. In the French field, there are 23 players represented. Among the Italian players, there are 64 players represented, and among the Spanish there are 17 players. The tournament winner will earn €5,800 and 6,525 Order of Merit points.
Round 2 of the Abruzzo Alps Open, will begin again at 7:30 am from hole 1 and 10. It will be an intriguing round to watch thanks to the packed leaderboard and good scoring conditions.
Follow along on www.alpstourgolf.com or the official "Alps Tour Golf" app to keep up on all the latest news (available on App Store for iOS devices and Play Store for Android)
#risinggolfstars
#raisinggolfstars
Instagram- @alpstourgolf
Facebook- Alpstourgolf
Twitter- @alpstourgolf
Latest Alps Tour Golf News