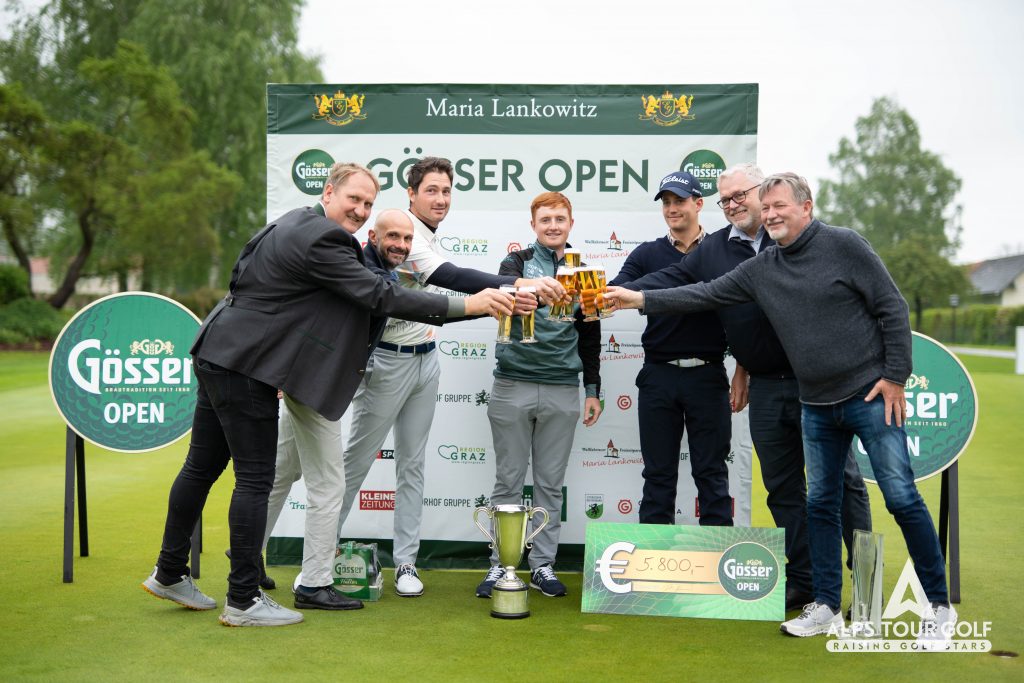 13th May 2023 | Alps Tour Golf
Ronan Mullarney wins the 31st Gösser Open
Final Review 
GC Erzherzog Johann
Maria Lankowitz, Graz, Austria
11th– 13th May 2023
Alps Tour Media Contact:
[email protected]
Leaderboard
| | | |
| --- | --- | --- |
|    Pos. |                 Name |      Score |
|       1 | Ronan Mullarney (IRL) | -12 (132) |
|       2 | Gianmaria Rean Trinchero (ITA) | -8 (136) |
|       3 | Timon Baltl (AUT) | -7 (137) |
|       4 | Oihan Guillamoundeguy (FRA) | -6 (138) |
| | Enrico Di Nitto (ITA) | -6 (138) |
Quick Links
---
Ronan Mullarney wins the 31st Gösser Open
Maria Lankowitz, May 13th 2023– Ireland's Ronan Mullarney wins a weather shortened 2023 Gösser Open with a two-round total of 12 under-par. Gianmaria Rean Trinchero from Italy concluded the tournament in 2nd place with a two-day score of 8 under-par. In 3rd place, a past winner of the Gösser Open Austria's Timon Baltl with a total score of 7 under-par. Tied for 4thplace just 1 stroke back France's Oihan Guillamoundeguy and Italy's Enrico Di Nitto.
The 144 players in the 2023 Gösser Open field had to compete three days with a constant rain fall and cold weather condition. As the rain never stopped falling over Golf Club Erzherzog Johann in Maria Lankowitz, Austria the course was definitely softer but the weather conditions didn't make it easy for the players.
Due to the delays and the unfavorable weather forecast, yesterday, the Tournament Committee of the 31st edition of the Gösser Open decided to reduce the tournament to 36 holes with no cut.
Play was first suspended on Thursday during the 1st round due to flooded greens and continuous heavy rain. Round 1 then resumed yesterday, Friday 12th May thanks to the great work performed by the Golf Club Erzherzog Johann- Maria Lankowitz superintendents lead by head superintendent Robert Keusch and his staff.
The second round began yesterday at 3:00pm but at 7:30pm, Tournament Director Alessandro Pia, suspended play due to darkness. The last 18 holes resumed today at 8:00 am still under an unceasing rain fall and cold weather.
Final Round Player Quotes
Ireland's Ronan Mullarney who is 27 years old, captured his 1st full-field professional win at the 2023 Gösser Open! He shot an 8 under-par 64 in this first round and a 4 under-par 68 in round 2 for a two-day total of 12 under-par. He previously had played in some events in 2020 before the Covid-19 pandemic began but this is his 1st full year on the Alps Tour. Ronan turned professional in 2019 and competed in the 2022 Open Championship. After his victory, he was very pleased, "It was a difficult 36 holes, in these conditions. Trying to keep the umbrella up and down and keeping my bag as dry as possible, a lot of things to happening on top of the golf that has to be played. Being from Ireland and having grown up into these conditions probably helped me. I can assure you that no one likes playing in these conditions but I might have slightly more experience than the rest of the guys."  Ronan went on to add: "I'm delighted to have won this event but it won't mean a lot to me unless I'm able to end the season in the top 5 at the end of the year."
Gianmaria Rean Trinchero from Italy who currently represents Golf Club Monticello concluded the tournament in 2nd place at 8-under par. After his round, Gianmaria happily commented: "today was another very wet round of golf, unfortunately, I got the bad side of the draw where we got hit with the heaviest rain but I'm pleased as I played pretty well from tee to green and putted very well." He went on to add that "I'm very happy because I didn't make any silly mistakes that allowed me to not make many bogeys. I would like to thank my caddy for the support this week on all the on-course decisions we made together and allowed me to not make silly errors". Gianmaria also said: "My objectives for the year won't change, I obviously would like to finish the season in the top 5 of the Order of Merit rank."
Austria's Timon Baltl who represents Murhof Golf Club and previously won the Gösser Open in 2019, concluded the tournament in 3rd place with a two-day score of 7 under-par. He captured his Challenge Tour card in 2020 thanks to the results he achieved on the Alps Tour in the 2019 season. Timon concluded the event as the highest Austrian player on the leaderboard. After the round, he commented "I played a lot of golf at this golf course since it's very close to where I was born. I played various junior events growing up as well as the Gösser Open for so many years. It really helps to know the course inside and out especially as I know the greens well and they can be tricky. I stayed in Graz at my dad's house this week which is what I believe one of the reasons that allowed me to play well."   Timon believed his key this week was to "stay calm and patient especially with the weather conditions we had and also because the course was really wet. It would have been easy to get frustrated but I'm glad I was able to remain patient throughout the week."
At the conclusion of the 31st Gösser Open, Spain's Quim Vidal still leads the current Order of Merit standings. Ireland's Ronan Mullarney jumped into 2nd place with his win today. In 3rd place Netherland's Kiet Van der Weele and in 4th place France's Oihan Guillamoundeguy. England's Jack Floydd rounds out the top 5.
Final Round
Ronan Mullarney winner of the 2023 Gösser Open, earned 6,525 Order of Merit points and the winning check of €5,800. The players competed for an overall prize fund of €40.000 and 45,000 Order of Merit points.
Due to the fact that the 31st Gösser Open became a 36 holes event with no cut, the prize money will be assigned to the top 40 professional players and ties. The Order of Merit points will be given to the top 40 (and ties) Alps Tour Members both professional as well as amateur players.
The next scheduled event is set for May 24th-16th at Golf Club La Pinetina in Como, Italy for the 2023 Memorial Giorgio Bordoni presented by AON.
Tournament Promoter
The 4th event of the 2023 season, is promoted by Murhof Gruppe. The sponsors and partners of Murhof Gruppe are Gösser Beer, Region Graz, Lipizzaner Heimat- Steiermark, Austrian Golf Federation, the city of Maria Lankowitz Wallfahrtsort Freizeitparadies and Steiermärkische Sparkasse. Their media partners are: Gepa Pictures, Antenne Steiermark andKleine Zeitung.
The Murhof Gruppe owns various golf courses throughout Austria including this week's venue.
Follow along on www.alpstourgolf.com or the official "Alps Tour Golf" app to keep up on all the latest news (available on App Store for iOS devices and Play Store for Android).
#risinggolfstars
#raisinggolfstars
18th May 2019 | Alps Tour Golf
Timon Baltl wins Gösser Open with course record
18 May, 2019 – Maria Lankowitz (Aut) – With four Austrian players in the top ten positions, home crowd had all the reasons to flock to Golfclub Erzherzog Johann to attend the final day of the 27th edition of Gösser Open. And they certainly weren't disappointed, as the youngest and most promising of their local heroes, Timon Baltl, went around the 18 holes with an exciting course-record 62, 10 under par, and could finally grab the coveted trophy – and the 6,162 Euros cheque – with a three-strokes advantage over his nearest contender, experienced Frenchman Xavier Poncelet.
« It was such an amazing experience to get first win on Alps Tour at home – said Baltl, 24, who is on his third season on our satellite circuit – probably I couldn't choose a better tournament to win ! It's really unbelievable for me, having my dad on the bag (Max Baltl, a pro himself) and my mom watching makes this feel even better». About his 62 (-10) on the last round – with eagle on the start hole and then 9 birdies and one bogey – Timon explained : « It was a really really good round, I've almost made every putt, it was crazy ! Everything was falling into the right places. I was minus 3 after 2, I was hoping for such a start then I knew I could have a chance if I just could keep it going ; I've tryed not being distracted by the situation and the crowd, of course I was really nervous since the second hole, but somehow I kept my composure and kept playing shot by shot. The bogey I had on the 16 was certainly a bit of lack of concentration, I don't like the tee shot on that hole, I've sliced the driver into the water hazard and went for the safer solution – I've might have chipped out on the fairway and go from there to the green and try to save a par, but I preferred to go back and drop ». It was a wise choice in the end, since the advantage he had from the other players was big enough and his confidence was strong : « I haven't counted how many putts I've hit in all, but in the back 9 they were 11 I think ! ».
It was a great tournament also for Xavier Poncelet, 33, who confirmed his good and consistent form improving round after round (70-66-64, -16) and finishing with a bogey-free -8 which moved up his ranking to a solo second place.
In third position at -15, another Austrian player, Clemens Prader, 40, tied with young French amateur Jeong Weon Ko, 21, who has been showing his talent with two places in the top 20 in the two previous tournaments he played : « I'm suprised by the strong level of the fields on the Alps Tour – he said – I realized that I really have to score low if I want to be in contention ! ». He certainly shows a high rate of maturity in his game, with just one bogey in three rounds (the first day), one eagle and 14 birdies – one of our rising stars to watch !
The 8th tournament on the 2019 Alps Tour season was promoted by the Murhof Gruppe (www.murhofgruppe.at) and could count on the support of partners such as Gösser Beer, Lipizzaner Heimat, Austrian Golf Federation (www.golf.at), the city of Maria Lankowitz (Wallfahrtsort Freizeitparadies) and Steiermärkische Sparkasse, and as media partners Gepa Pictures, Antenne Steiermark, Kleine Zeitung.
The Alps Tour schedule resumes in just four days in Italy when the 6th edition of Memorial Giorgio Bordoni presented by AON will take place at La Pinetina Golf Club, near Como, with a prize fund of 40,000 euros.
Final round results: click here
Order of Merit : click here
Stay tuned! www.wp-alpstour.ocs-sport.com and the app « Alps Tour Golf » (on App Store for iOS devices and Play Store for Android) will keep you updated on every news about Alps Tour.
Instagram @alpstourgolf
Facebook @Alpstourgolf Satellite
Twitter @AlpsTourGolf
31st August 2018 | Alps Tour Golf
Italian amateur Fortini wins Cervino Open
Italian amateur Giacomo Fortini won today after a nerve-wrecking finish the Cervino Open with a total score of -9 at the Cervino Golf Club  in northern Italy. 
This is Fortini's first victory as an amateur in a professional tournament. 
Fortini entered the final round as sole leader and led throughout most of the day. But the Italian amateur bogeyed hole 15 and double-bogeyed hole 16 giving a path to victory to Timon Baltl (AUT) who had already finished his round. Fortini was able to react and made 2 birdies in the last 2 holes to win the tournament. 
Timon Baltl finished in 2nd place at -8 total while a group of 4 players tied for 3rd place at -7 total: Louis Cohen Boyer (FRA), Michele Cea (ITA), Xavier Poncelet (FRA) and Benjamin Wheeler (ENG). 
«  I'm feeling very emotional, I'm very happy because I won my first pro tournament as an amateur. I'm on cloud 9 really » 22-year-old Giacomo Fortini said. «  It was a hard final because I played well all day but I did not hole many putts. When I got to hole 15, which is a quite difficult hole, I made a bogey. The following hole, I double bogeyed. I was a bit destabilized by all this but then I told myself there are still 2 more holes and I can still make birdies.  And this is what happened and I won by one shot » the native of Ferrara explained.  «  Generally, I have a difficult time forgetting my mistakes. But today was different and I could leave those mistakes behind me and get my confidence back. I hit a beautiful driver on hole 17, I made a very nice approach shot and above all, I holed a 2-meter putt which gave me the victory » he added. 
 «  This is by far the most important tournament I've won, I never won a championship before, this is the most beautiful win of my career » Fortini concluded. 
Fortini made 4 birdies, 2 bogeys and a double bogey in the final round. 
«  I had a great day today » Timon Baltl said. «  I made a bogey on hole 15 and I thought to myself, 'alright, it's not going to happen, not even close'. But then I made a very good second shot on hole 16 and on hole 17, I did an absolutely perfect drive, I was lucky with the bounce, it bounced to 3 feet and I made this one for eagle. And then I thought, 'oh maybe, if I make another birdie, who knows what happens?'. And on hole 18, I pitched it to 2 meters, holed the putt to make birdie, it was great, it was really cool » he explained.
«  I'm satisfied, 2nd place is very good, if you've come so close from winning you're a bit disappointed but I want to congratulate Giacomo for his great finish and for his victory » the Austrian concluded. 
Baltl made an eagle, 4 birdies and 2 bogeys. 
Xavier Poncelet (FRA) turned in the best card of the day today (-7). «  I wanted to have a great day today. It did not start well as I made a double bogey on the first hole. But then I reacted well » Poncelet said. In total, the Frenchman out of the Golf du Médoc near Bordeaux made a double bogey and 9 birdies today. «  I'm happy with the attitude, I'm getting closer to where I want to be » he added.
With his 3rd place finish today, Poncelet moves up to 5th place in the Order of Merit, the Alps Tour official season ranking. At the end of season, the top 5 of the Order gets a card to play on the Challenge Tour.    
Santiago Tarrio (ESP) still leads the Order of Merit. He is followed by Louis Cohen Boyer (FRA), Alexandre Daydou (FRA), Marcus Mohr (ENG) and Xavier Poncelet (FRA). 
Today's final round was interrupted for 1h32 due to foggy conditions.  
Rising golf stars will next travel to Miglianico (Italy) for the Open Abruzzo September 20th through September 22nd. 
29th August 2018 | Alps Tour Golf
Round 1 of Cervino Open ends on 3-way tie
Stefano Pitoni (ITA), Timon Baltl (AUT) and Andrea Saracino (ITA) turned in the best cards of the day today at the Cervino Open to finish round 1 on a 3-way tie with a total score of -7. 
Alexandre Daydou (FRA), Ben Wheeler (ENG) and Jacopo Albertoni (ITA, Am) are on their heels one stroke behind at -6 total. .  
«  I'm really satisfied, -7 is a really good score » Timon Baltl said. «  I got off to a perfect start, I made 6 birdies in the first 7 holes, I made 8 3s in a row, so it was obviously a perfect start »   he explained. «  I must admit I thought a little about shooting a 59 (the course is a par 68) because it's the magic number in golf but I did not hit the fairways on the back 9. Anyway, I'm very delighted with this first round » he continued. «  The course is different from any other courses, some holes are crazy, some holes are very good holes, but I really like it here, it's so beautiful with the mountains, I enjoyed it » he concluded.   
«  My day was really great.I played really good golf, I hit a lot of good shots and I putt also really well because on this course, you need to putt well » Stefano Pitoni said. «  I started really good. I birdied on hole 2 after holing my chip shot. I also birdied on hole 3 and this gave me a lot of energy and I continued to play good throughout the round. So I'm happy with my round » he added.  
«  I started with a bogey at hole 10 and then I made 8 birdies and 0 bogeys » Andrea Saracino, recent winner of the Des Iles Borromées Open at the end of July, said. 
«  The course is very tricky, the greens are very small and the putt is important here » he concluded.
Thunderstorms disrupted the afternoon session as play had to be suspended for a bit less than an hour and a half. Temperatures were in the mid-10s.
Round 2 will tee off tomorrow at 7h30 at the Cervino Golf Club .
Latest Alps Tour Golf News