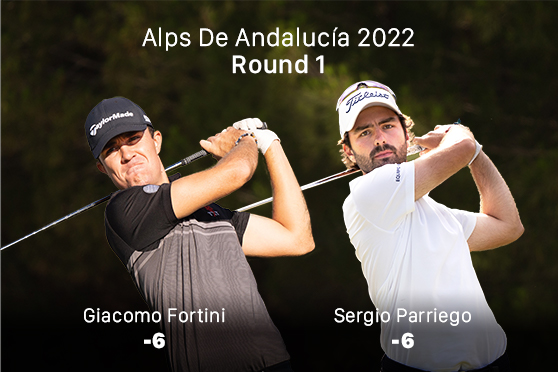 23rd June 2022 | Alps Tour Golf
Giacomo Fortini and Sergio Parriego lead after Round 1 at the 2022 Alps de Andalucía.
Ayamonte, June 23rd 2022- Italy's Giacomo Fortini and Spain's Sergio Parriego co-lead with a 6 under-par 66 at the conclusion of Round 1. Ireland's David Carey, Italy's Davide Buchi, Austria's Uli Weinhandl, Spain's Jorge Maicas, Netherland's Davey Porsius, Ireland's Gary Hurley and Spain's Carlos Del Moral are in a 7-way tie for 3rd place, just one shot back after a 5 under-par 67.
A beautiful summer day with pleasant temperatures reaching a high of 23* welcomed the players at Isla Canela Golf Club, Valle Guadiana Links course near Ayamonte, Spain for the first round of the 2022 Alps de Andalucía. This is the 10th edition of this tournament even though it is the first time at this specific golf course. Play began at 8:15 am from both the 1st and 10th hole. The scoring conditions were more favorable in the morning due to the slight north breeze. In the afternoon the scoring conditions were more complicated for the players, because the wind switched and became a moderate and persistent south wind.
Round 1 Player Quotes-
Giacomo Fortini from Italy who represents Cus Ferrara GC co-leads with a 6 under-par 66 in Round 1. He is a past winner on the Alps Tour, having won the 2018 Cervino Open as an amateur. He has been playing consistently well since the beginning of the season. When he concluded his round, he proudly commented: "Everything went well today. I didn't miss any tee shots today and my 2nd shots worked really well also. I like the course, it's in good shape and the greens are fast. Today I played the front nine with barely no wind which was a good advantage over the rest of the field even if it picked up on the back 9, it was a good advantage. My goals aren't any different this week than the rest. I want to keep playing well and focus on what I've been doing and let things happen when they are supposed to happen."
Spain's Sergio Parriego who is only 23 years old and turned professional 3 months ago is co-leading after a first round, 6 under-par 66. His round included an amazing eagle on the par 4, 6th hole. The rest of his round included 2 bogeys and 7 birdies, with 5 in a row on the back nine. Sergio is an Alps Tour member and this is his 2nd event of the season. He commented his round by saying: "I started on the 10th with two bogeys in a row but then had 5 birdies in a row playing perfect golf." He was pleased with his round today and didn't even realized what he shot at the end of the round. "I'm happy because basically I played the plan I had in mind, with a very good level. In fact, when I finished I was not even sure what I had done, I just knew I had played well. It was a shame to finish with a bogey but I can't complain, I played at a very good round overall."
Ireland's David Carey shot a 5 under-par 67 round and is tied for 3rd place just 1 shot back of the lead entering Round 2. He turned professional in 2015 and since then has been an Alps Tour member. He has numerous top 3 finishes on the Alps Tour including a win at the 2019 Cervino Open. His round included 5 birdies for a bogey-free 5 under-par 67 round. After his opening round, David was pleased: "I was very solid from tee to green today, I should've been 2 or 3 shots better than my actual score but it is a very good start and I'm happy." When asked about the golf course, "The course was playing different today compared to my practice round. When I teed off the wind was light from the north however after 7 holes it swapped to a south wind and it got stronger. Therefor I had to do a little bit of thinking to adjust to the changes." He said he doesn't have any specific goals for this week as he's enjoying the course and wants to be relaxed and enjoy the golf.
Davide Buchi from Italy is playing his first year as a professional player. He shot a 5 under-par, 67 and is also in the 7-way tied for 3rd place just 1 shot back of the first round lead. Davide commented, "Today I hit my 2nd shots very well. I gave myself a lot of birdie opportunities. Even when the wind picked up, I kept hitting very good 2nd shots." He also mentioned how he's "enjoying the course a lot. Some greens are tricky to read and definitely as soon as the wind picks up the course becomes a lot harder."
Tied for 3rd place alongside David Carey and Davide Buchi at 5 under-par and just 1 shot back of the lead, you can find: Austria's Uli Weinhandl, Spain's Jorge Maicas, Netherland's Davey Porsius, Ireland's Gary Hurley and Spain's Carlos Del Mora.
Current Order of Merit Leader, Tom Vaillant's golf bag unfortunately didn't arrive on time for the first round of the tournament, therefore he had to play the first round with a set of rental clubs. Nonetheless, he was able to shoot a 3 under par round and be only 3 shots back of the lead.
Among the 140 players competing this week you'll find 123 professionals and 17 amateurs from 18 different nationalities. They are competing for an overall prize fund of €40.000 and 45,000 Order of Merit points.
Round 2-
Round 2 of the 2022 Alps de Andalucía, will begin at 8:15 am from hole 1 and 10. After the second round, a cut will be made to the top 40 players and ties.
For the complete Round 1 Leaderboard or the Round 2 tee-times click here or go on the official Alps Tour Golf app.
Tournament Promoter-
This tournament is promoted and organized by JGolf.
The Alps de Andalucía can count on the support of the joint collaboration between two main sponsors, the Real Federación Española de Golf and the Real Federación Andaluza de Golf. The tournament also has the support of numerous co-sponsors: Valle Guadiana Links, Consejo Superior de Deportes, EDP Solar, Allianz, AON, Kyocera (servicios oficiales de impresión), Tag Heuer, BCD Sports, Mahou San Miguel, Solán de Cabras and JGolf.
Follow along on www.alpstourgolf.com or the official "Alps Tour Golf" app to keep up on all the latest news (available on App Store for iOS devices and Play Store for Android)
#risinggolfstars
#raisinggolfstars
Instagram- @alpstourgolf
Facebook- Alpstourgolf
Twitter- @alpstourgolf
Latest Alps Tour Golf News