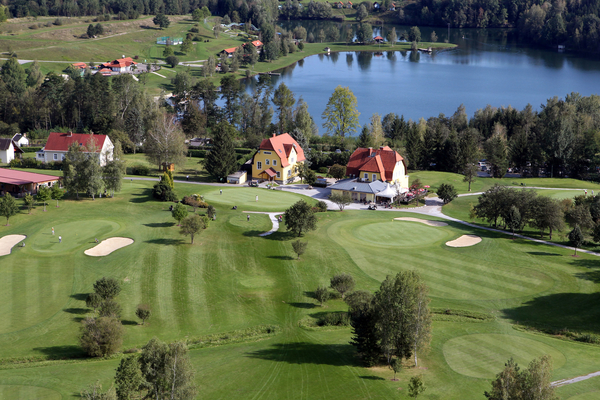 10th May 2022 | Alps Tour Golf
The Tour heads to Austria for the 30th Gösser Open.
Graz, May 10th 2022– The tour heads to Graz, Austria this week for the 30th Gösser Open. This will be the eighth event of the 2022 season and will be played at Golf Club Erzherzog Johann in Maria Lankowitz from Thursday May 12thuntil Saturday May 14th. On Wednesday May 11th, the traditional Pro-Am will take place with 32 teams on the course.
This year we celebrate the 30th edition of the Gösser Open. The event began in 1993 at Steiermärkischer Golf Club Murhof and in 2000 moved to Erzherzog Johann GC, now its permanent host location. A year later, in 2001 when the Alps Tour was founded, the Gösser Open became part of the Alps Tour, and has been a regular event on the schedule since then. This event has become the most traditional professional golf tournament played in Austria.
The Field-
This week, there will be 150 players competing from 17 different nationalities for the title. The players in the field will be playing for a prize fund of €42,500 and 45,000 points.
To celebrate the 30th anniversary of the event, the promoter has invited five players from the Legends Tour to take part in this special edition. Clark Dennis, Markus Brier, David Morland IV, David Shacklady and Peter Wilson who all played last week (May 6th-8th) at the nearby Legends Tour tournament at Golf Club Murhof will be competing this week.
Some notable players have won this tournament including England's Matt Wallace in 2016 with a score of 20 under-par. Furthermore, since its inaugural year in 1993, a number of Austrian players have triumphed. The latest Austrian player to have won the tournament for the second time, was Lukas Nemecz in 2020 with a score of 17 under-par. Besides Nemecz, Austria's Timon Baltl has also been a past Gösser Open winner. He was able to earn his Challenge Tour card in 2020 thanks to his 2019 Alps Tour results. Balt will be competing for title this week alongside numerous past champions like: Martin Wiegele, Markus Brier, Thomas Elissalde and Jurgen Maurer.
Niklas Regner who is just 23 years of age, and a current DP World Tour player will be competing this week. He has already played this tournament in the past and is looking forward to hopefully capture a win this time. Regner commented, "At the 2019 tournament, I led as an amateur after two days, but then I collapsed on the final round and finished 20th. The following year it went a lot better with sixth place and now I feel ready to play for the victory."
Netherland's Koen Kouwenaar, who won last week's Alps Tour tournament in Italy is the new Alps Tour Order of Merit Leader. Kouwenaar will be in the field this week playing along side Order of Merit number 2 and 3, Stefano Mazzoli and Tomas Bessa Guimaraes.
The Course-
Golf Club Erzherzog Johann Maria Lankowitz is a 5967 meters par 72 course. It was designed by architect DI Herwig Zisser and inaugurated in 1992. The course is located about 40km from the city of Graz on the edge of a natural reserve in the Western Styria area and has some picturesque views including rolling hills, lakes, and forests which appease the eye. Nonetheless, the course creates numerous challenges for the players that require accuracy and precision due to the layout of the golf course.
The current tournament course record is held by Thomas Feyrsinger in his 2nd round of the 2005 Gösser Open and Claude Grenier in his 1st round of the 2011 Gösser Open, both with a score of 63.
Tournament Promoter-
The 8th event of the 2022 season, is promoted by Murhof Gruppe. The sponsors and partners of Murhof Gruppe are Gösser Beer, Region Graz, Lipizzaner Heimat- Steiermark, Austrian Golf Federation, the city of Maria Lankowitz Wallfahrtsort Freizeitparadies and Steiermärkische Sparkasse. Their media partners are: Gepa Pictures, Antenne Steiermark, Kleine Zeitung.
The Murhof Gruppe owns various golf courses throughout Austria including this week's venue.
Follow along on www.alpstourgolf.com or the official "Alps Tour Golf" app to keep up on all the latest news (available on App Store for iOS devices and Play Store for Android)
#risinggolfstars
#raisinggolfstars
Instagram- @alpstourgolf
Facebook- Alpstourgolf
Twitter- @alpstourgolf
26th May 2018 | Alps Tour Golf
Tarrio and amateur Regner co-leaders of Gösser Open
Round 2 of the Gösser Open was completed this morning and 44 players made the cut set at -2.
Yesterday, round 2 was stopped halfway through at the end of the afternoon after thunderstorms and rain showers made the course unplayable.
Santiago Tarrio (ESP) and amateur Niklas Regner (AUT) are co-leaders at -9. They're followed by Jurgen Maurer (AUT), Markus Brier (AUT), Jordi Garcia Del Moral (ESP) and Teremoana Beaucousin (FRA) at -7.
«  My long game was very good, my putting was excellent » Austria's Nikals Regner, who quit his skiing career after a national title in his age category to turn full-time to golfing, said after completing round 2. « I don't mind playing two rounds in a day, it's the same routine, I'm really forward to the final round » he added.
The Austrian delegation is bringing 12 players into the final round, including 3 amateurs.
Weather conditions have improved compared to the last couple of days. Sky is partly cloudy this afternoon and temperatures are in the mid-20s.
A shotgun start launched the final round of the Gösser Open at 12h40 local time.
Latest Alps Tour Golf News