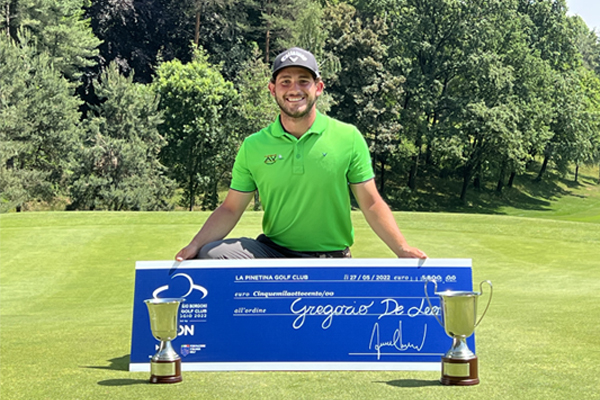 27th May 2022 | Alps Tour Golf
Mr. 59, Gregorio De Leo wins the 8th Memorial Giorgio Bordoni presented by Aon.
Como, May 27th, 2022 –Italy's Gregorio De Leo, had an outstanding final round at 11 under-par, 59 to celebrate his victory as a professional player. His round included 11 birdies, 1 eagle and 2 bogeys. He birdied the 7th hole, eagled the 8th hole and then went on an 8 holes birdies stretch from hole 9 until hole 16. De Leo won the 8th Memorial Giorgio Bordoni presented by Aon by four shots over France's Pierre Pineau.  In a tied for 3rd place, at 13 under-par: Italy's Davide Buchi and Giacomo Fortini.
The Final Round of the 8th Memorial Giorgio Bordoni presented by Aon began at 8:15 am from hole 1 and 10. The final group that included, the tournament co-leaders Italy's Marco Archetti, Netherland's Davey Porsius alongside Spain's Joel Moscatel who was just one shot back, teed off at 9:32 am from the 1st hole. A warm spring day with optimal scoring conditions hosted the players for the final round.
Winner Quotes-
Gregorio De Leo, had the best round of the tournament, with an incredible score of 59, 11 under-par. In today's round he had 2 bogeys, 1 eagle on the 8th hole and 11 birdies.  When he concluded his round, De Leo was extremely happy. He is an experienced Alps Tour player having competed numerous times as an amateur, however he turned professional just before the 2021 Italian Open and this is his first full playing season as a pro golfer on the Alps Tour. De Leo had a very solid amateur career and a very positive start to his career as a professional golfer.  After his round, he proudly celebrated and commented on how special today was: "Today was very special, it was an incredible day. My putter was working perfectly. I unfortunately 3 putted the 6th hole and then from the on, something truly magical happened. I wish I wouldn't have done the 3-putt on the 18th hole however looking back especially in that moment, I accept it." When asked if he realized what it means to be one of the few players in the world to have broken the 60s, De Leo commented: "I don't think I realize yet that I broke 60, it will happen soon I'm sure. Right now, I'm just very happy to have won my first tournament since turning professional and especially being so close to home and having my dad here watching me." He wants to dedicate this victory to his coach, Alain and to his parents having: "supported me and sacrificed a lot for me. They deserve it."  He has had a very strong start to his season so far and today's 59 will definitely be a highlight of his career.
France's Pierre Pineau, who finished in 2nd place, had a final round, 6 under-par 66 for a total 14 under-par for this tournament.
Davide Buchi and Giacomo Fortini from Italy, finished this tournament in a tied for 3rd place, at 13 under-par.
There was a three-way tied for 5th place at 12 under-par that included, Julien Sale, Tom Vaillant and Floris De Haas.
Koen Kouwenaar, remains the current Alps Tour Order of Merit leader even having not competed this week as he is currently competing in the DP World Tour Dutch Open. Gregorio De Leo is now the second ranked player with a 1,142.64 points advantage over Stefano Mazzoli which has now become, the third ranked player.
Final Round-
By winning the 8th Memorial Giorgio Bordoni presented by Aon, Italy's Gregorio De Leo, earned € 5,800 and 6,525 Order of Merit points.
For the Final Round leaderboard click here or on the official Alps Tour Golf app
The Alps Tour heads to France for the 10th event of the season. The event will be played from June 10th until June 12th at Golf de La Grange aux Ormes in Metz, France for the 2022 Open de la Mirabelle d'Or. The tournament defending champion is France's Franck Medale.
Tournament Promoter-
Like the majority of the Alps Tour events played in Italy, this event is organized by the Italian Pro Tour, which is a branch of the Italian Golf Federation. They promote the majority of the professional golf events that are played in Italy. The main sponsors that support the Italian Pro Tour include DS Automobiles, Fideuram, Kappa, Rinascente and Eureco. In addition, their media partners are the following three Italian newspapers: Corriere dello Sport, Tuttosportand Il Giornale. The Italian Pro Tour featured social partner is Sport Senza Frontiere Onlus and with an official advisor, Infront.
This week, Aon is the tournament Presenting Sponsor at the Memorial Giorgio Bordoni 2022. Aon is also a worldwide partner of Ryder Cup 2023 that will be played at Marco Simone Golf & Country Club in Rome, Italy.
Follow along on www.alpstourgolf.com or the official "Alps Tour Golf" app to keep up on all the latest news (available on App Store for iOS devices and Play Store for Android)
Instagram- @alpstourgolf
Facebook- Alpstourgolf
Twitter- @alpstourgolf
Latest Alps Tour Golf News