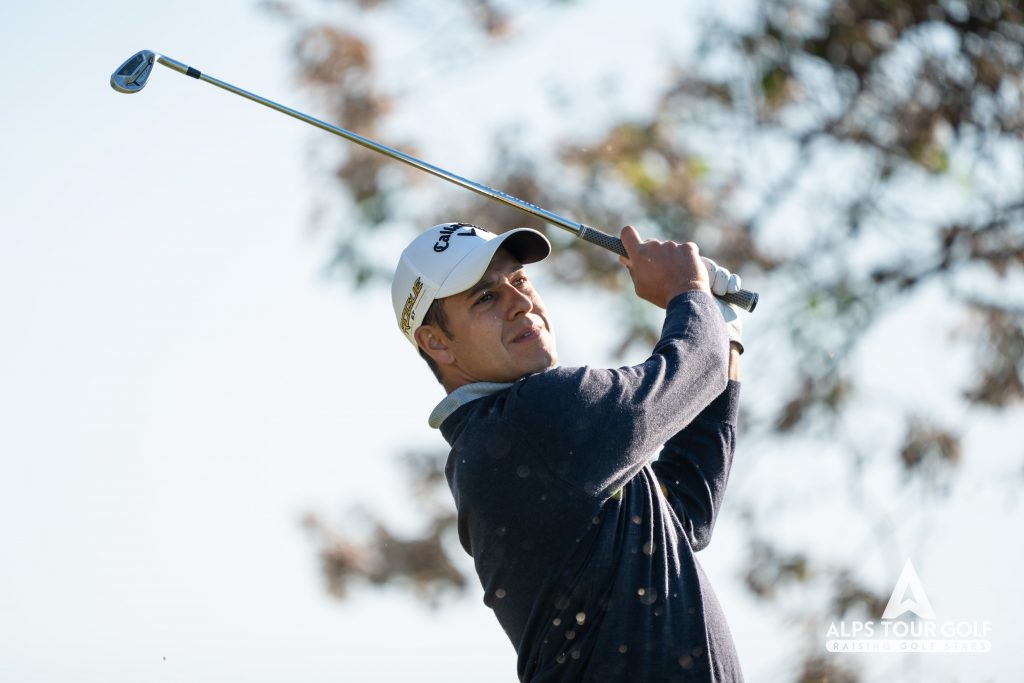 20th April 2023 | Alps Tour Golf
Enrico Di Nitto leads after Round 1 at the 2023 Alps de Las Castillas.
Round 1 Review
Palomarejos Golf
Toledo, Spain
20th– 22nd April 2023
Alps Tour Media Contact: [email protected]
Leaderboard
| | | |
| --- | --- | --- |
|    Pos. |                 Name |      Score |
|       1 | Enrico Di Nitto (ITA) | -9 (63) |
|       2 | Marcos Pastor (ESP) | -8 (64) |
|       3 | Victor Jimenez Bravo (ESP) | -7 (65) |
| | Lars Keunen (NED) | -7 (65) |
| |  and 2 other players at | -7 (65) |
Quick Links
Round 1 Leaderboard 
Round 2 Tee Time 
---
Enrico Di Nitto leads after Round 1 at the 2023 Alps de Las Castillas.

Toledo, April 20th 2023 – 
After round 1 at the 
2023 Alps de Las Castillas
, we have a packed leaderboard. Italy's 
Enrico Di Nitto
 leads the way with a 9 under-par 63. In 2
nd
 place only 1 stroke back, Spain's 
Marcos Pastor.
 Tied for 3
rd
 place at 7 under-par: Spain's 
Victor Jimenez Bravo
, Netherland's 
Lars Keunen
 and 
Kiet Van der Weele
 and Ireland's 
James Sugrue.
A beautiful sunny day with blue skies and temperatures that reached 29°C was the backdrop of today's first round at the 2023 Alps de Las Castillas. The tournament is being played at Palomarejos Golf in Toledo, Spain. Today, players competed with perfect scoring conditions with approximately 20km/h winds. Play began at 8:30 am from both the 1st and 10th hole. The forecast for tomorrow's round is expected to remain very similar to today' with slightly more wind. For Saturday's final round, some rain and chiller temperatures are expected.
Round 1 Player Quotes –

Italy's 
Enrico Di Nitto 
who represents 
Olgiata Golf Club 
leads by 1 stroke at the conclusion of the 1
st
 round at the 
2023 Alps de Las Castillas
. He shot a bogey-free, 9 under-par opening round. He is a past winner on the Alps Tour and is playing this week on a wild card invitation. 
Di Nitto 
played the first two events of the season in Egypt finishing T14 and T26. He was very content with his round as it is his Personal Best score: 
"I had a good start today, I putted really really well today especially under 4 meters and hit my irons very close to the pins.  Unfortunately, I didn't take advantage of the par 5 but overall, it's a result I'm very happy as this is my Personal Best score. I will try to keep playing with little to no expectations so I can focus on my game and give 100% during every round. I would like conclude this season earning my full card for the Challenge Tour." 
Marcos Pastor from Spain, concluded his first round with an 8 under-par, 64 and is in 2nd place only 1 stroke back. He began his round on the 10th hole today and made 2 birdies and an eagle on the par 4, 15th hole. Pastor was very satisfied with his round, as this is the 1st time he played this course: "I'm very happy as 8 under-par I believe is a good score to start the tournament. I unfortunately wasn't able to play a practice round yesterday as I arrived late, I only walked 9 holes and the remaining 9 holes I saw them through Google Earth so that makes it an even better round." Pastor added: "I began my round making some good putts on the first few holes and then on the 15th hole, I had 103 meters and holed out my 56° wedge for eagle."
Spain's Victor Jimenez Bravo, is one of four players tied for 3rd place at 7 under-par. He made 8 birdies and 1 bogey during his 1st round. Jimenez had a good confidence boost following today's round: "I came to the tournament not hitting the ball very well, but today has been a day that the ball has gone more or less where I wanted. haven't had good results for a while, since the qualifying round of the Spanish Open when I shot 5 under par and I was one shot away from qualifying. This is a pretty good confidence boost." Jimenez is also a great tenor singer, "My father supports me one hundred percent with everything I do." He also added that recently "played with my father and he gave me good advice. The advice he always gives me and everyone else is "hole by hole and stroke by stroke" and in the end that's what I did today, I thought about the moment, not the result."
Netherland's Lars Keunen, shot a 7 under round 65 with 2 bogeys and 4 birdies on his front nine and 5 birdies, 1 double bogey and an eagle on his back nine to be tied for 3rd place. Keunen had a strong finish to his 1st round with 1 eagle and 3 birdies on his last 5 holes. After his round, he was pleased to comment: "Today was definitely a good start! It took me a while to get comfortable with my shots but after 6 holes I got it going nicely." This is the first time that Palomarejos Golf hosts an Alps Tour event, Keunen found the course in good conditions, "the golf course is nice, not very difficult but in very good condition which makes it fun to play." When asked about his strong finish, Keunen added "after making double bogey on 13 I knew I had some easier holes coming up glad I was able to take advantage of them. Hopefully I can keep the birdies coming tomorrow!" He went on to add that he expects the winning score on Saturday to be around 18 under-par.
Ireland's James Sugrue is also tied at 7 under-par and 2 strokes off the lead. He made 6 birdies, 1 eagle and 1 bogey. Sugrue won the 2019 Amateur Championship and he was then able to play in the 2020 Masters, 2020 Open Championship and 2020 US Open. He turned professional at the beginning of 2020 but due to the pandemic, this is his second full season on the Alps Tour. After his 7 under-par round, Sugrue commented on how "the course is very scorable but only if you're in the fairway, therefore you must drive it well and I'm pleased I was able to do that today. The weather was phenomenal today, even though there is a good breeze now but it was perfect for scoring."  Looking ahead to the rest of the week, Sugrue added "I believe the winning score will be around 19 under-par." 
In the 4-way tie for 3rd place alongside Victor Jimenez Bravo, Lars Keunen and James Sugrue at 7-under par and 2 shots back of the lead there is Netherland's Kiet Van der Weele. He made 8 birdies today and 2 bogeys.
The 132 players are competing for an overall prize fund of €40.000 and 45,000 Order of Merit points. The winner will earn €5,800 and 6,525 Order of Merit points.
Round 2-
The second round of the 2023 Alps de Las Castillas will begin again at 8:30 am local time from the 1st and 10th hole. After round 2, a cut will be made to the top 40 players and ties.
The first-round leader, Enrico Di Nitto will begin round 2 at 14:04 local time from the 10th hole.
Tournament Promoter
The 2023 Alps De Las Castillas is promoted and organized by JGolf.
The event is grateful for the support of: Real Federación Española de Golf, Federación de Castilla La Mancha, Federación de Golf de Castilla León, la Diputación de Toledo, City of Talavera de la Reina, la Junta de Comunidades de Castilla-La Mancha, Palomarejos Golf, el Consejo Superior de Deportes, Kyocera, Mahou San Miguel, Solan de Cabras and Nextcaddy.  
Follow along on www.alpstourgolf.com or the official "Alps Tour Golf" app to keep up on all the latest news (available on App Store for iOS devices and Play Store for Android).
#risinggolfstars
#raisinggolfstars
16th September 2016 | Alps Tour Golf
Pastor leads by one heading to the week-end
Spain's Marcos Pastor took half way lead in Alps Costa del Sol. He signed for back to back 68 to lead by one over fellow countryman Santiago Tarrio.
Pastor tamed the course of Lauro Golf the same way he did during first round but with no mistakes. He managed not to drop any shots during the second round and holed four birdies on 4th, 8th, 12th and 15th holes.
Tarrio had more ups and down with special momentum, a hat trick of birdies from the 13th follow by a dropped shot on 16th. All in all, he had five birdies and 2 bogeys for a three under par card 69.
Frenchmen are chasing the Spanish duo. With -6 total, two shots back of the lead, Nicolas Tacher from Paris. He signed for another 69 following his first one yesterday. Alexandre Widemann and Thomas Elissalde are -5 total. Both are former winners on Alps Tour and their experience could help them to catch up with the best score.
The cut fell at +2.

15th September 2016 | Alps Tour Golf
Spanish armada to lead
Spain's duet took the lead after first round in Alps Costa del Sol. Marcos Pastor and Santiago Tarrio shot 68, -4 for a one shot advantage over a group of 7 players.
There are 3 events left to complete the 2016 Alps Tour season. Matt Wallace secured his category on Challenge Tour next year thanks to five wins in 6 events. But the top 5 is still very opened and a good result could change the picture.
Pastor only played 4 events this season on Alps Tour. He had seven birdies and made 3 birdies. Tarrio holed for 6 birdies and only missed two holes.
If we pay attention to the well ranked players, Franck Daux and Victor Perez had a tough day and they have been beaten by the course, uncompromisingly.
Thomas Elissalde and Stefano Pitoni stayed strong to keep their position. The latter shot -1 and the young Frenchman signed for a 2 under par card. The projected cut after one round is +1.
Latest Alps Tour Golf News