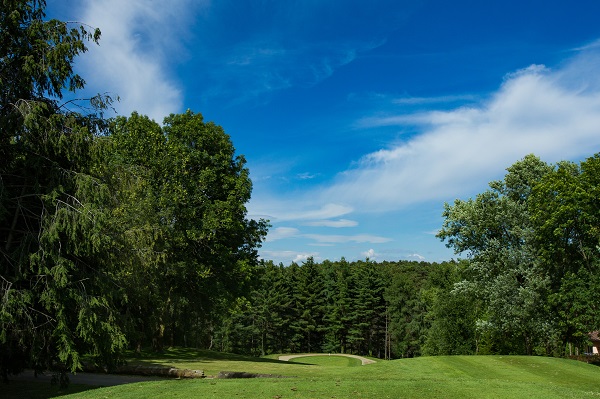 23rd May 2022 | Alps Tour Golf
The 8th edition of the Memorial Giorgio Bordoni is ready to get underway.
Como, May 23rd 2022– After a week off, the tour returns to the Northwestern part of Italy for the 8th edition of the Memorial Giorgio Bordoni presented by Aon. The event will be played at Golf Club La Pinetina near Como, Italy from Wednesday 25th May until Friday 27th May.  On Tuesday 24th May, the traditional best ball aggregate to par pro-am with 25 teams will take place.
This event is named and dedicated to highly acclaimed golf instructor, Giorgio Bordoni who unexpectedly passed away at the age of 48 in 2013. In 1991 he was one of the founders of the Blue Team Golf Academy, a unique and innovative initiative in the world of coaching. He worked many years for the Italian Golf Federation as a National Coach earning many accomplishments during his career.
The tournament has reached its 8th edition this year and has been a consistent stop on the Alps Tour schedule since 2014, except for 2020 when the event wasn't played due to the Covid-19 pandemic.
The Field-
This tournament has some notable past champions. The first edition of the tournament was won by Spain's Borja Virto in 2014, while Spain's Sebastian Garcia Rodriguez came to victory in 2019. Another Spanish victory occurred in 2021 with the current defending champion Angel Hidalgo Portillo winning with a total score of 14 under-par. Meanwhile current DP World Tour player, Italy's Guido Migliozzi triumphed in 2018. From 2015 to 2018 the tournament was won by Italian players: Marco Crespi, Stefano Pitoni, Guido Migliozzi and Andrea Perrino all of whom have been able to honor their fellow colleague, Giorgio Bordoni with their victories.
The majority of this seasons past winners that include: Italy's Stefano Mazzoli currently 2nd in the Order of Merit, France's amateur Oihan Guillamoundeguy and Portugal's Tomas Bessa Guimaraes currently 3rd in the Order of Merit will be competing for the 8th Memorial Giorgio Bordoni presented by Aon title. However, two of this season's past champions will not be playing, Markus Brier, the winner at the 30th Gösser Open and Koen Kouwenaar the winner at the 2022 Molinetto Alps Open and the current Alps Tour Order of Merit Leader.
There will be 144 players competing for a prize fund of €40,000 and 45,000 points. The winner of the 8th Memorial Giorgio Bordoni presented by Aon will earn € 5,800 and 6,525 Order of Merit points.
The Course-
Golf Club La Pinetina in Como, Italy is a very undulating 5761 meters par 70 course. It was designed by Harris Albertini Mezzalane and opened for play in 1971. It offers beautiful panoramic views of the nearby landscape that include the view of Monte Rosa which is the second highest mountain in Italy.
Golf Club La Pinetina covers 70 hectars in the Appiano Gentile Pine Forest, rich of pine trees, oak and chestnut trees as well as Scotch pine and birch trees. It's not a particularly long course, however the complex course design situated on a very hilly terrain, requires accuracy and precise strategy from each player. Thanks to the natural layout of this golf course, players will find notable holes that will allow this course to stand out from the rest.
Tournament Promoter-
This week, Aon is the tournament Presenting Sponsor at the Memorial Giorgio Bordoni 2022. Aon is also a worldwide partner of Ryder Cup 2023 that will be played at Marco Simone Golf & Country Club in Rome, Italy.
Like the majority of the Alps Tour events played in Italy, this event is organized by the Italian Pro Tour, which is a branch of the Italian Golf Federation. They promote the majority of the professional golf events that are played in Italy. The main sponsors that support the Italian Pro Tour include DS Automobiles, Fideuram, Kappa, Rinascente and Eureco. In addition, their media partners are the following three Italian newspapers: Corriere dello Sport, Tuttosport and Il Giornale. The Italian Pro Tour featured social partner is Sport Senza Frontiere Onlus and with an official advisor,Infront.
Follow along on www.alpstourgolf.com or the official "Alps Tour Golf" app to keep up on all the latest news (available on App Store for iOS devices and Play Store for Android)
#risinggolfstars
#raisinggolfstars
Instagram- @alpstourgolf
Facebook- Alpstourgolf
Twitter- @alpstourgolf
25th June 2018 | Alps Tour Golf
Rising golf stars head to Italy
Rising golf stars of the Alps Tour will be in Italy this week for the Open la Pinetina June 27th through June 29th. 
The tournament is played in memory of Giorgio Bordoni, a popular professional coach working for the Italian pro team, who passed away in 2013. The tournament was played for the first time in 2014 at La Pinetina Golf Club in Appiano Gentile near Lake Como where Bordoni started playing when he was young.   
This is the first tournament played in Italy this year after the cancellation of the Roma Open due to snowy conditions in 
February. 
135 players, including 66 Italians, have entered the tournament. The golf course, which has hosted a lot of professional tournaments, features 18 holes spread over 70 hectares of green surrounded by different types of trees including pine trees, chestnut trees and birch trees. 
Defending champion Marco Crespi (ITA) as well as past winner Stefano Pitoni (ITA, 2016) have entered the tournament.  
The €40,000 prize money tournament is played over 54 holes of traditional stroke. Following a cut after 36 holes, the top 40 and ties will qualify for the final round of the tournament. 
22nd June 2017 | Alps Tour Golf
Crespi back in the winner circle
Marco Crespi, 38, won La Pinetina Open 2017 after defeated Lars Van Miejel and James Sharp in a play-off. Crespi, multiple winner on Alps Tour, 5 titles from 2008 to 2011 et once winner on European Tour will build on this victory to have pleasure to play again.
«  I have been playing really well all week and when I holed the eagle on the 8th and specially whenI holed my approach on par 4 12th for another eagle, I had the feeling it could be my day. During the play-off, honestly, it was more a patience game and more to wait about who would do a mistake. I think my experience helped me.
I don't want to do any plans, I just want to enjoy this win and think about having fun again on a golf course. »
Adria Arnaus kept the leadership on the Alps Tour Ranking followed by Ugo Coussaud, Lars Van Meijel, Thomas Elissalde and Lukas Nemecz.
15th June 2017 | Alps Tour Golf
Sharp still in pole position in Italy
England's James Sharp signed for 65, 5 under par, to lead by two shots over Netherlands' Lars Van Meijel and Italy' Marco Crespi.
Van Meijel set an early leading score when he fired 61 this morning enjoying a fresher air. He holed a few nice putts of 3 or 4 meters and made no mistakes. Since his win in February he had ups and downs on course but kept on training to recover the form he showed in Egypt.
The target was then settled at -11 for the overnight leader when he teed up in the afternoon. The Englishman had a shy front nine but eventually managed to relax and be more efficient.
« I struggled a little bit on the front nine, I was a little nervous. I made a silly bogey on the 7. I miss a birdie on the 8 but I ttok a really shot onto 10, I could have made eagle but from there I felt much more comfortable. This birdie definitively helped to relax.
I just felt better on the back nine, I can not really put my finger on why but Eventually I just get used to be in that situation, see the leaderboard with my name on it.
Lars can shoot low and I have been told that Marco is a multiple winner on Alps Tour and once on European Tour. I would like to play the same tomorrow as I played in the first two days. I picked some positions in the fairways when I leave myself short irons to the greens. It will be some pins tomorrow you can't go for But if I can hole a couple of putts here and there. But playing with Lars and Marco will be fun. »
14th June 2017 | Alps Tour Golf
James Played Sharp in Italy
England's James Sharp showed his talent today on La Pinetina golf course. He fired 62, 8 under par, his best score ever in a competition. He has a two shot lead over a group of 5 players including European Tour winner Italy's Marco Crespi.
Sharp confessed at the beginning of the tournament that money will shortly because an issue if he wants to keep on playing on Alps tour. This emergency seemed to give him wings and skills to shot his best score ever in a tournament.
« This my score ever in competition, by 3 shots. This event is my last event if I don't get enough money this. I fell like I have been playing well all year. To be honest, I have been making silly mistakes and made triples and so on but today, I avoid these mistakes.
On the last one, I holed about 10 meters. I saw that the leaders were -6 and I was -7. I had a good line and a good pace, I had the pace all day so.
Tomorrow will be very hot in the afternoon when I play so I have to be prepared, lots of water, wet towel around the neck but you know we played in Guadeloupe, Tunisia and it was hotter than this and it is the same for everyone. I will try to stay calm and not spend to much energy on silly things. »
On his toes a pack of 5 players, Italy's Federico Felli and Marco Crespi, the latter is a multiple winner on the Alps Tour. Austria's HP Bacher, who is playing his first season on Alps Tour and Frenchmen Marc Rodriguez Calassou and Ugo Coussaud who won in France a couple weeks ago.
Latest Alps Tour Golf News