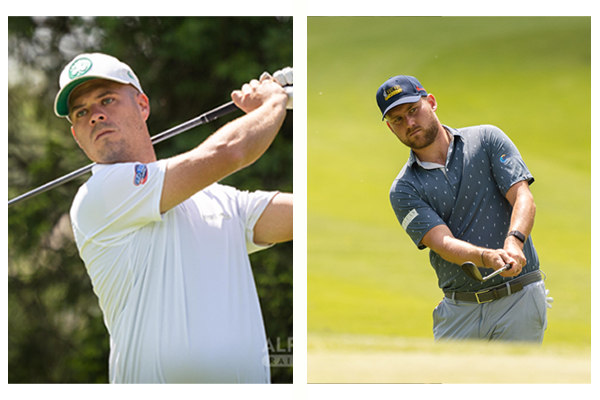 26th May 2022 | Alps Tour Golf
Marco Archetti and Davey Porsius lead entering the Final Round at the 8th Memorial Giorgio Bordoni presented by Aon.
Como, May 26th 2022- The players found different conditions this morning compared to the start of Round 1. A beautiful morning with a slight breeze and comfortable spring temperature, welcomed the competitors for Round 2 at the 8th Memorial Giorgio Bordoni presented by Aon. The tournament is currently being played at Golf Club La Pinetina near Como, Italy. Play began at 7:30 am from both the 1st and 10th hole.
When Round 2 finished, Italy's Marco Archetti and Netherland's Davey Porsius lead the field at 11 under-par. Just one shot back, at 10 under-par, round 1 leaders, Joel Moscatel Nachshon and Floris De Haas are placed. There are 6 players tied for 5th place at 8 under-par: Giacomo Fortini, Pierre Pineau, Luca Galliano, Davide Buchi, Jonathan Yates and Tom Vaillant.
Round 2 Player Quotes-
Marco Archetti, who finished yesterday's round just one shot back of the lead, is co-leading at 11 under-par entering the final round. His round today, included 1 eagle, 4 birdies and a single bogey for a 5 under-par round, 65. Archetti's goal is to keep playing more competitive golf while still continuing to follow his students at GC La Rossera. He has always played well at this week's venue and hopes to capture a win at the end of tomorrow's round. "I struggled slightly on the front nine today compared to yesterday but overall I'm very happy. I've been putting very well and making some clutch putts this week. The plan for tomorrow is just to go out play my own game and have a low round."
Netherland's Davey Porsius is co-leading at 11 under-par after his incredible 9 under-par round today. He was -8 after 10 holes including an eagle at the 10th hole. Porsius had a few setbacks in his amateur career, however things changed in 2018 when he played in the KLM Open and then qualified for the Alps Tour. He was very pleased with the round today and hopes to finish the tournament off strong, "Today was very good, a good start to the round. I wanted to try and beat the course record but came up just short unfortunately. Italy is very lucky for me, I had a second place at Golf Nazionale and I obviously want to win tomorrow to try and make a jump in the Order of Merit."
Spain's Joel Moscatel Nachshon who was one of yesterday's co-leaders, shot a 3 under-par round today for a two-day total of 10 under-par and is in a tied for 3rd place, 1 shot back of the lead entering tomorrow's final round.  Even though this is his first season as a professional player, he competed all of last year's season as an amateur. Joel was pleasantly surprised after his round today: "I didn't expect it, I am very happy. I'm carrying good sensations from last week after having played a Challenge Tour event so I'm very happy." He also commented on how he's enjoying this course but finding it a bit more demanding physically: "The course is very nice but it is tricky and tiring especially with the humidity today, particularly hole 9 and 18 they are brutal. The goal for tomorrow is just to play my game and enjoy the day to see what happens."
Floris De Haas from Netherland had 4 birdies and 1 bogey in his round today for a two-day total of 10 under-par and is in a tied for 3rd place, 1 shot from the lead. De Haas has been playing well this entire week "I love this course, I love the atmosphere and my game has been a result of that. The course played nicely again, still receptive but luckily more dry compared to yesterday. Today some of the pins were a bit more tricky in my opinion but I played steady and some putts dropped on the back nine. I'm looking forward to the final round tomorrow."
In a tied for 5th place at 8 under-par and 3 shots back of the lead there is: Giacomo Fortini, Pierre Pineau, Luca Galliano, Davide Buchi, Jonathan Yates and Tom Vaillant.
Final Round-
The Final Round of the 8th Memorial Giorgio Bordoni presented by Aon, will begin tomorrow at 8:15 am from hole 1 and 10. The final group will tee off at 9:32am. The winner of this tournament will earn € 5,800 and 6,525 Order of Merit points.
A total of 45 players, 41 professional and 4 amateurs, made the cut which was set at 3 under-par.
For the complete Round 2 leaderboard click here or on the official Alps Tour Golf app.
Tournament Promoter-
This week, Aon is the tournament Presenting Sponsor at the Memorial Giorgio Bordoni 2022. Aon is also a worldwide partner of Ryder Cup 2023 that will be played at Marco Simone Golf & Country Club in Rome, Italy.
Like the majority of the Alps Tour events played in Italy, this event is organized by the Italian Pro Tour, which is a branch of the Italian Golf Federation. They promote the majority of the professional golf events that are played in Italy. The main sponsors that support the Italian Pro Tour include DS Automobiles, Fideuram, Kappa, Rinascente and Eureco. In addition, their media partners are the following three Italian newspapers: Corriere dello Sport, Tuttosportand Il Giornale. The Italian Pro Tour featured social partner is Sport Senza Frontiere Onlus and with an official advisor, Infront.
Follow along on www.alpstourgolf.com or the official "Alps Tour Golf" app to keep up on all the latest news (available on App Store for iOS devices and Play Store for Android)
#risinggolfstars
#raisinggolfstars
Instagram- @alpstourgolf
Facebook- Alpstourgolf
Latest Alps Tour Golf News