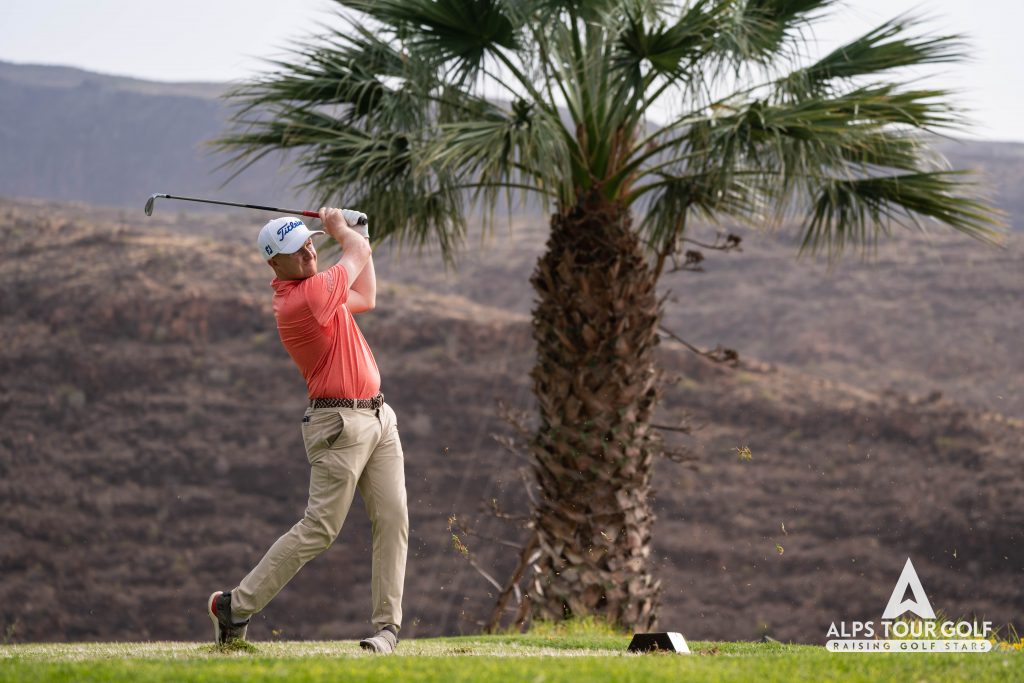 13th July 2023 | Alps Tour Golf
Ronan Mullarney leads after a bogey-free opening round at the 2023 Fred.Olsen Alps De La Gomera.
Round 1 Notes
Tecina Golf
La Gomera, Islas Canarias (Spain)
13
th
– 15
th
 July 2023
Leaderboard

| | | |
| --- | --- | --- |
|    Pos. |                 Name |      Score |
|       1 | Ronan Mullarney (IRL) | -9 (62) |
|       2 | Kevin Hesbois (BEL) | -7 (64) |
| | Bob Geurts (NED) | -7 (64) |
| | Davide Buchi (ITA) | -7 (64) |
|       5 | 3 players tied at | -6 (65) |
Quick Links
---
Ronan Mullarney leads after a bogey-free opening round at the 2023 Fred.Olsen Alps De La Gomera. 
La Gomera, July 13th 2023- 
Ireland's 
Ronan Mullarney, 
winner of the 
2023 Gösser Open
, leads the field after a bogey-free 9 under-par 62 at the conclusion of the 1
st
 round at the 
2023 Fred.Olsen Alps De La Gomera
. Belgium's 
Kevin Hesbois
, Netherland's 
Bob Geurts 
and Italy's 
Davide Buchi
 are in a three-way tie for 2
nd
 place at 7 under-par. Italy's 
Davide Buchi
 made an unbelievable albatross on the 500 meters par 5, 3
rd
 hole. Just one shot back, at 6 under-par: France's 
Oihan Guillamoundeguy
, Ireland's 
Michael Young
 and Spanish amateur 
Jose Antonio Sintes Navarro
.
On the beautiful Island De La Gomera, in the Canary Islands, the first round of the 2023 Fred.Olsen Alps De La Gomeraplayed at the beautiful Tecina Golf began at 8:20 am. This is the 4th edition of the 2023 Fred.Olsen Alps De La Gomera after its previous three editions which were hosted in 2018, 2019 and 2022. The players were able to compete under perfect weather conditions which favored good scoring opportunities as they began the tournament with sunny skies and minimal light winds.
Round 1 Player Quotes 
Ireland's Ronan Mullarney, 27 years old leads by 2 strokes after his great 1st round at the 2023 Fred.Olsen Alps de La Gomera. He shot a bogey-free, 9 under-par opening round. He currently sits in 2nd place in the Order of Merit Rank and captured his 1st full-field professional win at the 2023 Gösser Open which took place in May. He previously had played in some events in 2020 before the Covid-19 pandemic began but this is his 1st full year on the Alps Tour. Mullarney turned professional in 2019 and competed in the 2022 Open Championship. After his performance, he commented: "I'm very pleased, I played nice and putted quite well. Today I was able to birdie a lot of the par 5s and one eagle which definitely helped. The course is nice, the practice putting green is different than the course so it took a little while to get used to while I got out there." He added that he's "usually fairly aggressive off the tees hitting a lot of drivers, and I plan to keep doing that the next two rounds and hopefully I keep putting well."
Kevin Hesbois from Belgium, 32 years old who currently represents Ternesse Golf & Country Club, concluded his 1st round with a 7 under-par, 64 and is one of the three players tied for 2nd place only 2 strokes back. He made 1 eagle, 6 birdies and 1 bogey during his opening round. After his round, Hesbois commented on how well he played, "Today was fun and I obviously played well all day. On the front nine, I hit it close a couple times which helped create the momentum for the round. I was able to finish strong as well which is always nice when you have it going low." Hesbois went on to add that: "course is really good. Conditions are good and promote low scoring. Wind was a small factor. The warmth was harder to manage. I have no real expectations this week. Just going to keep focusing on the right things. Only goal is to give myself as many birdie chances as possible and stay as patient as possible. Scores will take care of themselves."
Netherland's Bob Geurts, 24 years old is the second player tied for 2nd place with a first-round score of 7 under-par. He turned professional towards the end of last year and prior to this week, his best finishes were a tie for 11th place at the 2023 Gösser Open and at the 2023 Croara Alps Open. During today's round, he made 1 eagle, 4 birdies and 1 bogey on the front nine and 1 bogey and 3 birdies on the back nine for a 64. After his round, Geurts was happy that he "hit the ball great and put myself in good spots to make birdies. It was a really solid day of golf. I tried to keep it simple and put a good round together." He also commented that Tecina Golf "is great, it's a relaxing and nice course. I love the layout and the fact that there wasn't a lot of wind today was very fortunate." 
Twenty-six years old, Davide Buchi from Italy is the third player tied for 2nd place after his opening bogey- free 7 under-par, 64. He currently represents Golf Club Varese and has gathered a couple of top 20 finishes so far this season. Buchi began his round with 2 birdies and an unbelievable albatross on the par 5, 3rd hole in his first four holes. After his bogey-free round, Buchi happily commented that "I hit a great iron shot but I'd never thought that it would go in. It's my first albatross of my career. It for sure gave me good momentum for the remaining of the round. I want to keep thinking about my own game and keep playing well like today. The course is in excellent conditions and the rough isn't too high, therefor we will be able to go low."
In the 3-way tie for 5th place at 6 under-par: France's Oihan Guillamoundeguy, Ireland's Michael Young and Spanish amateur Jose Antonio Sintes Navarro.
The highlight of the day belongs to Italy's Davide Buchi who made an incredible albatross on the 500 meters par 5, 3rd hole.
Round 2
The second round of the 2023 Fred.Olsen Alps de La Gomera will begin again at 8:20 am local time from the 1st and 10thhole. After round 2, a cut will be made to the top 40 players and ties.
The players are contending a prize fund of €40.000 and 45,000 Order of Merit points. The winner will earn €5,800 and 6,525 Order of Merit points
The first-round leader, Ronan Mullarney will begin round 2 at 12:00pm local time from the 1st hole.
Sustainability 
Tecina Golf and Hotel Jardín Tecina, host hotel of the tournament, are committed to sustainability and environmental preservation, which implies a harmonious integration between the golf course, the hotel and the surrounding plant and animal life.
In terms of waste management, the use of plastic has been eliminated as much as possible and digital processes have been adopted to reduce paper consumption. In addition, Tecina Golf has a wastewater treatment plant to ensure adequate and respectful treatment of the water used on the golf course. Hotel Jardín Tecina and Tecina Golf have managed to combine luxury and quality with a solid and respectful approach to the ecosystem, with minimal impact on the environment and local culture.
26th May 2017 | Alps Tour Golf
Arnaus on a highway to maiden win in France
Spain's Adria Arnaus dug his advantage thanks to 69 second card for -9 total. He will have a huge margin of 6 shots heading to final day and trying to get his maiden win. His challengers are two former Alps Tour winners, Belgium's Kevin Hesbois and last week winner, Austria's Lukas Nemecz, former European Tour player.
The young amateur from Spain kept the rhythm during second round in Paris. He managed to tame the tricky course of Clément Ader Golf Club. Only three players in the total field shot under par back to back, the leader 66-69, Lukas Nemecz 70-71 and Thomas Grava from France 71-71.
The cut is fixed at +5, five shots higher than the average on the Alps Tour.
Arnaus said he kept the same strategy to play the course.
"Same as yesterday, I did my best to keep the ball in play. On this course, it is really important to hit the fairways, then the greens to have chance to roll some putts. I managed to hit 9 greens on the front which gave me a lot of opportunities. And then on the back, I missed a couple greens but I had some good ups and downs.
Obviously, I took some experience 3 weeks back in Madrid when I was in the group behind the leading group and that was a really cool experience. What I will take is just to play my game. Basically my game plan won't change for tomorrow."
15th February 2016 | Alps Tour Golf
Daux set rythm in Sokhna
Franck Daux of France kept on shinning in Sokhna golf club. He fired 63, -9 and set the course record af A/B course. He only had one bogey because of a penalty he gave himself on 15th fairway.
It was a great day in Sokhna today. The sun was generous and hot temperatures warmed up the atposphere quickly. The club house leader of morning players was Belgium's Kevin Hesbois with -5.
« I had to say, I holed many putts and that was the key today. I had some dropped shots but all in all a good day though. »
Enlgand's Liam Harper and France's neo pro Léonard Bem signed for same score to tie for second position but the leader took a four shot advantage thanks to stunning 63.
Obviously every part of his game went in the right direction but his playing partners appreciated his honesty as well.
Daux grounded his ball and he made it move on the 15th fairway. He had to replace it and dropped one shot.
« It was obvious that it was my fault. The ball moved half a couple of centimeters and still, it had moved. »
Enrico Maccario said « It was very classy and honest. Even if we are playing a gentlemen sport and this behavior is normal, it is always very nice to see that it happened. There was no witness, neither Léo or I did see anything. So very elegant from Franck. »
Franck Daux won his maiden title last week and he said his confidence is high and that he hit very close to the pins.
« I have been playing well for a couple of weeks now and I tried to keep on staying focus to the play and not to be a spectator of myself. I adapted my putting well on greens wich were a bit pumpy at the end of the day. Very happy with this nice advantage after one round. »
Latest Alps Tour Golf News