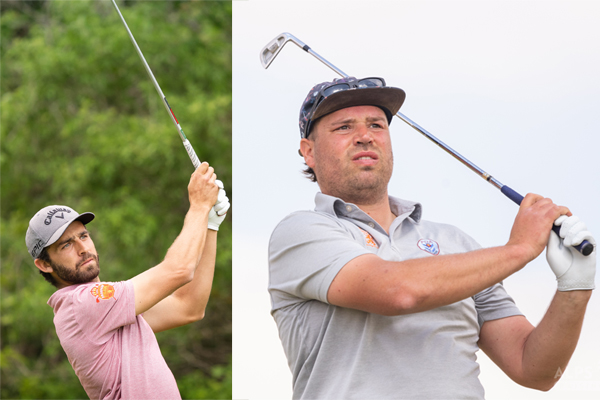 25th May 2022 | Alps Tour Golf
There is a two-way tied for the lead after Round 1 at the 8th Memorial Giorgio Bordoni presented by Aon.
Como, May 25th 2022- Consistent rain welcomed the players at Golf Club La Pinetina near Como, Italy for the First Round of the 8th Memorial Giorgio Bordoni presented by Aon. Play began at 7:30 am from both the 1st and 10th hole, however it was suspended at 8:15am due to unplayable course conditions.
Round 1 resumed at 10:30 am with the morning wave having a total delay of 2 hours 15 minutes, however the afternoon wave had a 2 hour delay. Once play resumed, the rain had stopped and the weather became overcast with a pleasant spring temperature. After the rain, the course conditions softened favoring the players access to the pins and good scoring conditions.
At the conclusion of Round 1, we have a full leaderboard. Netherland's Floris De Haas and Spain's Joel Moscatel Nachshon lead the field with a 7 under-par round 63. Marco Archetti, Giacomo Fortini, Rocco Sanjust and Lorenzo Magini from Italy are in a four-way tied, just one shot back at 6 under-par.
Round 1 Player Quotes-
Floris De Haas from Netherland is co-leading after the 1st round at the 8th Memorial Giorgio Bordoni presented by Aon. He shot a 7 under-par round 63 today with 6 birdies, 1 eagle and a single bogey. De Haas, was very pleased after his round, especially the eagle he made on the 3rd hole, "I was actually dreaming about this hole last night, it is one of the first holes that you must hit it straight, and then reach the green with a rescue, which is exactly what I did today and made the putt. It's a beautiful hole, a risk and reward hole but pleased with the reward today." He also commented on how he felt at ease with the course, "It's very nice being here, the course is amazing, I love it. I'm feeling good at this golf course and my game was a result of that. I'm happy that after the delay, we didn't have any rain instead, we had perfect scoring conditions and a receptive course."
Spain's Joel Moscatel Nachshon who represents R.C.G El Prat is the other co-leader of the 1st round. He shot a 7 under-par round 63 today. Playing in his first season as a professional golfer, however he is an experienced Alps Tour player having competed all of last year's season as an amateur. Joel was pleased after his round and especially on how the course held up after the rain, "I felt so good today, I had good distances to the pins and felt very comfortable. The course was really good, I didn't expect it to be this good with all the rain but I was happy." He plans on enjoying the place and the course to have a good rest of the week.
Italy's Marco Archetti, is just one shot of the first round lead with a round of 6 under-par 64. Archetti has always played consistently well at this week's venue, Golf Club La Pinetina and was visibly pleased after his round today, "I played well, I managed to make a few more putts than usual which always helped and I would say I was pretty lucky today. After the torrential rain we had this morning, the course held up nicely and we could attack more pins which was good." He proudly commented on how he would like to play more golf tournaments while continuing to train his athletes, being a golf instructor at GC La Rossera.
Another player who is just one shot from the lead is, Italy's Lorenzo Magini. He turned pro in 2008 and has consistently played on the Alps Tour since then. In recent years, his tournament appearances have been more sporadic due to the fact that he is an instructor at his own golf academy. His round today included 5 birdies, 1 eagle and 1 single bogey for a 6 under-par 64.
Giacomo Fortini representing CUS Ferrara GC, Italy is the third player in the four-way tied, one shot back of the lead. He is a past winner on the Alps Tour, having won the 2018 Cervino Open as an amateur. Fortini is currently 26th in this season's Order of Merit and has been playing consistently since the beginning of the year with 2 top 10 finishes.  After his round, he commented on how, "my putting and approach shots helped me score a low round today."
Rocco Sanjust from Italy is the fourth player in the four-way tied, one shot back of the lead. His round included 4 birdies on the front nine and 3 birdies and 1 bogey on the back nine for a 6 under-par round 64.
Among the 144 players competing this week you can find 127 professionals and 17 amateurs. The prize fund is set at €40,000. The winner will earn € 5,800 and 6,525 Order of Merit points.
Tournament Promoter-
This week, Aon is the tournament Presenting Sponsor at the Memorial Giorgio Bordoni 2022. Aon is also a worldwide partner of Ryder Cup 2023 that will be played at Marco Simone Golf & Country Club in Rome, Italy.
Like the majority of the Alps Tour events played in Italy, this event is organized by the Italian Pro Tour, which is a branch of the Italian Golf Federation. They promote the majority of the professional golf events that are played in Italy. The main sponsors that support the Italian Pro Tour include DS Automobiles, Fideuram, Kappa, Rinascente and Eureco. In addition, their media partners are the following three Italian newspapers: Corriere dello Sport, Tuttosportand Il Giornale. The Italian Pro Tour featured social partner is Sport Senza Frontiere Onlus and with an official advisor, Infront.
Round 2-
Round 2 of the 8th Memorial Giorgio Bordoni presented by Aon will begin at 7:30 am from hole 1 and 10.  After the second round, a cut will be made to the top 40 players.
For the complete Round 1 leaderboard click here or go on the official Alps Tour Golf app
Follow along on www.alpstourgolf.com or the official "Alps Tour Golf" app to keep up on all the latest news (available on App Store for iOS devices and Play Store for Android)
#risinggolfstars
#raisinggolfstars
Instagram- @alpstourgolf
Facebook- Alpstourgolf
Twitter- @alpstourgolf
Latest Alps Tour Golf News