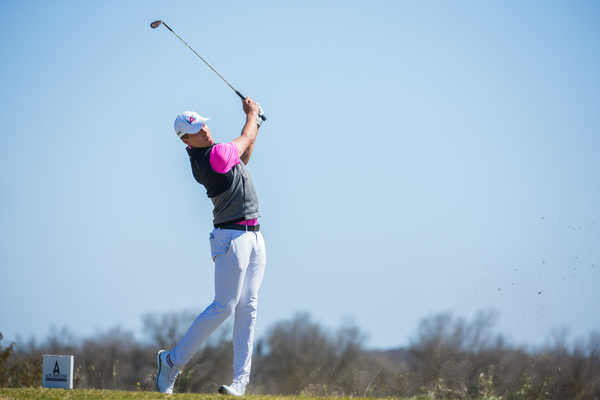 13th April 2022 | Alps Tour Golf
Koen Kouwenaar leads with a 7 under par after the First Round at Miglianico Golf.
It was a beautiful morning with perfect scoring conditions to start the 2022 Abruzzo Alps Open at Miglianico Golf. This week the course is playing as a par 70 for the 138 players competing.  Thanks to Miglianico Golf and Country Club President, Mr. Mario Dragonetti and course superintendent Mr. Carmine Berardocco for the outstanding work preparing the golf course in excellent conditions allowing the players to have great scoring opportunities.
At the end of the first round of the Abruzzo Alps Open there is a packed leaderboard. Netherland's, Koen Kouwenaar leads the field with an amazing 7-under par 63. He has a 1 stroke lead over Italian amateur, Flavio Michetti, Austria's Uli Weinhandl, France's Pierre Pineau and Portugal's Tomas Bessa Guimaraes who all shot a 6 under par round 64.
Koen Kouwenaar turned professional at the end 2020 and is currently 8th on the Order of Merit. This is his first season on the Alps Tour, due to the fact that he had a wrist injury which ended up needing surgery last year and was unable to play. Koen after his amazing 7-under par round which included 1 eagle, 7 birdies and 2 bogeys said, "I played well today. The long game was good, not as sharp as always but it was good, especially my driver. My putter was very hot today which is why I was able to make a lot of birdies. The course conditions are great. The fairways are firm and fast and the greens are very pure. The greens are slightly soft with allows for shots to be close to the pin. For the next two rounds, my key is to stick to my process. I know I can play well so I want to stick to my process and see what happens."
Defending champion, Jacopo Vecchi Fossa, who is currently playing this week as the Challenge Tour has an off week, shot a 3-under par round 67 and is 4 shots back of our current tournament leader. After the round, Jacopo said "I played well from tee to green, however once I got on the greens, I was struggling with my green reading. The course and the greens are in perfect conditions like always, it's overall consistently very well maintained by the course superintendents. The weather is good with a slight breeze and I'm looking forward to the rest of the tournament"
Italy's Flavio Michetti only 18 years of age, had a great start to the 2022 Abruzzo Alps Open with a bogey free round of 6-under par 64 round and currently tied in second place. After the round he was very pleased about his performance today. Michetti was pleased to comment "I played very well today especially around the greens in fact I didn't lose any strokes with my short game or putter. My long game was pretty consistent and I was able to keep my ball always in play. I was very concentrated for all 18 holes which allowed me to have a 6-under par round. The greens are tricky but they are in very good conditions and roll very well." 
Tomas Bessa Guimaraes, 25 years of age, who is a previous winner of this season at the 2022 New Giza Open and currently second in the Alps Tour Order of Merit had a good start to the tournament this week. He started his round with 6 birdies on his front nine for an incredible score of 29, 6 under par and continued with 2 bogeys and 2 birdies on the back nine to end his round.
"The course is in really good condition with maybe a few slight differences from the past years, maybe a little bit softer. I hit a lot of good drives which gave me a few easy birdies like on the 4th hole and the 8th hole where I had two eagle opportunities. My long iron game was very solid which allowed me to have 3 birdies on the par 3's which for me is the toughest part of this golf course." These were the comments from France's Pierre Pineau after he completed a 6 under par, bogey free round this afternoon. He also said- "There was only a slight breeze therefore we had perfect conditions overall and I'm happy to have taken advantage."
Uli Weinhandl, 45 years of age was consistent in his round today with a front nine score of 32 and a back nine score of 32 which included 8 birdies and 2 bogeys.
The 2022 Abruzzo Alps Open is an event organized by the Italian Pro Tour, promotes all golf professional events played on Italian soil.
Among the 138 players competing this week you'll find 119 professionals and 19 amateurs. This week's field is represented by 14 nationalities, the majority of which are French, Italian, and Spanish. In the French field, there are 23 players represented. Among the Italian players, there are 64 players represented, and among the Spanish there are 17 players. The tournament winner will earn €5,800 and 6,525 Order of Merit points.
Round 2 of the Abruzzo Alps Open, will begin again at 7:30 am from hole 1 and 10. It will be an intriguing round to watch thanks to the packed leaderboard and good scoring conditions.
Follow along on www.alpstourgolf.com or the official "Alps Tour Golf" app to keep up on all the latest news (available on App Store for iOS devices and Play Store for Android)
#risinggolfstars
#raisinggolfstars
Instagram- @alpstourgolf
Facebook- Alpstourgolf
Twitter- @alpstourgolf
11th April 2022 | Alps Tour Golf
The Alps Tour returns at Miglianico Golf for the 8th Abruzzo Open
Pescara, April 11th 2022 – The tour returns to action this week in Italy after a two week break and head to the Abruzzo region in Central Italy. The 2022 Abruzzo Alps Open will be played at Miglianico Golf and Country Club in Pescara, Italy. The sixth event of the 2022 season, will be contended from Wednesday April 13th until Friday April 15th. On Tuesday, April 12th, the day prior to the start of the tournament, a "best ball aggregate to par" shot gun pro-am will occur.
Miglianico Golf and Country Club is a 5875 meters par 72 course. It was designed by well-known American golf architect, Ronald Kirby. Miglianico G&CC has hosted numerous events in the past including the Abruzzo Alps Tour Open seven times, the 2021 1st stage Alps Tour Qualifying School, and the 2009 Games of the Mediterranean. The course is surrounded by vineyards, olive groves, bunkers, and artificial lakes making Miglianico Golf a pleasant but challenging course to play having some strategically placed bunkers and water hazards.
The most recent winner of the Abruzzo Alps Open in 2021 is Jacopo Vecchi Fossa with a score of -15. Jacopo won the Alps Tour Order of Merit in 2021 earning him access in this year's Challenge Tour. This week Jacopo will be in the field defending his title for the Abruzzo Alps Open. Past champions of this event include Guido Migliozzi who won the event in 2017 with a score of -14 and in 2018 with a score of -18, and is now a player on the DP World Tour. In addition, Matt Wallace, who is a current PGA Tour and DP World Tour player is also a past champion at Miglianico G&CC having won the 2016 Grand Final with a score of -17.
With most leading Order of Merit players competing this week, it is sure to be a very compelling week to watch. You'll find the current Order of Merit leader, Italy's Stefano Mazzoli in addition to the other top 5 players in the current Order of Merit rank. France's Oihan Guillamoundeguy, winner of the second event of the season and 7th in the current Order of Merit is also playing this week.  All of this season's previous winners are scheduled to compete this week and hope to each capture their second season win.
This week's event is organized by the Italian Pro Tour, which is a branch of the Italian Golf Federation who promotes all golf professional events played on Italian soil. The main sponsors who support the Italian Pro Tour include DS Automobiles, Fideuram, and Kappa e Eureco. Their media partners are three Italian newspapers: Corriere dello Sport, Tuttosport and Il Giornale. The Italian Pro Tour also has a social partner, Sport Senza Frontiere Onlus and an official advisor Infront.
Among the 138 players competing this week, the field is represented by 15 different nationalities. The players will be competing for a prize fund of €40.000 and 45,000 Order of Merit points. Instead, the tournament winner will earn €5,800 and 6,525 Order of Merit points.
Follow along on www.alpstourgolf.com or the official "Alps Tour Golf" app to keep up on all the latest news (available on App Store for iOS devices and Play Store for Android)
#risinggolfstars
#raisinggolfstars
12th June 2021 | Alps Tour Golf
Vecchi Fossa and Gris joint leaders on day 2
Metz, 12th June 2021 – With another great day at the office at Golf de la Grange aux Ormes, Italian Jacopo Vecchi Fossa, 26, has climbed one step from yesterday's position and is sharing the lead at -8 with Frenchman Jules Gris, 25, after the second round of the Open de la Mirabelle d'Or, in Eastern France. Portuguese Tomás Bessa, 24, is enjoying his third position just one stroke back at -7, while 4th spot is shared by six players at -6.
On a weatherwise complicated day, with a light morning breeze turning into a real wind in the afternoon, Vecchi Fossa (teeing off at 13:14 from hole n. 10), leader of the Order of Merit after 6 tournaments, is showing once again that he is the man to beat: adding a 67 (-3) to yesterday's 65 (-5), he has carded one eagle, three birdies and two bogeys. "It's been a hard, windy day, the course is tight, the rough is definitely unforgiving, deep and thick. Overall, I'm satisfied with my game especially from the tee, I've missed some putts but I made an eagle three on hole n. 5 which definitely helped! I have suffered a bit on the last holes, with a bogey on n. 9; those are the most difficult holes and the wind made them even more problematic. Let's see what tomorrow brings!".
Jules Gris, who gained his spot in the tournament thanks to his 3rd place in the French Qualifying School, which gives him the right to also play two Challenge Tour events on French soil, is obviously very happy with his result: "I have been playing well for a while now and my coach was feeling that something good was about to come, and it happened today. I'm curious to see how I'm going to face the game tomorrow, as it is the first time that I'm in such a good spot. My strategy was to keep the ball in play and play with my head, it worked well. I will try to keep the same mindset for tomorrow, always trying to have fun on the course whenever possible".
The best card of the day was signed by Italian Gianluca Proietti, who shot a 63 (-7), ten shots better than first round, with one eagle, seven birdies and two bogeys, and is sitting on T15 at -4.
Once again, the work of the fore-caddies was really precious helping to find balls in the rough and speed up the game; 59 players (44 pros and 15 amateurs) made the cut at level par, and will play tomorrow to share the 45,000 points for the Alps Tour members (and the 40,000 Euros for the pros). The second round statistics record also 51 players under par and a total of one double eagle (made by Frenchman Sam Dumez, a 2 on hole n. 4, a par 5 of 460 metres!), 25 eagles and 460 birdies for the day.
Click here for the 2nd round results or check on the Alps Tour Golf app.
22nd February 2017 | Alps Tour Golf
Van Meijel grabbed maiden win in Egypt
Dutch Lars Van Meijel grabbed maiden win in Egypt. He won the Red Sea Little Venice Open with -13 total thanks to last round 68. Italy's Jacopo Vecchi Fossa was at same score with 2 holes to play but eventually dropped back to back shots on the 17th and the 18th hole.
Lars Van Meijel was already in contention last week but did not succeed in lifting the big silver cup. This experience was for sure a precious one as he showed nerves of steel as he was leading the way since tee 1.
The young player from Netherlands had up to a 5 shot advantage during the last round but Vecchi Fossa, in the second last group was chasing him birdie after birdie. Still, the suspense was only on the leaderboard but on course, Van Meijel was 4 shots better teeing off the last hole than the leader at club house. He dropped 2 shots on 18th but could celebrate a first title as pro.
"I started really well, I played really good on the front nine. I just made a silly on the par 5 8th and I made some good birdies again. I had a really poor tee shot on the last hole and I made double. I have to admit it was because of emotion going for a win.
Compare to big amateur competitions there are not that many difference. The level is very hgh the only thing is that you are playing for money and every shots counts."
Vecchi Fossa finished at second place and Gerard Piris Mateu, first day leader, completed the podium.
Lars Van Meijel with this win and a 4th place last week, is currently leading the Alps Tour order of Merit with 6425 points. Julien Brun is only 215 points back, with a win and a 5th place. Jacopo Vecchi Fossa is third, Alexandre Daydou, 4th and the 5th place goes to Xavier Poncelet.
Latest Alps Tour Golf News