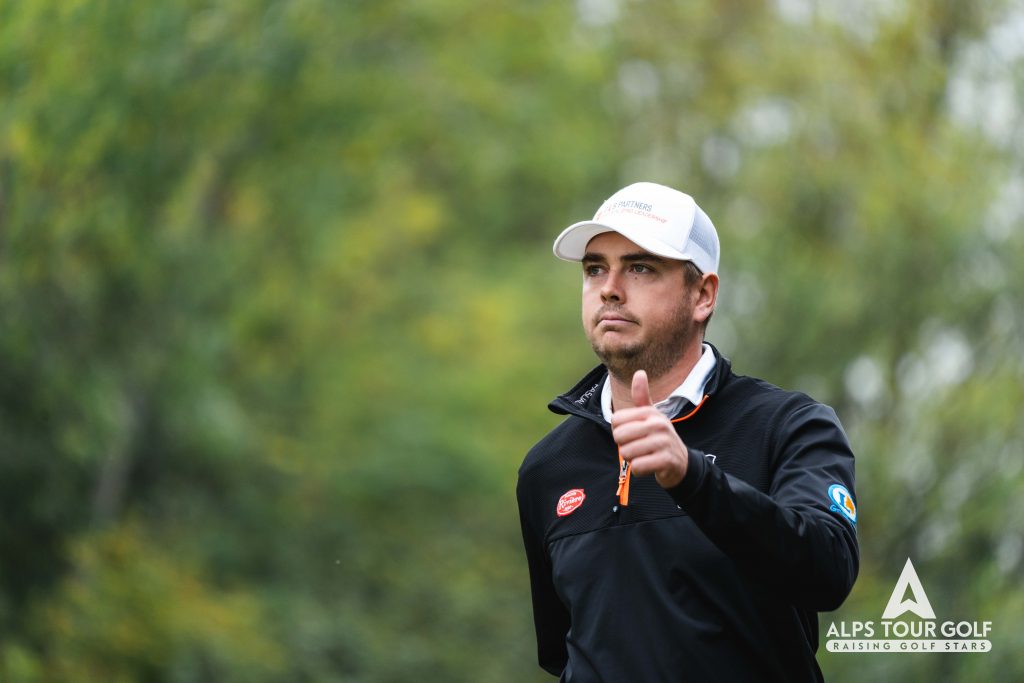 18th October 2023 | Alps Tour Golf
Augustin Holé leads after Round 1 at the 2023 Alps Tour Grand Final Presented by AURALIS Limitless Lighting
Cavaso del Tomba, October 18th 2023 
– France's 
Augustin Holé
 leads with a 9 under-par,63 at the conclusion of Round 1 at the 
2023 Alps Tour Grand Final Presented by AURALIS Limitless Lighting
. There is a 3-way tie for 2
nd
 place at 6 under-par that includes: Italy's 
Edoardo R Lipparelli
, Ireland's 
Paul McBride
 and Spain's 
Quim Vidal
. In 5
th
 place, 
Joel Moscatel
from Spain with a 5 under-par.
An overcast day with cold fall temperatures and some light rain towards the end of the round welcomed the players for the first round of the 2023 Alps Tour Grand Final Presented by AURALIS Limitless Lighting. The tournament is being held at Asolo Golf Club in Cavaso del Tomba, Italy. This is the 1st time that Asolo Golf Club is hosting the Alps Tour Grand Final and 9 years since it last hosted an Alps Tour regular event. Play began at 8:20 am local time from the 1st hole for all competitors. Rain is expected for the next two rounds, with slightly warmer temperatures than today. This is the season-ending tournament where the top 5 players in the Order of Merit rank at the end of this week's tournament will earn a Challenge Tour, category 12b card for the 2024 season.
Round 1 Player Quotes
Augustin Holé from France shot an incredible bogey-free 9 under-par, 63 to lead after the 1st round of the 2023 Alps Tour Grand Final Presented by AURALIS Limitless Lighting. He is twenty-six years old and currently represents Biarritz Le Phare. He began his round with 2 birdies on the first two holes and then made another one on the 8th hole before making the turn where he made an eagle on the 12th hole and 4 birdies. After his 9-under-par bogey-free opening round, Holé explained that: "I didn't miss a green until the 14th or 15th hole and didn't miss many fairways either so overall, I'm very pleased. I stayed patient, I stayed in the game and it was a very good day. Obviously, putting a 9 under-par round is a good feeling, everything worked well today." He went on to add that in the "past few months, I've been working a lot in staying the present so I will stay in the present, I'm going to go eat now, some practice, then wake up tomorrow and we'll see how it goes." Holé also commented that he found "great pin positions today, I actually told a referee today on the course I said it's hard and I think we need more of that. I was happy to see that the pins were tucked in the left corner, right corner, behind the bunker and stuff."When asked where he plans to play next year, "We'll hopefully move up to the DP World Tour."
Italy's Edoardo R Lipparelli is in a three-way tie for 3rd place alongside Ireland's Paul McBride and Spain's Quim Vidal with a first-round score of 6 under-par. He shot a bogey-free 6 under-par, 66 with 3 birdies on both the front and back nine. After Lipparelli concluded his round, he commented on how today, "Was a steady round today, I didn't have any mishits that's how I was able to put a bogey-free round together. My putter finally helped me, I've been working a lot on my putting and it's finally showing the results. The greens are in excellent condition, they roll really well so hitting some good putts you have a better chance of making them." 
Paul McBride from Ireland is the 2nd player in the three-way tie for 3rd place at 6 under-par with another great bogey-free round. He is 27 years old and represents The Island Golf Club. He made a birdie on the 4th and 6th hole to make the turn at 2 under-par and then added four more birdies on the 10th, 12th, 15th and 17th hole. He is 17th in the current Order of Merit rank and is looking to make a move with a good performance this week.
Spain's Quim Vidal, winner of the second event of the season, the 2023 Red Sea Little Venice Open, is the third player in the 3-way tie for 3rd place at 6 under-par. He is 23 years old and currently is 6th in the Order of Merit standings, he is looking to make a move in the rankings this week to try and earn his Challenge Tour card for next season. When he signed for his 66, he commented: "Today I played pretty solid, I hit some good shots and that allowed me to have some good confidence for the rest of the round. The course is really interesting, you can have various strategies, especially from the tee shot but to put a good round together staying in play is crucial." When asked if he thought about his current position in the Order of Merit rank, Vidal responded: "I slightly thought about it, I tried to stay present as much as possible but it definitely comes into my head at times."
Spain's Joel Moscatel finds himself in 5th place after the 1st round with a 5 under-par, 67. He is 25 years old and represents RCG El Prat. Moscatel had a tough start with a double bogey on the 1st hole and then went on to make 7 birdies to conclude his round. After his round he commented: "It was a really good day, I started with a double bogey but Borja was playing well so I tried to feed off some momentum from him but at the same time I was really calm and staying patient as I knew I was playing well. Playing with Borja was fun, we enjoyed it, we were talking a lot and it was enjoyable." 
The 49 players in the field this week are competing for a prize fund of €50,000 and 60,000 points. The winner of the 2023 Alps Tour Grand Final Presented by AURALIS Limitless Lighting will earn € 10,000 and 9,500 Order of Merit points.
Round 2 
The second round of the 2023 Alps Tour Grand Final Presented by AURALIS Limitless Lighting will begin at 9:00 am local time from the 1st and 10th hole due to expected inclement weather. The leaders will tee off at 10:28 am local time from the 1sthole.
Tournament Promoter
The 2023 Alps Tour Grand Final Presented by AURALIS Limitless Lighting is promoted directly by the Alps Tour.
For this event, we are grateful to have AURALIS Limitless Lighting as the tournament presenting sponsor. Auralis is the first integrated industrial hub in the lighting field. A unique, vertical and comprehensive group of excellence that defines a new era in the lighting sector through a strong drive for technological innovation, the pursuit for beauty, and a clear mission aimed at promoting the culture of light as a tool to improve the quality of people's lives.
The tournament also has numerous sponsors and partners such as: Ricoh, GAS Milano 1984, Battistella Golf, Extreme Factory, Imball Veneta, Golf 2.0 Megastore, Twïntee, Federazione Italiana Golf, Fédération Française de Golf, Real Federación Española de Golf and Österreichischer Golf-Verband.
Follow the livescoring starting tomorrow morning on www.alpstourgolf.com or the official "Alps Tour Golf" app.
#risinggolfstars
#raisinggolfstars
Latest Alps Tour Golf News