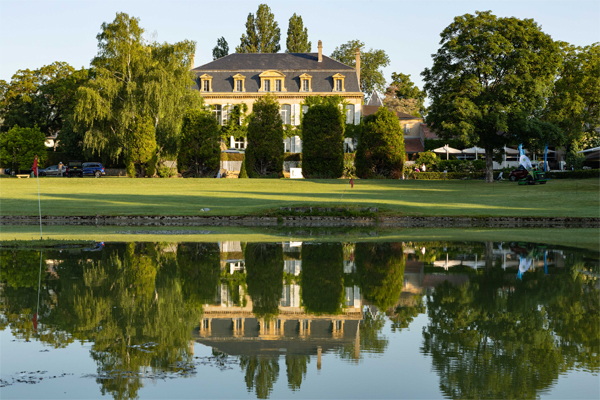 8th June 2022 | Alps Tour Golf
The Alps Tour heads to France for the Open de la Mirabelle D'Or.
Metz, June 8th 2022– After a week off, the tour moves to the Northeastern Grand Est Region in France for the Open International de la Mirabelle D'Or. The tournament will be played from June 10th until June 12th at Golf Domaine de la Grange Aux Ormes near Metz, France.  On June 9th, the traditional pro-am with 40 teams will be played.
The tournament has reached its 19th edition this year, however it has been part of the Alps Tour schedule since 2005.  The event has had various winners over the years, including Italy's Lorenzo Gagli and Spain's Alejandro Del Rey who are now DP World Tour Players. The current defending champion is France's Franck Medale who won in 2021 with a score of 14 under-par. On May 30th, a qualifier event was played at the tournament host, Golf Domaine de la Grange Aux Ormes, that offered players the opportunity to qualify for the extra 7 available spots in this week's event.
The Field-
Participating in this week's field is current Order of Merit Leader, Netherland's Koen Kouwenaar in addition to the other top 8 players in the current rank: Gregorio De Leo, Stefano Mazzoli, Tomas Bessa Guimaraes, Pierre Pineau, amateur Julien Sale, Mathias Eggenberger and amateur Tom Vaillant, all of whom are trying to capture the 2022 Open de La Mirabelle D'Or title.
It is sure to be a very compelling week to watch as all of this season's previous winners except for Marcus Brier, winner of the 30th Gösser Open, are scheduled to compete. As each player strives to capture their second season win, they will also strive to improve their current position in the Order of Merit rank. Current defending champion, France's Franck Medale will be one of the many French players representing their country at the 19th Open International de la Mirabelle D'Or, as a strong home field is expected.
Seven players were able to qualify at the qualifier that was held on May 30th, 4 of which are professional players and 3 amateur players. The qualifier was won by Thomas Dorier with a score of 63.
There will be 144 players from 20 different nationalities competing for a prize fund of €40,000 and 45,000 points. The winner of the 2022 Open International de la Mirabelle D'Or will earn € 5,800 and 6,525 Order of Merit points. It is a 54 holes stroke play tournament where a cut will be made after 36 holes to the top 40 players and ties.
The Course-
Golf Domaine de la Grange Aux Ormes in Metz, France is a 6436 meters par 70 course. Designed by Philippe Gourdon, it is placed on an undulating terrain that offers various different challenges to each player. The golf course is outlined by century old trees and water hazards, yet provides views of the surrounding countryside as well as of Val Messin. The château in the background is the estate's signature view. The fairways are relatively broad but the dense rough can penalize any inconsistent tee shot. Golf Domaine de la Grange Aux Ormes is home to 27 holes, an 18 holes course called "Le Bois Brûlé" and a 9 holes course called "Le Breuil". "Le Bois Brûlé" has been the longtime host of this tournament.
Tournament Promoter-
This event is organized and promoted directly by the golf club, Golf Domaine de la Grange Aux Ormes. The Institutional Sponsors that support this tournament are: Région Grand Est, Département de la Moselle, Ville de Marly, Inspire Metz and Fédération Française de Golf. The Private Partners at this event are: Crédit Agricole, Quadral, Mercedes Kroely, Demathieu & Bard, JC Decaux, Opéra Théâtre, Mayer and Banque Populaire. The Official Suppliers of the tournament are: Eurogolf Luxembourg, Lemoy, Heineken, Château Sainte- Marguerite, Cristian Senez, Agence Grand Angle and Café Richard. In addition, their media partners are the following two media outlets: La semaine and Républicain Lorrain.
Follow along on www.alpstourgolf.com or the official "Alps Tour Golf" app to keep up on all the latest news (available on App Store for iOS devices and Play Store for Android)
#risinggolfstars
#raisinggolfstars
Instagram- @alpstourgolf
Facebook- Alpstourgolf
Twitter- @alpstourgolf
Latest Alps Tour Golf News