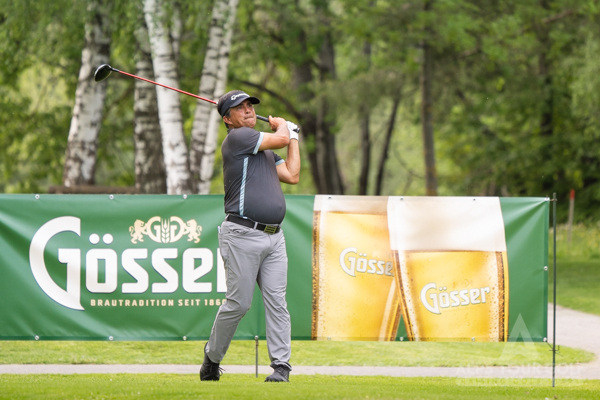 12th May 2022 | Alps Tour Golf
David Morland IV leads after Round 1 with an 8 under-par 64 round.
Graz, May 12th 2022- A beautiful spring day with perfect scoring conditions in the Western state of Styria welcomed the players for the 1st round of the 30th Gösser Open. Play began at 7:20 this morning from the 1st and 10th hole. The tournament is being played at GC Erzherzog Johann in Maria Lankowitz, its host since 2000.
At the completion of the first round with good scoring conditions, we have a packed leaderboard with Legends Tour player David Morland IV leading the field with a brilliant 8 under-par round 64.
Round 1 Leader Quotes-
David Morland IV from Canada, one of the five Legends Tour players that was invited to take part in the 30thanniversary of the Gösser Open, is leading after the 1st round. Morland IV, turned professional in 1991 and has played on various tours, including the PGA Tour. He earned his Legends Tour card in 2020 after attending qualifying school. He shot an 8 under-par round 64 today with 6 birdies on the front nine holes and 2 on the back nine. "When I got to the golf course this morning and saw my friend and fellow Legends Tour player, Clark Dennis at the top of the leaderboard, that was my motivation to get me going and play well.  I had a lot of opportunities on the back which just stayed on the edge but I'm happy with my par save on the 18th hole." Morland IV is very happy to be playing this week against a younger field, "It's great for the game of golf, if we can pass anything to them and they can learn anything us from its great."
Italy's Luca Cianchetti, a multiple winner of the Alps Tour is two shots of the lead with a round of 6 under-par 66. He was very consistent throughout his round with 3 birdies on the front 9 holes and 3 birdies on the back 9 holes. Cianchetti's last win was at the 2021 Red Sea Little Venice Open.  After his round, he said: "I am very happy with the way I played and the direction my game is going in. I think the course is in great conditions and greens are really good and fast."
Another player who is just two shots of the lead is, Italy's Edoardo R Lipparelli representing Circolo Golf Adriatico. Lipparelli is a past winner on the Alps Tour, won the 2018 Alps Tour Order of Merit and has collected a number of top 3 finishes. His round included, 1 eagle, 6 birdies and 2 bogeys for a 6 under-par 66. He was pleased with the way his round went today, "I made a couple mistakes that cost me, but I was able to recover making a lot of birdies. The course is in great conditions and the greens aren't very easy to read."
Davey Porsius from Netherland's has had a couple of setbacks in his amateur career but has been playing consistently since the start of this season and is also at 6 under-par after the 1st round. In 2018, Porsius played in the KLM Open and then qualified for the Alps Tour. After his round today, Porsius was pleased with his start and hopes to continue this way the rest of the tournament "I started off quite well, being 6 under through 10 but left some shots out there on the last 8 holes." He also stated how he is comfortable with this golf course, "I love this course, the views, I always enjoyed coming here. It is a very enjoyable course to play, not the hardest but not the easiest either. This year we have slightly different conditions than we are used to but I think they are at an advantage for us longer hitters." Porsius has kept his expectations low after missing a couple of cuts but is now playing well and hopes to capture a win as quickly as possible.
Spain's Alvaro Hernandez Cabezuela who is playing in his 1st season as a professional player but his second on the Alps Tour, shot a 6 under-par 66 and also just two shots back in a tied for second place. After his round, Alvaro was very pleased, "I played great today. I had a lot of good birdie chances and was able to recover when I missed the green. The greens are rolling well. I'm happy to be back on track after a few difficult events and looking forward to enjoying two more rounds here."
Felix Schulz from Austria shot a consistent 1st round at the 30th Gösser Open with a front nine score of 33 and a back nine score of 33 which included 7 birdies and just 1 bogey for a total of 6 under-par 66.
Among the 150 players competing this week you can find 118 professionals and 32 amateurs. The tournament winner will earn 6,525 Order of Merit points.
Tournament Promoter-
This week's event is promoted by the Murhof Gruppe. They own various golf courses throughout Austria including this week's venue. The sponsors and partners of Murhof Gruppe are Gösser Beer, Region Graz, Lipizzaner Heimat- Steiermark, Austrian Golf Federation, the city of Maria Lankowitz Wallfahrtsort Freizeitparadies and Steiermärkische Sparkasse. Their media partners are: Gepa Pictures, Antenne Steiermark, Kleine Zeitung.
Round 2-
The second round of the 30th Gösser Open, will begin again at 7:20 am from hole 1 and 10. It will be an intriguing second round to follow due to the possible incoming severe weather which is forecasted.
For the complete Round 1 leaderboard click here or go on the official Alps Tour Golf app.
Follow along on www.alpstourgolf.com or the official "Alps Tour Golf" app to keep up on all the latest news (available on App Store for iOS devices and Play Store for Android).
#risinggolfstars
#raisinggolfstars
Instagram- @alpstourgolf
Facebook- Alpstourgolf
Twitter- @alpstourgolf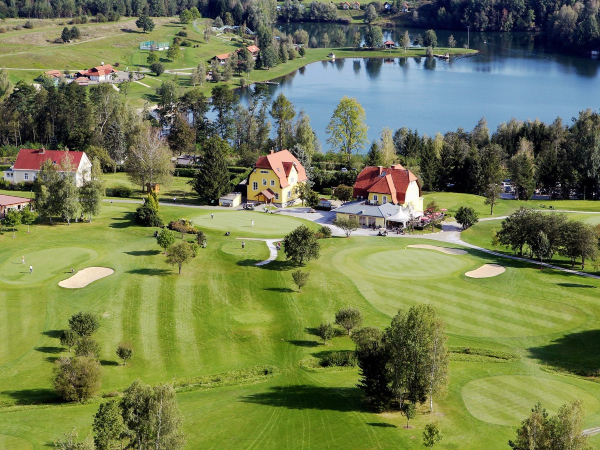 16th August 2021 | Alps Tour Golf
Gösser Open Kicks off Alps Tour End of Season
August 16th, 2021 – Maria Lankowitz, Austria – After a four-week break, the Alps Tour players are back on the tee box here at the Golf Club Erzherzog Johann. The Gösser Open or '5th Major' as it is sometimes referred to by members, sees its 29th edition this year. With just three more tournaments to go this year, the players will be aiming for points on the Order of Merit.
We have got seven out of the eight winners to date this season lined up. The absentee from the victors list is the Spanish two-time winner and currently first on the OofM, Angel Hidalgo Portillo. However, the number two, Ryan Lumsden from Scotland, who also has a brace of wins this season with the MIRA Golf Experience Acaya Open plus Alps de Las Castillas and a close second at the recent Roma Alps Letas Open, will be looking for that illusive third.
Winner of the last event, Frenchman Xavier Poncelet, currently twelfth on the OofM, will be more than focussed on repeating the feat here in Austria. His compatriots, the amateur Paul Margolis, winner of the MIRA Live the Soul Open and Franck Medale, victor at the Open de Mirabelle d'Or, fourth and fifth respectively on the OofM will be ready to give him a run for his money. They are joined by Thomas Elissade who previously won the Gösser Open back in 2014.
The other three 2021 title holders head a thirty-two strong Italian contingent: Jacopo Vecchi Fossa, winner of the Abruzzo Alps Open, the Antognolla Alps Open champion, Stefano Mazzoli, and Luca Ciancetti, victor at the Red Sea Little Venice Open. Sitting third, seventh and ninth on the OofM, they all have everything to play for.
The host country is represented by forty-two players, more than half of which are amateurs. Florian Thuller and Maximilian Klaus recently both had top ten finishes in the 2021 Austrian Amateur Championship. Among the pros, there are two former Alps Tour winners Clemens Gaster at the 2017 Alps de Andalucia and Uli Weinhandl whose wins may go back to the 2009/2010 season but who has had eighteen top ten finishes to date. The last two Gösser Open winners, Lukas Nemecz 2020 and Timon Balt 2019 were Austrian. Both are absent from the field this year, but their countrymen will be keen to keep the trophy at home.
Events get underway on Wednesday with the Pro-Am and weather conditions promise to be mild with periods of sunshine, light breezes, and no rain for the duration of the tournament.
Many thanks again go to the historic promotor, Murhofgruppe, for making the tournament possible.
Entries: click here or check on the Alps Tour Golf app.
Stay tuned! www.alpstourgolf.com and the app « Alps Tour Golf » (on App Store for iOS devices and Play Store for Android) will keep you updated on every news about Alps Tour.
Instagram @alpstourgolf
Facebook @Alpstourgolf Satellite
Twitter @AlpsTourGolf
15th August 2020 | Alps Tour Golf
Lukas Nemecz Reclaims His Crown
Maria Lankowitz (Austria), August 15, 2020 – What a great way to celebrate the return of the Alps Tour 2020 season with a nail-biting finish here at the Gösser Open which saw Lukas Nemecz from Austria, winner of the tournament in 2017, grab the title on the last hole with a -17 (199) for the 54 holes.
The final round teed off at 11:15am. Possible inclement weather later in the afternoon imposed a shotgun start at the Erzherzog Johann Golf Club to ensure that the round could be completed.
Round 2 had finished at 10:45am with Jordi Garcia Del Moral from Spain topping the leader board at 130 (-14) and in joint second place at 132 (-12) the Frenchman Thomas Elissalde and two Austrian players, Alexander Kopp and the amateur Maximilian Lechner. Yesterday's number two, Angel Hidalgo Portillo from Spain, started in fifth position at 133 (-11) alongside the Italian Jacopo Vecchi Fossa and Lukas Nemecz from Austria.
Everything looked to be plain sailing as Jordi Garcia Del Moral started the back nine at -17 overall. However, Sebastien Gandon from France suddenly burst into contention.  He had started from the 8th tee at -8 and opened with 5 straight pars. He then went into a birdie frenzy of 8 in a row which saw him steam up the leader board to second position on hole thirteen.
This left him just three strokes behind the leader. Jordi then bogeyed the 15th to leave just two strokes between them and three holes to go. Sebastien finished with pars to come into the clubhouse with an amazing -8 (64) for the day and 200 (-16) for the tournament.
Jordi was still out on the course with two holes to play and…he bogeyed the last two placing him and Sebastien in line for a play-off with both sitting at 200 (-16).
But Thomas Elissalde, winner of the Gösser Open in 2014, who started at -12 from the first tee alongside Jordi, had three birdies on the front nine interrupted by a double bogey to see him on the 10th for -14. He kept his cool on the last nine holes and another two birdies saw a three-way play-off lined up.
And still more surprises, as the Austrian player Alexander Kopp at -15 on the 17th birdied the last hole to also finish with 200 (-16). A four-way play-off?
All eyes were now riveted on Lukas Nemecz, who had teed off from the third at -11. Following three birdies he was at -15 with two holes to play. Two magnificent birdies saw him winning his second Gösser Open trophy and third Alps Tour win after the 2019 Dreamland Pyramids Open.
Lukas had not realised that he was putting for his second Gösser victory on the 18th green:
"I thought Jordi was still at -18 and didn't know that he had bogeyed the last two holes. I knew the last putt was important, but I didn't know it was for the win. I couldn't believe it when people said that it was the winner."
He also talked about at being back playing professional golf and the Covid restrictions:
"It's great that we can play golf and that the Alps Tour and the promotor did everything possible so that we could play. It's important to play every opportunity that we have. It's a little different with the Covid situation and we've had to make little adaptations but that make sense and are very important. At the end of the day it's a 54-hole tournament and every hole counts. It was great playing but I'm happy it's over!".
One of the adaptations for the tournament is the innovation by the Alps Tour of the introduction of a mobile phone live scoring application, replacing paper score cards and thus reducing contact points. Developed by OCS Sport, led by MD Lee Probert, the players reacted very positively to it. As the winner, Lukas Nemecz said:
"I think it's great. It's modern, easy to use, a real live scoring. We're living in a digital world, so I think it's really good".
The new application will become standard for future tournaments and the next Alps Tour 2020 tournament is the Cervino Alps Open at the Cervino Golf Club in Italy from 2nd to 4th September 2020. A presto!
Final results: click here
Stay tuned! www.wp-alpstour.ocs-sport.com and the app « Alps Tour Golf » (on App Store for iOS devices and Play Store for Android) will keep you updated on every news about Alps Tour.
Instagram @alpstourgolf
Facebook @Alpstourgolf Satellite
Twitter @AlpsTourGolf
14th August 2020 | Alps Tour Golf
Day 2 Play Suspended – Jordi Garcia Del Moral Still Topping the Leaderboard
Maria Lankowitz (Austria), August 14, 2020 – It has been an exciting and eventful day here at the Gösser Open at Erzherzog Johann Golf Club. Play was finally suspended at 7:50pm due to darkness with Jordi Garcia Del Moral keeping his lead with a 131 (-13) overall with 8 holes to play.
The day started at 7:00am with Round 1 to be completed, at the end of which the top two positions stayed the same with the Spaniards Jordi Garcia Del Moral at -12 (60) leading the board and Angel Hidalgo Portillo at -8 (64).
In the group of players in third position at -7 (65), one change as the Austrian amateur, Maximilian Lechner moved up to join his compatriots Uli Weinhandl and Lukas Nemecz. That made a group of six in all with the Italians Jacopo Vecchi Fossa and Andrea Saracino and the New Zealander Shaun Jones.
At -6 (66) the group of four including Sam Robinson from England, Tomas Bessa Guimaraes from Portugal and Sebastien Gandon from France saw one movement as the Austrian Alexander Kopp moved up when the Frenchman Thomas Elissalde dropped a shot to finish -5 (67).
However, Thomas Elissalde did a rapid turnaround and started Round 2 at 9:15am with 5 birdies on the front nine and another 3 on the back nine. He was on the 18th tee when play was suspended at 1:50pm due to thunderstorms. He gave a summary of his day:
 "I was up very early to finish Round 1 and didn't necessarily do the best on the last holes as I dropped a shot on the 18th after play resumed. But Round 2 was much better where I had good course management, putting and wedging. I love this course and overall am pretty happy with my game".
He finished the day in the number 2 slot with a -7 (65) for the day and a total 132 (-12) for the two rounds. Joining him in joint second place are the two Austrians who had moved up a shot at the end of Round 1 this morning. The rookie Alexander Kopp, winner of the Pro-am on Wednesday, continued his excellent week. Teeing off from the tenth he did mirror -5 (33) on both nines with a total of 7 birdies and one bogey.  Whilst the Austrian amateur, Maximilian Lechner, teeing off from the first had 6 birdies for just one bogey.
In fifth place behind the leaders is the Italian Jacopo Vecchi Fossa at 133 (-11) after carding a -4 (68) for the day.
Right behind him in joint sixth is a group of four players at 134 (-10) including three Austrian players, Lukas Lipold, Uli Weinhandl, and Lukas Nemecz. However, Lukas is in the clubhouse whilst Uli still has 8 holes to play and Lukas 9 holes, alongwith the fourth member of the group, Englishman, Sam Robinson.
One happy player in the clubhouse today was the Austrian amateur, lady player, Emma Spitz who more than held her own coming in with a -4 (68) for the day to give her an overall 137 (-7) for the two days and placing her in joint 21st position. The Viennese native and winner of the 2018 Girls' British Amateur Open had a very lucid approach to her game:
"I saw it as a challenge for myself to play from the back tees. It wasn't even about playing against the guys, it was more about challenging myself. I really tried to focus on my own game, playing it hole by hole, using the birdie opportunities when I had them  and not thinking about what the other guys were doing as they hit the ball so much further than me. My goal wasn't to make the cut, just to play the best golf I could but to end up making the cut is really cool".
With play suspended and 69 players still out on the course, we could still be in for some surprises tomorrow. Play will resume at 7:00 am Saturday morning 15th August to finish Round 2. The aim is to then finish the third round, weather permitting. Watch this space!
Results: click here
Stay tuned! www.wp-alpstour.ocs-sport.com and the app « Alps Tour Golf » (on App Store for iOS devices and Play Store for Android) will keep you updated on every news about Alps Tour.
Instagram @alpstourgolf
Facebook @Alpstourgolf Satellite
Twitter @AlpsTourGolf
16th May 2019 | Alps Tour Golf
Gösser Open, Cianchetti leads on -9 after first round
16 May, 2019 – Maria Lankowitz (Aut) – The 8th tournament on the 2019 Alps Tour season is well underway on its most historical venue, beautiful GC Erzherzog Johann at Maria Lankowitz, near Graz, in Austria, one of the most appreciated date by players and organization alike.
Italian Luca Cianchetti shot a stunning 63 – minus 9 – to take an early lead, which never changed during a day when the weather conditions changed from pretty calm and mild in the morning, to windy and freezing towards the end of the game. Tied on second place, one stroke back, are two players, Austrian Bernard Neumayer, 28, who took advantage of the « home factor » to shoot a very consistent, bogey-free 64 (eagle on hole n. 1 and six birdies), and Frenchman Paul Elissalde, 23, who stumbled in a bogey-6 on hole 16 but had previously a great stretch of birdies (eight) and was able to react with one more, on hole 17.
« It was a good round from the beginning, I was minus three after four holes – said Cianchetti, 23, who won last March his first event as a pro in Egypt (Katameya Open) and is now 9th in the seasonal ranking – my game was not top from tee to green but I've putted really well, that was the key today. I was a bit stop-and-go, with 4 birdies on the front nine, then an eagle on my 10th hole (the 1st) followed by two birdies in a row. I'm very satisfied for the way I've managed my game today, even when on my back nine the wind picked up a bit ; then I've finished with a birdie on the last hole for a minus 9, which is my personal record ! I'm feeling confident with my game, I think I can be competitive and I'll try to continue in this way. I like this course very much, it is in great conditions from tee to green, it's perfect ; and Maria Lankowitz is a very pleasant place to be, the weather was good today, I'm enjoying it very much. I'm looking forward for next two days".
144 players teed off today (35 amateurs), and 63 shot under par – 13 more than last year, so proving the ever-increasing level of the game on the Alps Tour. The prize money at stake is 42,500 euros, with a cheque for the winner of 6,162 euros.
First round results: click here
Second round draw : click here
Stay tuned! www.wp-alpstour.ocs-sport.com and the app « Alps Tour Golf » (on App Store for iOS devices and Play Store for Android) will keep you updated on every news about Alps Tour.
Instagram @alpstourgolf
Facebook @Alpstourgolf Satellite
Twitter @AlpsTourGolf
Latest Alps Tour Golf News