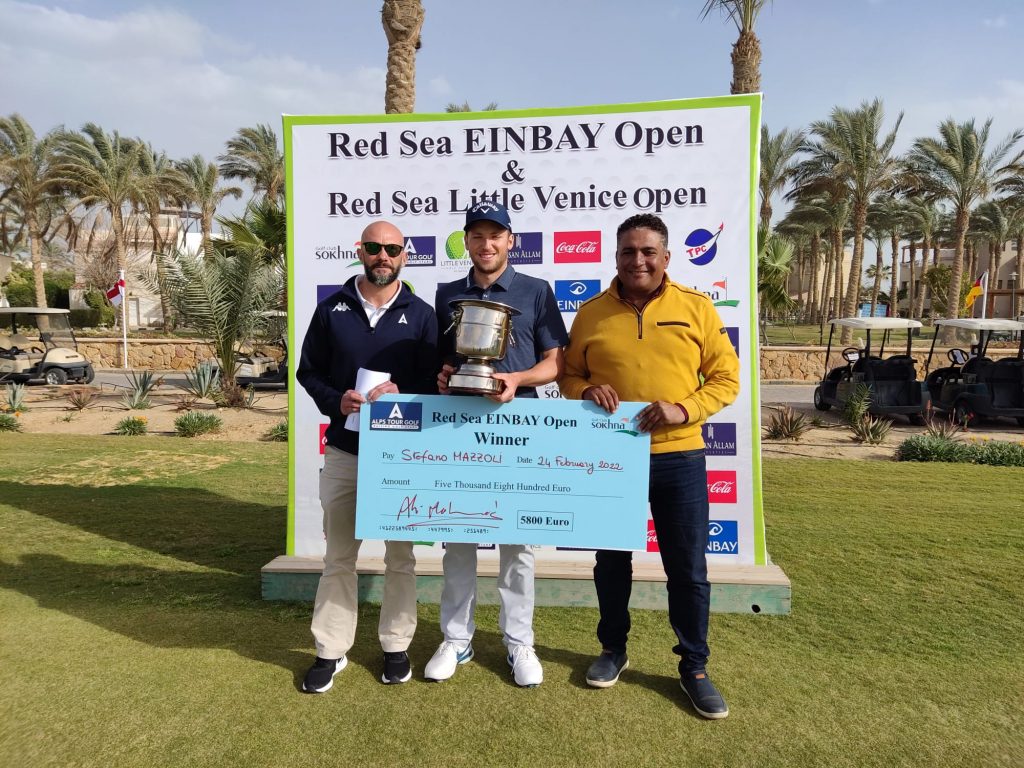 24th February 2022 | Alps Tour Golf
Ein Bay Open 2022 – Italian Stefano Mazzoli wins in Egypt
Egypt – February 24, 2022 – Italian Stefano Mazzoli, 25, kept the overnight lead during the 3rd final round at Sokhna Golf Club battling head to head till the 17th hole with Irishman Conor Purcell  to claim the victory of the Ein Bay Open 2022, the first stage of the Alps Tour Season 2022.
Mazzoli started his last round with 3 birdies on the first six holes but lost 2 shots on the 7th due to a double bogey. He came back on the back nine with 3 birdies on the last five holes. He scored just 3 bogeys and 1 double bogey during the whole tournament and saved strokes with 17 birdies and 1 eagle. He scored a total of 202 (69-65-68).
"This is my second victory in Egypt (after 2020 Red Sea Little Venice Open) and the third on the Alps Tour (2021 Antognolla Alps Open). I'm very happy about my start, I've played very well during the week. Today I scored a bad double bogey on the 7th where I ended in the water hazard but then I came back soon. It was almost a matchplay between me and Conor until the 17th where we finished on the green with the second shot but I ended up making a birdie and Conor three-putted. I'm very happy with my start here for the first stage of the Tour".
Mazzoli earns a cheque of 5,800 euros and adds 6,525 points to lead the Order of Merit.
The prize for the second place (3,940 euros) went to Irishman Conor Purcell, 24, who was in 6th place just 2 shots behind the leader after day 2.
"It was particularly tough knewing I had to score probably a 5 or 6 under par to gain the victory. But I'm happy with my score also because the weather got a little windier on the course. I can't complain with my game even if I had the chance to score some more birdies. Congratulations to Stefano who played a very solid 3rdround here".
The third place was shared between Frenchman Pierre Pineau and Spaniard Enrique Marin Santander both at -11.  "I didn't expect such a great start said Enrique Marin Santander. I've been playing well all the week. I'm really excited for the next couple of tournaments coming up these next weeks. I recently turned pro and my goal is to make some experiences here on the Alps Tour and even if I had some invitations to play on the Challenge Tour my main goal is to play well here on the Alps".
A great results during these 3 days came from French amateurs Tom Vaillant, 20, in 7th position with a total of 208 (69-68-71) and for his compatriot Martin Couvra, 19, in 15th place with a total score of 209 (70-67-72).
Tomorrow, Friday 25th, it is time for the Sokhna Golf Club Pro Am with 18 teams on courses B+C, the same that will host the second stage of the 2022 Alps Tour Season from Sunday 27th to Tuesday 1st for the 2022 Red Sea Little Venice Open where Italian Luca Cianchetti will try to defend his title.
The Tour will then move to New Giza Golf Club on March 4th for the 2022 New Giza Open.
The 2022 Ein Bay Open enjoys the support of Sokhna Golf Club, Ein Bay, Hassan Allam Properties, TPC – Touristic Promotion Company, Jaz Hotel Little Venice.
Final Results: click here or check on the Alps Tour Golf app.
Stay tuned! www.alpstourgolf.com and the app « Alps Tour Golf » (on App Store for iOS devices and Play Store for Android) will keep you updated on every news about Alps Tour.
#risinggolfstars
#raisinggolfstars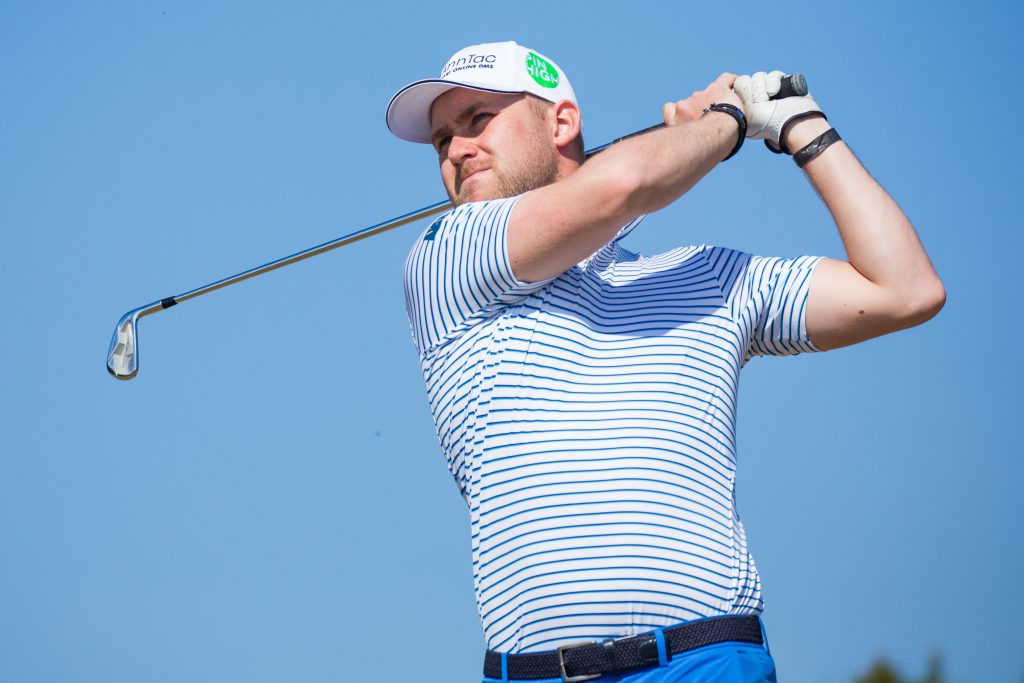 23rd February 2022 | Alps Tour Golf
Ein Bay Open 2022 – 5 way-tie at Sokhna Golf Club after second round
February 23, Egypt, 2022 – It was another lovely day along the shores of Gulf of Suez.
The course, after yesterday's heat and light winds, got a little bit dryer and harder. The 120 partecipants had to re-adapt their game to make the cut.
Co-leading the field, with a brilliant -10, Italians Gregorio De Leo (68) and Stefano Mazzoli (65), Frenchman Pierre Pineau (69), Englishman Jack Floydd (68), Dutch Davey Porsius (64) .
In particular, Davey Porsius and Stefano Mazzoli scored an impressive round today which took them to the top of the leaderboard. The Dutchman, 26 years old, who was in 35th place after the first day, scored a fabulous 64 (-8) while Mazzoli, 25, scored a bogey free round with 5 birdies and 1 eagle.
Some great results also came from the amateurs. The French Julien Sale and the two compatriots Martin Couvra (the winner of the 2022 Qualifying School) and Tom Vaillant are just three shots behind the leaders tied with a total score of -7. The other amateurs who made the cut are the Italian Flavio Michetti and the French Oihan Guillamoundeguy currently in 26th and in 40th place respectively.
Among the 53 players who made the cut at -1, 10 nationalities are represented: 16 Italians, 13 French, 8 Spanish, 4 Irish, 3 English, 2 Dutch,  2 Austrians, 2 Portuguese, 1 from Switzerland and 1 from South Africa.
Today the course was bit easier than yesterday: 421 birdies (13 more than yesterday) 1293 par (9 more than yesterday) and 328 bogeys (26 less than yesterday).
"Even if I'm struggling a little bit with my driver off the tee – said Porsius – I hit a lot of good shots with my wedges and this gave me the chances to nail a lot of putters. Fortunately I had a couple of good bounces with my tee shots and if you're near the fairway you have plenty of possibilities to attack the course. I was a little frustrated the first holes because I three-putted twice but then on the back nine I holed almost everything".
"Conditions were basically the same as yesterday. Unfortunately on the first day I ended up loosing 3 shots on the greens and today on the front nine I had the same feeling. From the 10th hole, however, my game changed and I managed to hole an eagle and many birdies" said Mazzoli.
Jack Floydd, 25, who was tied at the second place after day 1, said: "It was pretty a solid day for me today. I played very well on the front nine. I converted earlier some birdies but I missed a couple of putters on the back nine which were a bit tougher. I had a good pace on the green which are in perfect conditions. We're very lucky to be able to play in such a course". Today he scored a solid 68 (5 birdies-1 bogey).
"I had a tough start because I had to save 4 important par and I got a bogey on the fourth. When I holed a very difficult putt downhill on 6th hole my round suddenly changed and I had a good pace on the green for the rest of the day. I really enjoy this kind of golf course even if I don't have the real opportunity to prepare myself to this game. The course is in great shape" said Gregorio De Leo, 21, at his second appearance at the Ein Bay Open.
"I missed few birdies opportunities today but I had a solid start. I'm very happy with my long game today, just need a few more putts tomorrow. I hit an incredible hybrid shot on 8th from west area to 3 feet for eagle", is Pierre Pineau's quote.
The 2022 Ein Bay Open enjoys the support of Sokhna Golf Club, Ein Bay, Hassan Allam Properties, TPC – Touristic Promotion Company, Jaz Hotel Little Venice.
Results Round 2: click here or check on the Alps Tour Golf app.
Stay tuned! www.alpstourgolf.com and the app « Alps Tour Golf » (on App Store for iOS devices and Play Store for Android) will keep you updated on every news about Alps Tour.
#risinggolfstars
#raisinggolfstars
21st May 2021 | Alps Tour Golf
Spaniard Hidalgo grabs his first win at 2nd playoff hole
Angel Hidalgo's moment finally arrived, although he had to fight for two extra holes against Frenchman Pierre Pineau before celebrating his first win on the Alps Tour and raise the 2021 Ein Bay Open trophy at Sokhna Golf Club. "I am very emotional right now as I have been chasing this win for a long time and I was really looking forward to demonstrating to myself in the first place that I was able to win an international tournament as a pro", said the 23-year-old Spaniard from Malaga, who debuted on the Alps Tour in 2019 after winning the Qualifying School. "I started the day with a rather inconsistent game, in the front 9 I was missing all the fairways, but I was good recovering in the par 5's where I had two birdies, and my caddie Nico Colomer was helping me a lot the whole round giving me confidence. Finally, I started driving straight from hole n. 11, and I hit good wedges to the greens, we made birdies on 11 and 12, then a stupid bogey on 14, a couple of good pars saved on 15 and 16, on 17 with Nico we decided to take the risk and attack, and it turned out well with an eagle that brought me to -5 for the day, -15 total. On the 18th I drove in the rough and had a bit of bad luck with the lie of the ball, I hit a flyer and unfortunately carded a bogey; then the two playoff holes went well – a par and a birdie – and I'm really happy about the outcome".
On the first playoff on hole 18, both Hidalgo and Pineau missed their birdie putt, but on the second time, while Pineau found the rough from the tee, took a free drop and hit it over the green and went for a bogey, the Spaniard did not let his chance go and holed from about 3 metres for his final birdie.
"While on 2019, my first year on the Alps Tour, I played rather poorly, last year after making some technical changes I started having some results and although I did not win the Toscana Open last September – Matteo Manassero did – I demonstrated to myself that I was able to compete at a higher level, and I finished the season on 5th place in the Order of Merit. This year has started very well for me, with two 4th places in a row, and this week obviously I have been playing solid, too. The course is in great conditions, you need to adjust your putting a little because the grass is different over here, but I knew it as it is my third year, so it was no surprise. It was hot, no doubt, and that made things a bit more difficult for everybody, but you need to drink a lot of water – I think I've drank more water in these three days than in my entire life!!".
Four players have shared the third position at -13, Spaniard Jacobo Pastor (66 today), Irishman David Carey (66), Thomas Thurloway from England (67) and Matias Calderon from Chili (68).
"This win is for my grandfather, my inspiration" concluded Hidalgo, who is the new leader of the Order of Merit with 2.151 points more than Italian Jacopo Vecchi Fossa, now on 2nd spot. "I've been thinking about him all week and even wrote 'abuelo' on my ball, he definitely gave me the motivation to my success".
The Alps Tour remains at Sokhna GC for the second leg of the Egypt Swing which is going to start in only 2 days with the Red Sea Little Venice Open (May 23-25).
For the final results of the Ein Bay Open click here
For the Order of Merit, click here
20th May 2021 | Alps Tour Golf
Ein Bay Open, Joy and Pineau take the lead after second round
There was a changing of the guards on top of the leader board after the second round of the Ein Bay Open at Sokhna Golf Club, in Egypt, with a new duo leading at 133 (-11). Frenchman Pierre Pineau and Englishman Luke Joy signed respectively cards of 65 and 64 strokes, therefore jumping up from 9th and 21st position. They will tee off tomorrow at 10:55 local time for the final round with a one-stroke margin over Spaniard Angel Hidalgo Portillo, first round co-leader, who has been joined in third position at 134 (-10) by Frenchman Xavier Poncelet, author of a beautiful 66 (-6).
Joy, 32, from Dorset, England, benefited from an invite to the Alps Tour Egypt Swing tournaments and made the best use of it by carding the lowest round of the day, a bogey-free 64 (-8) with eight birdies perfectly shared between front and back nine. "I'm incredibly grateful to the Alps Tour for the invite to these tournaments. I am very happy about the chance I have been given, and I absolutely love being here in Egypt. The course is in great shape, I must say that my putting was very hot today and the course definitely fits my game". Joy is an experienced player who turned professional in 2012 after a successful amateur career (he represented England Juniors), spends his winters training in Abu Dhabi and has won so far 8 Professional tournaments on different tours. While Pierre Pineau from Chartres, France, at 21 is one of the Alps Tour rising stars, playing in his second full season (last year he was stopped by an injury after only 2 tournaments) and finished 15th in the 2019 Order of Merit: "Obviously, it has been a good day for me, although I didn't start at my best; I teed off from hole 10 and the putt were not going in; but then at the turn, on 17, 18 and 1, I made three birdies with short putts, and another nice birdie on the last hole after three-putting on hole n. 8. The course is good, and yes, it's a bit hot out there, but it's not that bad!".
52 players including 10 amateurs made the cut, which fell at 142 (-2); among them stands out the name of Issa Nlareb, who finished his round with three birdies in the last four holes for a total of 141 (-3). The Cameroonian pro fell ill with bacterial meningitis in February 2018 during the Ein Bay Open; his life was saved, but the treatment for the septicaemia led to complications and the life-altering, partial amputation of some of his extremities. Last year, with prosthetics in place, the 30-year-old player, father of three, was back playing the tournament, declaring: "Even when I came out of the coma and couldn't talk, I never stopped playing golf in my head. Even lying in the hospital bed, I was constantly thinking about the little white ball. I think it is what kept me alive and what has given me the strength of will to play again today." Issa never stopped improving from that day, always showing an unbounded amount of positivity and extraordinary courage, and a lot of talent of course! In 36 holes, he marked a total of 8 birdies and 5 bogeys and tomorrow will play for his part of the 40,000 euros prize money and 45,000 overall points, with a cheque of 5,800 eu and 6,525 points for the winner.
For the results after the 2nd round click here or check the Alps Tour Golf app.
23rd March 2019 | Alps Tour Golf
Egypt & Pyramids on stage for the Second Swing of the Winter Series
In a couple of days, the Alps Tour schedule will rhyme with great golf and spectacular views on Egyptian pyramids. After a three-weeks break, our Rising Stars are gathering again for the Second Swing of the Winter Series: three tournaments in a row, played from March 25th to April 6th, with a field of 132 players for each venue; three different courses around Caire, with breath-taking sights of the pyramids: Dreamland Pyramids Open from 25 to 27 March on Dreamland GC, New Giza Open from 30 March to 1 April on New Giza GC – a new spectacular venue inaugurated last October – both on the West side of Cairo; and Katameya Dunes Open from 4 to 6 April, on the Lakes Course of Katameya Dunes (a Sir Nick Faldo's design), on the East side of the Egyptian capital.
Our players are coming from all over the world, literally, with 19 nationalities represented, to test two courses for the first time, New Giza and Katameya, which are new additions to the Alps Tour schedule, while Dreamland is an « old friend » of Alps Tour, having hosted one of our tournaments the last time back in 2016, when our most brilliant rising star – Matt Wallace – won the first of his six titles of that year and started his stellar career towards Challenge and European Tour, where he is now 10th in the Race to Dubai.
All of the hottest players of the moment are already at Dreamland Golf Course, looking to accumulate points and high rankings from the start of the season; all eyes are on the first two winners of 2019, Frenchman rookie Frederic Lacroix, 24, and more experienced Englishman Ben Wheeler, 26, but also Italian Edoardo Lipparelli, 22, looks in great shape having just won the French Qualifying School with a large margin – 6 strokes – over Spaniard Xavi Puig Giner, and 8 strokes over fellow compatriot Michele Cea: they will all be admitted to play the four Challenge Tour events hosted in France this year, and of course they're all in Egypt competing in the three Alps Tour tournaments, which boast a 40,000 euros prize money each.
The venues
DREAMLAND PYRAMIDS OPEN, 25-27 March
The Dreamland Golf Course is a world class facility located just a few minutes away from the Great Pyramids. The layout of the course was designed by the world renowned architect, Karl Litten and in 2010 the course was redesigned by popular Irish architect David Jones. At present it consists of 36 beautifully manicured challenging holes. The Championship Course in total measures an impressive 7,205 yards that can be played from five sets of tees, as well as a floodlit driving range. http://dreamlandgolf.com/
NEW GIZA OPEN, 30 March-1 April
The highly anticipated New Giza signature golf course is well worth the wait. The 200-acre, 18-hole designer golf course is designed by award-winning Thomson, Perrett and Lobb and seamlessly melds the natural terrains creating an inspiring environment for all players, professionals and amateurs alike. Teeing off with views of the Great Pyramids of Giza is no longer a fantasy. As a particularly exquisite touch, the course is surrounded by a 4km walkway encouraging people to walk for health and leisure.
http://www.newgiza.com/life#golf-clubs-6-october-newgiza
KATAMEYA DUNES OPEN, 4-6 April
Created by nature – designed by golfing legend Sir Nick Faldo. Katameya Dunes is a masterpiece of golf course design, from the spectacular to the subtle. Katameya Dunes comprises the Lakes Course (7,435 yards) and the Palms Course (6,767 yards), with five tee positions to provide a challenge suited to any standard of golfer, from the beginner to the mid-handicappers and tour players. The rolling fairways, spectacular views from elevated tees and the challenge of raised greens are just part of the golfing experience at Katameya Dunes. As the unbroken sunshine sparkles off lakes and fountains, take your golfing enjoyment to a new level. http://www.katameyadunes.com/
Click here for the field of the Dreamland Pyramids Open
Click here for the field of the New Giza Open
Click here for the field of the Katameya Dunes Open
Stay tuned! www.wp-alpstour.ocs-sport.com and the app « Alps Tour Golf » (on App Store for iOS devices and Play Store for Android) will keep you updated on every news about Alps Tour.
Instagram @alpstourgolf
Facebook @Alpstourgolf Satellite
Twitter @AlpsTourGolf
19th February 2019 | Alps Tour Golf
Four players share the lead after 1st round of Ein Bay Open
At last, it's tournament-time again on the Alps Tour, and players are showing all their eagerness to give their best on the course after a long winter break.
They couldn't find better conditions than what they had here in Egypt at Sokhna Golf Club, where the Ein Bay Open has started with four players sharing the lead after the first round at 66 (minus 6). The sun and a little breeze coming up in the afternoon, together with perfect fairways and smooth greens, gave way to 60 scores under par – exactly half of the field of 120 competitors.
The best cards of the day were returned by Spaniard Gonzalo Vicente Elena (6 birdies for him and no bogeys) and Frenchmen Frederic Lacroix (1 eagle, 4 birdies and no bogeys), David Antonelli (8 birdies and 2 bogeys) and Teremoana Beaucousin (6 birdies and no bogey).
While Antonelli, 32 years old, and Vicente Elena, 34, can count on a long experience in the professional rankings, Beaucousin, 24, is one of the most brilliant « rising stars » having started his career on the Alps Tour only last season, finishing 10th in the 2018 Order of Merit with a second place in the Open de la Mirabelle d'Or, last June in France.
The real good surprise comes from rookie Frederic Lacroix (pictured), 23, who turned pro in January after wearing the French amateur team uniform for many years and finishing his studies at the University; he is playing his very first tournament for a prize money – 40.000 euros, and a cheque of 5.800 euros for the winner, but – he assures – there's no more pression than competing as an amateur, « it is still the same game, you always want to play at your best ». And this is what he did today : « I made no mistakes, really; no bogeys, the putting was working, I could always find the fairways and hit some beautiful irons ; so it was really a nice start for my professional career ».
Behind the leaders, three players are tied in 5th position with a 67 (-5), Spaniard Javier Ballesteros, Austrian Felix Schulz and Frenchman Nicolas Platret.
Tomorrow, at the end of the second round, the best 40 professionals and ties will make the cut and will go on playing the third and final day of the tournament.
More info:
Instagram @alpstourgolf
Facebook @Alpstourgolf Satellite
Twitter @AlpsTourGolf
Latest Alps Tour Golf News