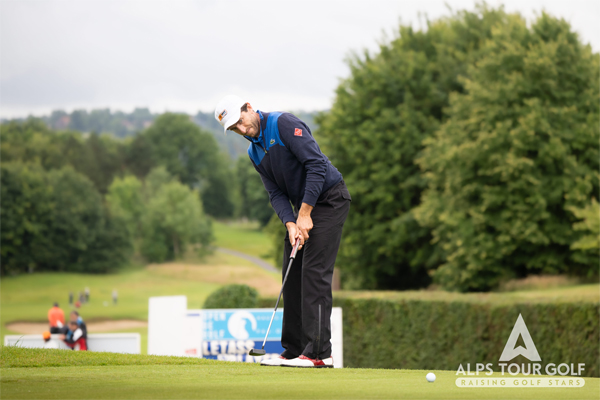 30th June 2022 | Alps Tour Golf
Edouard Espana leads after Round 1 at the 2022 Hauts de France-Pas de Calais Golf Open mixed event.
St.Omer, June 30th 2022– France's Edouard Espana has a 1 shot lead after Round 1 at the 2022 Hauts de France- Pas de Calais Golf Open co-sanctioned event with a 3 under-par 68. France's Franck Daux, amateur Julien Sale and Italy's Andrea Saracino are in a three-way tie for 2nd place at 2 under-par. In a tie for 5th place at 1 under-par: Davide Buchi, Sander Aadusaar, Theo Boulet (am), Eemil Alajarvi, Manuel Morugan and Vince Van Veen.
It was a difficult day with complicated scoring conditions for the first round of the tournament at Aa Saint- Omer Golf Club near Saint- Omer, France. It began as a cold, windy and overcast morning which then developed into a cold consistent rain throughout the afternoon until the sunshine started peeking through towards the end of the round. Play began at 7:30 this morning from both the 1st and 10th hole. The Alps Tour players are playing the golf course as a 6182 meters par 71. The LETAS players are playing the golf course as a par 73.
The 2022 Hauts de France – Pas de Calais Golf Open is a co-sanctioned tournament between players from the Alps Tour and LET Access Series. The event is being played on the same course with alternating tee times between the Alps Tour players and LETAS players. The players are competing for two different dedicated prize funds and thus trophies.
First Round Players Quotes-
Edouard Espana, France shot a 3 under-par 68 round with 4 birdies and 2 bogeys to have a 1 shot lead at the conclusion of the first round. After his round, he commented on how tough the conditions were today: "I'm very happy with my day, it was not easy today, there was a lot of rain, also the pin positions weren't easy for a first round so you had to be very concentrated right away."  When asked which part of his game helped him the most during the round, Edouard commented: "I didn't make any mistakes with my long game today, on this course you need to focus on hitting the correct part of the greens and forget the pins which is what I did today. My short game was crucial for putting together my score." He also mentioned on how, "The course is difficult, you have to hit good shots and make good choices. You have to have your entire game very solid to have a round under par on this course. That's what happened for me today and I'm very happy. Now I want to rest and concentrate on tomorrow's round so I can be rested and refocused to start again with the same mindset and game plan."  
France's Franck Daux shot a 2 under-par 69 round today with 3 birdies and a single bogey to be in a three-way tie for 2ndplace. He is currently playing a good stretch of golf and finished 3rd in the 2022 Open de la Mirabelle d'Or. After his round, Franck commented on his performance: "I've played here many times when it was a Challenge Tour event and I've had some success here over the years. I think I know how to manage the course, this isn't the typical course we are used to playing. On every shot you need to be focused on how you want to execute it and where to place each tee shot. Also, being aggressive on this course will not reward you. I think it's why I played well. It is a very strategic course." He wants to keep the same game plan tomorrow considering similar conditions:"I just want to place some good tee shots and play safe and always remember that a par is good on this course." 
Julien Sale, French amateur and currently 2nd in the Order of Merit is also in the three-way tie only 1 shot off the lead with a 2 under-par, 69. He finished 2nd last week and is continuing his positive play this week. In today's round, he had a steady front nine and then 3 birdies and 1 bogey on the back nine. After the round, Julien was very happy with himself, especially with how he dealt with his patience in the tough conditions he had to face. "The key of today's round was patience. The course isn't easy in good conditions so today I just tried to be very patient with myself and do one shot at the time and see what happens at the end, which turned out pretty good."  He is enjoying the opportunity to have the LETAS players compete on the same course as the men's: "It's really cool to have the ladies here, it's cool to see them play the same course as we do and see how their score compares to ours."

Italy's Andrea Saracino is the final player in the three-way tie for 2nd place with a first-round score of 2 under-par. He commented at the conclusion of his round how: "The course is very difficult especially due to the weather conditions, the rain and the wind. The greens are very difficult but my putting worked really well today. I made a lot of clutch par putts and I'm happy with my birdie on the final hole."
In a tie for 5th place at 1 under-par and 2 shots from the lead: Davide Buchi, Sander Aadusaar, Theo Boulet (am), Eemil Alajarvi, Manuel Morugan and Vince Van Veen.
There are 15 different nationalities represented among the 80 players this week. The players will be competing for a prize fund of € 40.000 and 45,000 Order of Merit points. The winner of the 2022 Hauts de France- Pas de Calais Golf Open will earn €6,400 and 6,525 Order of Merit points.
LETAS-
In the LET Access Series tournament, two players share the lead at four-under 69. Momoka Kobori from New Zealand was the first one of the two to set the lead while Germany's Patricia Isabel Schmidt was the second player to sign her scorecard with the same score.
In the LETAS players field, there are 64 players represented. They are competing for LETAS Order of Merit points and their prize fund is set at € 40.000. After the round tomorrow, a cut will be made to the top 35 players and ties.
Round 2-
The second round of the 2022 Hauts de France- Pas de Calais Golf Open co-sanctioned event will begin at 7:30am from hole 1 and 10. After the second round, a cut will be made to the top 35 players and ties for both leaderboards, the Alps Tour and LETAS.
For the complete Round 1 Leaderboard or the Round 2 tee-times click here or go on the official Alps Tour Golf app.
Tournament Promoter-
The tournament this week is promoted and organized directly by the host club, Aa Saint-Omer Golf Club.
The tournament presenting sponsors are Région Hauts-de-France and Pas-de-Calais Mon Département. The sponsors and partners that support the 2022 Hauts de France- Pas de Calais Golf Open are CAPSO Communauté D'Agglomération du Pays de Saint-Omer, Najeti Hôtels & Golfs Collection, Autosphere, Renault Saint-Omer, Vittel, Sdez, Sysdeco, France Boissons, Golf + and BFM Grand Littoral.
Follow along on www.alpstourgolf.com or the official "Alps Tour Golf" app to keep up on all the latest news (available on App Store for iOS devices and Play Store for Android)
#risinggolfstars
#raisinggolfstars
Instagram- @alpstourgolf
Facebook- Alpstourgolf
Twitter- @alpstourgolf

19th October 2013 | Alps Tour Golf
España four clear in France

Edouard España (c) Agathe Séron
France's Edouard España confirmed his good form and will be in contention to grab his second title of the season. Making the cut of the Masters 13, he secured his spot in the Top 5 but with a win he could climb in the ranking and make it swing.
"Today was a good, I sticked to the mental plan I elaborated at the beginning of the week. I staid very calm, patient. A great day reference to the means, and the results was ok. But I am really happy about my behaviour because it was a long day. We have been waiting a lot and we had to stay focus."
The wind was back on Pont Royal Golf Course and it took players a while to adapt.
"As it was more windy today, I struggled a bit with distances to the greens so I played safe part of them. My driving was as well less accurate but I managed though to catch fairways. The course is very demanding, tricks are everywhere and there is no moment to relax."
"To deal with 4 rounds is very interesting and I consider that to be able to win after 72 holes is a real test."
"I need to be in kind of stress to putt myself in a bubble and only think about being focus. Main difference between competition in amateur events and pro's ones is that during amateur season, you only have one event a month, so you give everything on this tournament. During the pro season, you have so many events that you can allow yourself not to be sharp one week. This week, I have no choice and I like it."
The battle for España tomorrow will be against compatriot Frédéric Abadie, 4 shots behind and Italy's Joon Kim, two strokes more back. But Mother Nature is expected to be tough on players as well. Rain and srong gusts of wind are forecasted, 30 to 40 km per hour.
From Pont Royal
Agathe Séron

18th October 2013 | Alps Tour Golf
Espana made his move
Edouard Espana (c) Agathe Séron
France's Edouard Espana made his move at the perfect time. He shot 65, 7 under par to lead by 3 mid-way on Masters 13, last event of the season. A group of three players tie for second place, France's Nicolas Joakimides, Frédéric Abadie and Italy's Joon Kim.
Kim will take off in a week to Korea to play Q School of Korea Tour and his smile said a lot on the confidence he aggregate last days.
"I am just happy to play golf, that's it new this year ! I know the course very well and todayy, there was no wind and the greens were a little slower than last year, so more playable"
Espana needs a good result this week to recover a place in the top 5 to gain his Challenge Tour category. Despite this goal, the native of Bordeaux did not feel or want to be disturb by the results.
"I manage to have the right behaviour on course and I don't want to think of anything else. I played really solid but the way I think on course is much more important. The winner on Sunday won't be the best player it will be the award of smart strategy and behaviour."
This week, the Top 5's goal is to keep their position. Unfortunatly, one player in the current top 5 missed the cut, Spain's Jesus Legarrea. His place is in real danger as his margin was very narrow. Chasing precious spots with Espana, England's Andrew Cooley double winner this season.
Palmer can not be overtaken as the 2013 winner but behind him, the ranking can swing.
Latest Alps Tour Golf News