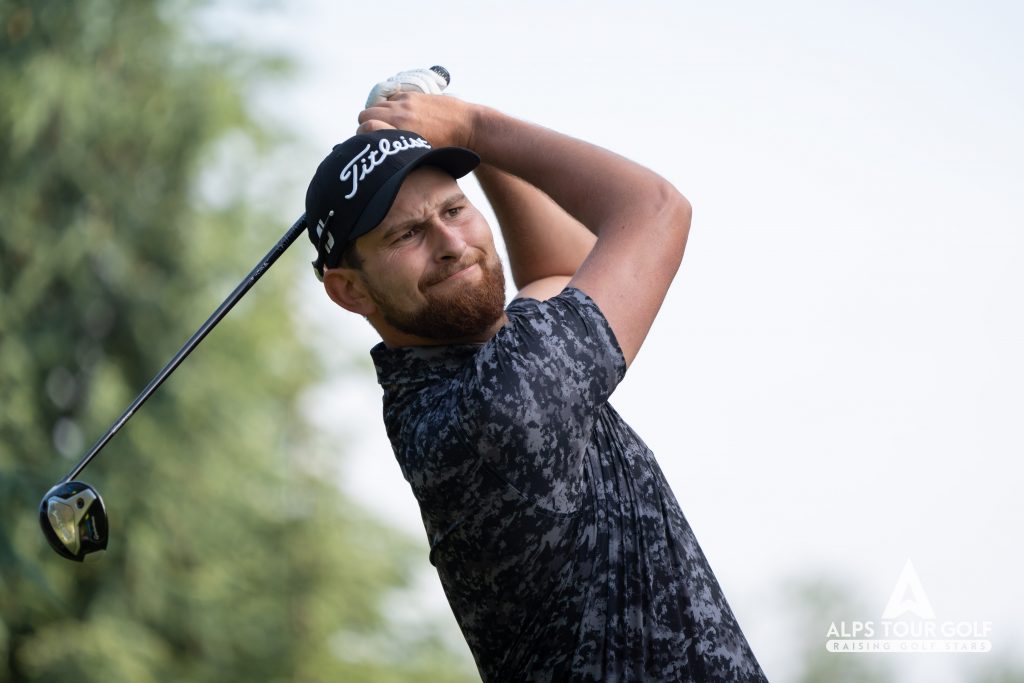 8th June 2023 | Alps Tour Golf
Ludovico Addabbo leads by 1 after the 1st round of the 2023 Croara Alps Open. 
Round 1 Notes
Croara Country Club
Gazzola, Piacenza, Italy
8
th
-10
th
 June 2023
Alps Tour Media Contact: [email protected]
Leaderboard
| | | |
| --- | --- | --- |
|    Pos. |                 Name |      Score |
|       1 | Ludovico Addabbo (ITA) | -7 |
|       2 | Edoardo Giletta (ITA) | -6 |
| | Lars Keunen (NED) | -6 |
|       4 | Luca Galliano (SUI) | -5 |
| |  and 4 other players at | -5 |
Quick Links
---
Ludovico Addabbo leads by 1 after the 1st round of the 2023 Croara Alps Open. 
Gazzola, June 8th 2023- 
A lot of action occurred during the 1
st
 day of the inaugural 
2023 Croara Alps Open
 including a hole-in-one and an albatross! Italy's 
Ludovico Addabbo
 leads the way with a 7 under-par 64. In 2
nd
 place only 1 stroke back, Italy's 
Edoardo Giletta
 and Netherland's 
Lars Keunen
. Tied for 4
th
 place at 5 under-par: Swiss 
Luca Galliano
, Spain's 
Quim Vidal
, Ireland's 
Ronan Mullarney
, Italy's 
Enrico Di Nitto
 and France's 
Benjamin Kedochim
.
A typical sunny spring day with blue skies and warm temperatures on the border between the Lombardy and Emilia-Romagna Region welcomed the players for the first round of the 2023 Croara Alps Open played at Croara Country Club near Piacenza, Italy. Play began at 7:30 am this morning from both the 1st and 10th hole. The forecast for the remainder of the week is expected to be very similar to today which will allow players to have optimal scoring conditions.
This is the first time that Croara Country Club is hosting an Alps Tour event. Players are subject to the new course and its subsequent new conditions. After Saturday's final round, we will have an inaugural winner for this event.
Round 1 Player Quotes 
Ludovico Addabbo from Italy who concluded last week's event in France tied for 7th place with a poor finish, has a 1 stroke lead after the 1st round of the 2023 Croara Alps Open.  He turned professional in the early part of 2020, is 24 years old and represents Castelgandolfo Golf and Country Club. During today's round, he made 3 bogeys, 2 eagles and 6 birdies for a 7 under-par,64. He had a very strong finish making an eagle on his 18th hole of the day, the actual 9th hole. After his round, Addabbo was ecstatic, "Today was a great day, I made a lot of birdies, 2 eagles and unfortunately 3 bogeys but I cannot be disappointed. My putter was definitely on my side today, I've had some issues with it in the past but today was not the case. After today's round I hope now have a good relationship with my putter." He added that he believes "the course is in good shape, you must hit it straight, very similar to last week in France but luckily this week it's not as punitive." He feels that he's been playing well for a while now and now that the putter is finally on his side, "I feel I have some good golf coming. Tomorrow I won't focus on anything specific, I will just try to hit as many fairways and greens as possible to give myself the most birdie chances. I will also try to stay calm and focused. The most important is to give myself chances and enjoy the moment. Every hole is a new birdies opportunity and I look forward too many more tomorrow." 
Italy's Edoardo Giletta who represents Golf Biella Le Betulle is in a two-way tie for 2nd place at the conclusion of the 1stround at the inaugural 2023 Croara Alps Open. He shot a 6 under-par, 65 opening round with 3 birdies on his front nine and 2 bogeys, 1 eagle and 3 birdies to conclude his round. When he signed his card, Giletta commented on how "I was really consistent today in my game and didn't make too many mistakes. I putted very well, I found a good rhythm pretty quickly so it was good to get going and get a good round in."  He went on to add that he ended his round with "two silly bogeys, one was a three-putt and the other was just a bad shot and couldn't recover but I was able to stay calm and focused on the upcoming holes which I was able to have a birdie-birdie finish."  When asked about his perspective into tomorrow, he explained: "I will try to stay as calm as possible and play shot by shot and hole by hole without getting too far ahead of myself. I'm pretty confident in my game especially after today's round. Now I will go and do a light practice to keep the feel going."
Lars Keunen from Netherland concluded his first round at the 2023 Croara Alps Open with a bogey-free 6 under-par, 65 to be the second player in the two-way tie for 2nd place. He is 26 years old and represents The Dutch Golf Club. He currently is in 8th place in the Order of Merit rank and has been consistently near the top of the leaderboards in the majority of this seasons event. After another great bogey-free round, Keunen commented, "My round was very solid. I didn't have to make too many putts for par and gave myself a lot of birdie chances." When enquired about his perspective for the week, "I will try to keep doing the same things and play one shot at a time. I think I just have to stay patient with my game and trust that I'm working on the right things and that results are coming." This is the first time that Croara Country Club hosts an Alps Tour event and Keunen found "the course is very nice but I believe to play well, you have to hit some good tee-shots and must be able to shape the ball a little." 
There is a 5-way tie for 4th place at 5-under par that includes: Swiss Luca Galliano, Spain's Quim Vidal, Ireland's Ronan Mullarney, Italy's Enrico Di Nitto and France's Benjamin Kedochim.
Italy's Elia Dallanegra (am) and Luca Castelli had the highlights of the opening round making a hole-in-one and an albatross. Dallanegra (am) made a hole-in one on the par 3, 16th hole with a 9-iron from 132 meters. While, Castelli made an albatross on the par 4, 15th hole holing out his driver
The 144 players are competing for a prize fund of €40.000 and 45,000 Order of Merit points. The winner will earn €5,800 and 6,525 Order of Merit points.
Round 2 
The second round of the 2023 Croara Alps Open will begin again at 7:30 am local time from the 1st and 10th hole. After round 2, a cut will be made to the top 40 players and ties.
The first-round leader, Ludovico Addabbo will begin round 2 at 8:14 am local time from the 1st hole.
Tournament Promoter
Like the majority of the Alps Tour events that are played in Italy, the 2023 Croara Alps Open is organized by the Italian Pro Tour, which is a branch of the Italian Golf Federation. They are responsible for promoting the majority of the professional golf events that occur in Italy.
The main sponsors that support the Italian Pro Tour include DS Automobiles, Fideuram Intesa SanPaolo Private Banking, Kappa, Rinascente and Poste Assicura. In addition, their media partners are the following two Italian newspapers: Corriere dello Sport and Tuttosport. The Italian Pro Tour featured social partner is Sport Senza Frontiere Onlus and with an official advisor, Infront Italy.
Follow along on 
www.alpstourgolf.com
 or the official "Alps Tour Golf" app to keep up on all the latest news (available on App Store for iOS devices and Play Store for Android).
#risinggolfstars
#raisinggolfstars
Latest Alps Tour Golf News