8th April 2021 | Alps Tour Golf
Wallace & Friends: Those Ranking Winners Still On The Rise
Nino Bertasio, Darius Van Driel and of course Matt Wallace, the most successful former member of the Alps Tour (with over €6 millions career money won on the European Tour) are among the past winners of the Order of Merit, as well as Jason Palmer who progressed all the way to the bigger tour before a wrist injury ended his playing career, and has now been caddying on the European Tour for another former Alps Tour player, Chris Paisley.
Here they share their memories and wishes for the Tour where their careers started. Enjoy!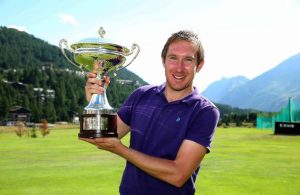 Class of 2013
"Playing on the Alps Tour was undoubtedly the most fun I ever had in my golfing career. What I enjoyed the most was the camaraderie between the players. I made more friends playing on the Alps Tour than at any other level of golf, and I think if you play in a friendly environment then that can only help to bring the best out of you, both as a person and as a player.
Being from England it was a big decision to try to establish myself on the Alps Tour instead of the Europro Tour. I believed that the travelling involved on the Alps Tour was more similar to life as a touring professional, where you need to fly to different places each week and are subjected to different types of courses and different grasses. It was one of the best decisions I ever made and my game progressed further as a result.
I will forever be grateful to the Alps Tour for giving me the platform to grow as a player. I was fortunate to gain some success and the confidence that brings is enormous. I would lean on those successes in future years and ultimately I progressed all the way to the European Tour before a wrist injury ended my playing career. The venues are superb and the strength of competition continues to improve year after year. You only need to look at the European Tour and it is littered with former Alps Tour players, which tells you all you need to know.
So thank you Alps Tour for some of the best and happiest memories of my life! May you continue to provide opportunities for some of the most talented players on the continent for years to come".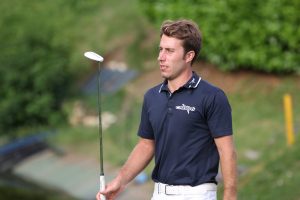 Class of 2014
Nino BERTASIO (Italy)
"The Alps Tour – and more precisely the season of 2014 – represented for me my golfing comeback after a couple of difficult and complicated years on the courses.
I remember that the first four results I had at the start of the season guaranteed my goal of the season, that is the top 5 in the Order of Merit. If I don't go wrong, I started in Europe with a 5th place in Austria, a 2nd at Colli Berici in Italy and two wins in a row, in Guadeloupe and Asiago in Italy.
Winning the Order of Merit was a bonus which gave me the confidence needed to face the Challenge tour the following year, and then the European Tour in 2016.
I remember we had a lot of fun during the whole season. We were a nice group of Italian players and we always tried to spend some time together, sharing apartments where we used to cook, grill and bbq, we played cards or any kind of sports during the free time. These are things that we don't do on the bigger tours anymore".
Darius VAN DRIEL (The Netherlands)
"The Alps Tour has a special meaning to me. This is where I started my pro career and it's where you need to fight for every euros: you're not going to get rich but in order to progress to the next level you really need to play well.
I've learned a lot on the Alps Tour and it provided the base to where I stand today.
In that year, 2015, after a shaky start of the season with two missed cuts and three results with an average ranking, I had four top-10s and finished 2nd five times – in May, the Gosser Open in Austria and the Colli Berici in Italy, in September the Citadelle Trophy and the Haut-Poitou in France, the Alps de Extremadura in Spain and then, finally, I won the Open International de Marcilly: that was a big load off my shoulders! To finally win after so many second places".
Since then, Darius has been a regular on the Challenge Tour and European Tour: he secured his first Challenge Tour title at the inaugural Euram Bank Open in Austria in 2018 and added to his trophy tally 13 months later at the Rolex Trophy in Switzerland, where he charged up the leaderboard with a final round of 64. He finished the 2019 season as 13th in the OoM and has gained the European Tour card.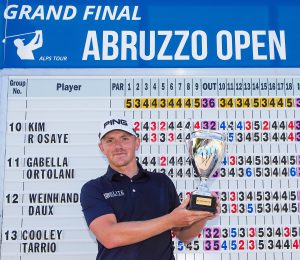 Class of 2016
Matt WALLACE (England)
"I want to wish everybody the best of luck on the Alps Tour starting up again and celebrating its 20th anniversary in 2021. The Mini Tour is such an important part for professional golf – it certainly was for me!", says Wallace in a video message he sent to the Alps Tour just before the start of the Spring Series in Acaya (Italy) last March.
Wallace, now 31, is undoubtedly the most successful "product" of the Alps Tour. He joined in 2013, when he was 22, having gained his playing category through the Qualifying School the previous year, and went on with two average years – ranked 41st in 2013 and 27th in 2014.
In 2015 he started improving (7th), before really exploding in 2016 with a record 6 wins: Dreamland Pyramids Open in Egypt, Tunisian Golf Open in Tunisia, Gosser Open in Austria, and Vigevano Open, Open Frassanelle and Grand Final by AXA in Italy.
"Congratulations to the Alps Tour for getting up and running in Europe. I know you're starting in Italy so good luck to everyone playing. Matteo Manassero will be there, as well as Enrico Di Nitto, another good friend of mine. I wish everyone the best of luck and have a great season!"
The stories of the last four winners will follow in the next few weeks, stay tuned!
The Alps Tour in numbers since 2001:
€ 15.240.000 prize money distributed;
365 tournaments;
14 countries visited;
152 different venues;
217 different tournament winners
Please click:
here for the full list of Schedules and Winners 2001-2020
here for the alpha list of winners 2001-2020
here for the Top 5 OoM 2001-2020
26th October 2015 | Alps Tour Golf
Israel Masters – Final Day
Report of the final day of the Edmond de Rothschild Israel Masters, the Alps Tour Grand Final. The Netherland's Jurrian Van der Vaart wins the inaugural tournament and his compatriot Darius Van Driel is the winner of the Alps Tour Order of Merit.
25th October 2015 | Alps Tour Golf
Best scenario for Van Der Vaart
Netherlands' Jurrian Van Der Vaart won the inaugural Edmond de Rothschild Israel Masters with -4 total after tournament has been reduced to 36 holes due to lightening threat.
Sports and golf especially are full of great stories, but this week, this story could be titled one man's joy is another one's sorrow. Van Der Vaart, 25th at the beginning of the week finished 5th at the ranking and France's Matt Pavon lost his right to play as he slept from the precious 5th position to the 6th.
« Well this is not a way you want a tournament to finish – said Van Der Vaart – but the position I am in and the fact that I finished 5th on the order of merit now is a perfect senario for me. Althought I would have liked to play one extra round, I got qualifying school next week and that is big for me. I can move on to the main Tour which is the future. The more rounds I get in terrible circontances, like today with the wind and the rain, it would have been a really good test. But just for this week, I am happy.
I know that many Dutch people are watching results on the Alps Tour but that has nothing to do with me, all the credit goes to Darius. Darius Van Driel finished first, he had an amazing season, I don't think people realise how hard it is to consistenly play in the top 10 and he played consistenly in the top 2 ; he had 5 times second I believe and he won, nobody has ever done that on the Alps Tour or any other Satellite Tours. I think he is the best player in Europe not playing on the Challenge Tour. »
Darius Van Driel is the first player from Holland to win the Alps Tour order of merit ever. He recorded multiple runner up places before finally won in France end of September.
« After the break, I finally got my brain together and that really helped get a lot of top 3 finishes and one win and i must the last 2 tournaments was a bit of a struggle for me but in the end you don't want to finish like a tournament and a seasonlike this but my goal coming to Isreal was to remain first on the order of merit and that happened and on to Stage 2 and maybe I can help some guys out who are in the 6th or 7th position of the ranking to get their card for Challenge Tour as well.
We have spent the all season together and I have to say I feel sorry for Matt Pavon who a really nice guy. »
The point is that if one of the top 5 players makes the cut in the European Tour Q School Final Stage, he allows the next player in the ranking to take his spot.
The five players graduated to play the Challenge Tour next year are Dutch Darius Van Driel, England's Josh Loughrey, France's Damien Perrier, England's Harry Casey and Netherlands' Jurrian Van Der Vaart.
From Isreal
Agathe Séron
10th October 2015 | Alps Tour Golf
Bech easy winner in Spain
Pol Bech let no chance to his closest challengers to catch up with him. He increased his advantage to 3 shots to win the 2015 Alps de Extremadura with -14 total. DarIus Van Driel recorded his 5th second place of the season.
He had a 2 shot lead over Darius Van Driel when he teed off in the last group. He dropped on shot on the first but he erased very quickly the mistake by 5 birdies in a row from the second. Van Driel managed to stay in contact but clearly his game was not sharp enough to threat the Spaniard. After front nine, Bech had a 4 stroke lead.
Meanwhile, the best score of the day was signed by France's Franck Daux, He holed 6 birdies on the first nine from the 4th and went back to the club house with -1 so it climbed on the third step of the podium by his one with -7 total.
Van Driel kept his second place and since the end of summer break, in 5 tournaments he had this incredible results : 3rd, 2nd,2nd, win, 2nd. Obviously he increased his leadership on top of the Alps Tour ranking with now 2 event to go.
9th October 2015 | Alps Tour Golf
Bech soared on home soil
Spain's Pol Bech fired 64 on long 6437 meter course going into final round of Alps de Extremadura. With -11 total, he has a two shot advantage over Alps Tour leader, Dutch Darius Van Driel.
Bech is leading but one of the most amazing round was posted to day by his fellow countryman, Sebastian Garcia. He had a slow start though dropping 3 shots on the first two holes then the Spaniard had an incredible 8 birdie series from the third to the 10th and he missed a short putt for birdie on the 11th to eventually land on earth after a journey in golfers' paradise. He signed for a 67 card with 10 birdies to be third on his own with -6 total.
Bech had one birdie less with 9 and he only dropped one shot to be in contention for final round. His one and only win was on home soil in 2013. Van Driel holed 9 birdies as well but had 2 bogeys and will be in the last group tomorrow to go for a back-to-back victory on Alps Tour.
The cut felt at +1 and 3 players in Alps Tour top 6 did not make it, England's Harry Casey, Italy's Andrea Maestroni and France's Matthieu Pavon. Once again the ranking will swing at the end of a tournament.
27th September 2015 | Alps Tour Golf
Van Driel finally won in France
Netherlands' Darius Van Driel finally broke the curse and won his maiden trophy thanks to level par final round. With this win, he jumps on top of the Alps Tour ranking. Ties for second place France's Jean-Pierre Verselin and Damien Perrier.
Van Driel was in the overnight leader with a two stroke advantage over local hero, Alex Kaleka. The latter started the best way with a birdie on the first hole and his playing partner dropped two shots in a row on 3rd and fourth. Van Driel struggled to enter the round and Kaleka was in control. At the turn, the two men were -10 and it seemed that once again, Van Driel couldn't lift a trophy. During the last 3 weeks, he was each time in contention and finished 3rd, 2nd, 2nd.
But this time, the bad dream was for Kaleka. He had two awful holes as he made double bogey on the 12th and triple on the 13th. His hope just blew up and Van Driel holed pars until the end to finally won his maiden win.
France's Damien Perrier, in the last group last Sunday, did a perfect come back with flawless 65, -6 to record his second runner-up place and his seventh top 5 of the season.
Josh Loughrey lost his leadership at the Alps Tour ranking despite a nice fourth place.
26th September 2015 | Alps Tour Golf
Van Driel finally ?
Netherlands Darius Van Driel is in contention for victory for the third week in a row. He leads the Marcilly Open with -11 by 2 shots over local playing pro France's Alex Kaleka.
Darius Van Driel recorded four runner places this season and last Sunday,  during prize giving ceremony, he was told by the officials that his turn has now come. Solid and consistent in Marcilly, he scored 66 during first round and 65 today to lead by 2 shots over France's Alex Kaleka.
The latter signed for flawless 65 in his own garden. The Frenchman is the local hero and he even has a course named Kaleka in Marcilly Golf Club.
Third man on the provisionnal podium is Scot John Henry with -7 total thanks to 68 second round. The cut felt at level par.
13th September 2015 | Alps Tour Golf
Loughrey for second win
England's Josh Loughrey won his second title of the season thanks to final round 69 in 2015 Cidatelle International Trophy. He finished the 72 hole event with -13 total, 3 ahead of Darius Van Driel.
Loughrey can be satisfied and proud with this win. Leader after 2 rounds he managed to stay very consistent and his playing partner during last round could not catch up with him. Loughrey holed for birdie on the first and put pressure on Van Driel. The latter answered right away with a birdie on the second, the match was on.
The Englishman turned first nine with 34 whereas the Dutch was level par. Par not not enough to threat the Tunisian Open winner who signed for best score tie 69 of the day.
Matt Wallace who finished third on his own – his best result tie this season – could have done better if he did not shoot himself with opening double bogey on the first. He never succeeded to come back, he only erased this mistake with 2 birdies for a level par card.
Loughrey won a check of 6250 € and these points make him jump on the top of the Alps Tour ranking. Van Driel made the biggest move as he enters the famous top 5 for the first time this season directly to the second place. Harry Casey is the only one not to move staying on the third step. Matt Pavon slides from the top to the 4th place and Damien Perrier is fifth.
| Alps Tour Golf
Citadelle Trophy International-Preisch 2015 – Final Day
Final Round highlights of the 2015 Citadelle Trophy International at Golf de Preisch.
England's Josh Loughrey won for the second time this season. Darius Van Driel from Netherlands finished 2nd and Matt Wallace (Eng) third.
12th September 2015 | Alps Tour Golf
Van Driel neck and neck with Loughrey
Netherlands' Darius Van Driel and England's Josh Loughrey share the lead of 2015 Citadelle Trophy International. With -10 total, they have a short advantage over Matt Wallace going into final round with -9.
Overnight leader Loughrey managed to keep a foot on the first step of the podium. He scored 70, -2, with 3 birdies and one eagle. Van Driel improve his position to climb on the same step thanks to 68-4-under-par-card. Van Driel holed 8 birdies and his skill on greens is a real asset if he managed to avoid mistakes.
Matt Wallace, third on his own, has been many time in contention this season and this experience makes him a true challenger for a maiden win on the Alps Tour.
Third round is called moving day and it deserved this name for one player, France's Dominique Nouailhac who signed for the best score of the day, 66, -6. The 45 year old player from Paris proved that despite the course length, a good sense of game is the key on Preisch golf course. The former Challenge player holed 6 birdies and only dropped a shot on the last hole. He moved to the 4th place alongside three other players, his fellow countryman Simon Fernoux, Tom Shadbolt of England and young Spanish amateur, Scott Fernandez who recorded six birdies in a row from the 4th hole today.
Latest Alps Tour Golf News