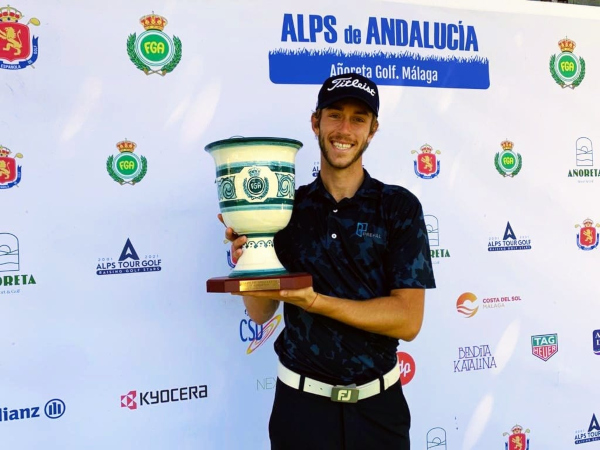 11th September 2021 | Alps Tour Golf
Edgar Catherine Wins Alps de Andalucia
September 11th, 2021 – Malaga, Spain – Having started two strokes behind the leaders this morning, Edgar Catherine held steady to win this year's Alps de Andalucia here at the Añoreta Golf on -8 (208), three strokes ahead of the runner-up. This is his first win on the Alps Tour since the 2017 Citadelle Trophy when he was still an amateur.
He teed off from the 11th sitting third  with yesterday's joint leaders. The French player managed to counterbalance two bogeys on the first 8 holes with an additional four birdies to put him at -5 teeing up on the ninth. A double bogey on the notoriously tricky par 4 1st set him back, but his mental game held up and he finished solidly with three extra birdies and clean pars for a 68 (-4) for the day.
"I played really well, I just played my game, and it was enough to make it. My strategy for today was to play aggressively, use the driver every time I could, and it worked out well. Since the Gösser Open, where I led the tournament but made a lot of mistakes in the final round, I knew I could win and that is what I have worked for, specially mentally.  Previously my game was good but not my head but now I feel it is. It is as simple as that but simple is sometimes very hard".
The win sees Edgar Catherine's jump twelve places up the Order of Merit to seventh.
Home grown players took second and third place, Gerard Piris Mateu and Marcos Pastor. The Spaniards started the day in joint fourth on -3 after yesterday's round and teed off in the same flight from the 11th. What followed was a veritable battle down the fairways. Both had a double bogey and a bogey going out, but Gerard Piris Mateu edged ahead at the 18th having sunk four birdies to Marcos Pastor's two. By hole 4 they were even, sitting at -5. A par and a bogey each still had them neck-and-neck on the 7th tee, but Gerard Piris Mateu pulled another birdie out of his bag versus Marcos Pastor's bogey to be a nose ahead. It proved to be decisive as they both finished the round with par, bogey, birdie. Final score Gerard Piris Mateu -5 (211) and Marcos Pastor -4 (212) for the tournament.
Joint leaders at start of play today, Daniel Berna Manzanares and Ryan Lumsden both had difficult rounds today littered with bogeys, including doubles and triples. The Spanish player managed to come in joint fourth on -3 (213) whilst the Scotsman, despite his sixteenth position today still heads the Order of Merit.
Next stop Italy where the last two tournaments of the season take place. First on the calendar is the Golf Nazionale Alps Open from 7th to 9th October with the Grand Final one week later. The awarding of the prized five cards for the Challenge Tour next year is getting tantalizingly close.
The Alps de Andalucia has enjoyed the support of the Real Federación Española de Golf, Real Federación Andaluza de Golf, Ayuntamiento de Rincón de la Victoria, Turismo Costa del Sol, Añoreta Resort, Consejo Superior de Deportes, Allianz, EDP Solar, AON, Kyocera, Tag Heuer, Nextcaddy, Yaphone, JGolf.
Final Results: click here or check on the Alps Tour Golf app.
Stay tuned! www.alpstourgolf.com and the app « Alps Tour Golf » (on App Store for iOS devices and Play Store for Android) will keep you updated on every news about Alps Tour.
Instagram @alpstourgolf
Facebook @Alpstourgolf Satellite
Twitter @AlpsTourGolf
7th September 2017 | Alps Tour Golf
Gonnet shot low during day 1 in Preisch
Former European Tour Player, France's Jean-Baptiste Gonnet fired 65 during first round of Citadelle Trophy International-Golf de Preisch. To complete the 100% French podium, amateur Edgar Catherine and Louis Cohen-Boyer with 66.
Gonnet lost his privilege on European Tour a few years ago after 7 full seasons to play. He described his joy to shot so low after time of doubt.
« I am really fine thank you. I had a 4 week break without hitting a ball. I needed to make this pause as we had many back to back events in spring and early summer. To come back on Alps Tour and shot 65 is not kind of a surprise as I have been playing for a while but I am really pleased. I am very confident in my game system and I do not need to practice as much as I used to. It is very efficient.
My game is great, I feel alive again. You know I almost quit the game two years ago and I would never thought to play this good again. I am pleased to have meet my coach Antoine Maisonhaute. It would not have been possible without him. »
At 4the place tie, another former European Tour player Anthony Snobeck. The latter shot 67 alongside Spain's David Borda and Austria's Clemens Gaster.
Latest Alps Tour Golf News