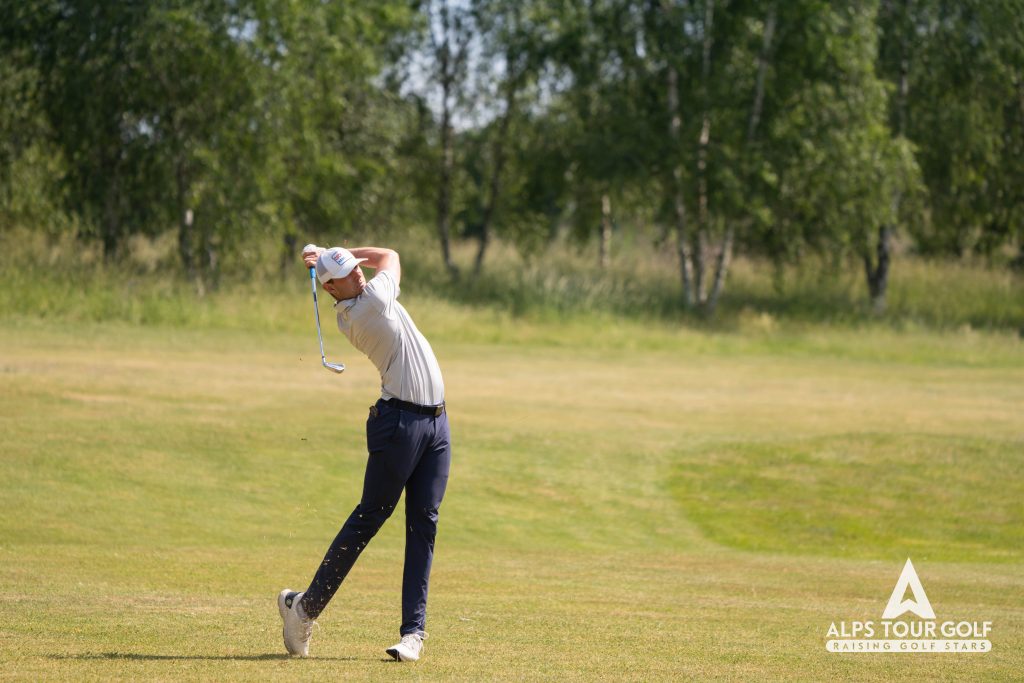 19th June 2023 | Alps Tour Golf
Jack Floydd has a 1 stroke lead after Round 1 at the Tenerife Pro Golf Open! 
Round 1 Notes
Buenavista Golf
Buenavista del Norte, Spain
19
th
-21
st
 June 2023
Alps Tour Media Contact: [email protected]

Leaderboard
| | | |
| --- | --- | --- |
|    Pos. |                 Name |      Score |
|       1 | Jack Floydd (ENG) | -9 (62) |
|       2 | Paul Murphy (IRL) | -8 (63) |
|       3 | Christian Braunig (GER) | -7 (64) |
| | Oihan Guillamoundeguy (FRA) | -7 (64) |
| | Inigo Lopez-Pizarro (ESP) | -7 (64) |
Quick Links
---
Jack Floydd has a 1 stroke lead after Round 1 at the Tenerife Pro Golf Open! 
Buenavista del Norte, June 19th 2023- 
After round 1 at the 
2023 Tenerife Pro Golf Open
 we have a packed leaderboard. England's 
Jack Floydd
 leads by 1 stroke after a 9 under-par round. In 2
nd
 place Ireland's 
Paul Murphy
. There is a 3-way tie for 3
rd
 place at 7 under-par which includes: Germany's 
Christian Braunig
, France's 
Oihan Guillamoundeguy
 and Spain's 
Inigo Lopez- Pizarro
.
The 2023 Tenerife Pro Golf Open is a co-sanctioned event with the Pro Golf Tour. The tournament is being played in the Canary Islands at Buenavista Golf near Buenavista del Norte, Tenerife, Spain. The field is spilt between players belonging to both tours. Players were able to compete under great weather conditions, as it began as a sunny morning which turned into a mostly sunny day with some light winds and a pleasant temperature.
Round 1 Player Quotes
England's Jack Floydd, winner of the season opener Alps Tour event in Egypt, concludes his 1st round at the 2023 Tenerife Pro Golf Open with a 1 shot lead heading into the second round. He is 26 years old and turned professional in 2020. Currently, he represents Haywards Heath Golf Club and is playing his 3rd season on tour. Once he concluded his opening round, Floydd commented that today: "I hit the ball great and putted great. It's my lowest tournament round, so I am very pleased. The par 5s are definitely opportunities on this course. I feel this week definitely favors being longer off the tee compared to other venues we play at so I was happy to take advantage with my driver." When asked about the quick turn around after the last event the Alps Tour played in Southern Spain, Floydd commented: "there was only a day between the final round last week at Ayamonte and the first round here in Tenerife. I slept a lot, got in the gym, had a decent practice session where I was in contact with my coach and then only played 5 holes of the course, my first 5 from today's round." This week "the course is fun to play and has some amazing views so despite the golf, being out there enjoyable."
Ireland's Paul Murphy finds himself only 1 stroke off the lead after the opening round of the 2023 Tenerife Pro Golf Open. He shot a 1st round of 8 under-par, 63 with 7 birdies, 1 eagle and 1 bogey and finds himself in 2nd place. He is 25 years old and represents Rosslare Golf Links. Post-round, Murphy said:"Today's round wasn't much different to my other under-par rounds this season. I'm starting to understand my golf imperfections and learning from my mistakes from each tournament. I'm gaining experience as I go along. All in all, I believed a round like this was coming and it was only a matter of time."
Christian Braunig from Germany is tied in 3rd place after his 1st round at the 2023 Tenerife Pro Golf Open. He shot a 1stround of 7 under-par, 64 that included 2 bogeys and 9 birdies. He turned professional in 2016. After his round, Braunig was happy that he was able to "take advantage of the 5 par 5s that are on the course as I was able to birdie all of them. I really did play solid today. Everything in my long game was really good and I will try to keep it up in the next two rounds." He also added that he "really enjoys this course because it offers a lot of opportunities for birdies even though I find the greens a but funky so it could be a real challenge sometimes."
France's 18 years old, Oihan Guillamoundeguy concluded his 1st round at the 2023 Tenerife Pro Golf Open with a 7 under-par, 65 and finds himself tied for 3rd place. He had a bogey-free round with 5 birdies and 1 eagle. He is a past winner on the Alps Tour having won the 2022 Red Sea Little Venice Open as an amateur, however, he turned professional in December 2022 and is now competing in his first season as a professional player. After his bogey-free round, Guillamoundeguy was very pleased, "Today was a great round, I played really solid especially my driving and iron game. I missed some putts but made some great putts like for eagle on the 5th hole. I birdied the tough par 3, 15th hole with a good putt too so I must say everything worked pretty good. I'm ready for another low round tomorrow."  
Inigo Lopez- Pizarro from Spain is the third player in the 3-way tie at 7 under-par after the 1st round of the tournament. During today's round, he made 1 bogey, 1 eagle and 6 birdies. He represents Club de Golf Val de Rois and currently is 25 years old.
France's Aubin Lacaze shot an opening round of 6 under-par 65 with 1 bogey and 7 birdies. He heads into the second round of the tournament in a 7-way tie at 6 under-par. After his round, Lacaze commented: "I am very satisfied of what I did today. I made several birdies at the start, which allowed me to stay confident for the rest of the round, and what was rewarding is that I was able to keep my head in the game no matter what was happening."  He also thoroughly "enjoys the golf course the landscape is amazing and it's a true pleasure to be here. We have to enjoy the atmosphere of being able to play here in Tenerife. I would also like to thank the golf course for the preparation of the course." 
Netherland's Lars Keunen who is currently 9th in the Order of Merit rank, shot an opening round of 6 under-par 65 with 1 eagle, 6 birdies and 2 bogeys. He's been close to the top of the leaderboards in the majority of this season events and is looking to capture his 2nd title on the Alps Tour. He heads into round 2 in a 7-way tie for 6th place at 6 under-par. He is 26 years old and represents The Dutch Golf Club. After his 6 under-par round, Keunen explained how "I only saw the front 9 yesterday so starting on 10 this morning the first 9 I played today was the first time I was seeing them. I started well with being 4 under-par after 4 holes and then played okay the rest of the round. For the next 2 rounds I'll try to give myself chances and take advantage of the short par5's."
Italy's Riccardo Bregoli 25 years old and representing Modena Golf & Country Club turned professional at the beginning of 2022. He is also tied for 6th place at the conclusion of the 1st round of the 2023 Tenerife Pro Golf Open. He shot a 6 under-par, 65 opening round with 5 birdies, 1 bogey and 1 eagle. When he signed his card, Bregoli commented on how today, "I finally played well, it's finally a round that gave me some confidence. It's been about 2 months I've been struggling but finally a good round under-par gave me some confidence to keep moving forward. Today I putted pretty well also and I definitely think that helped me put a good score together." Looking ahead to the next two rounds, Bregoli commented: "I want to keep going like today. Obviously, I'll try to have the same feelings in my game I was able to gather from today's round and hopefully the putter will keep helping me. I have good expectations for the remainder of the week but don't want to get too far ahead of myself" When asked about Buenavista Golf, he added: "The course is good, it's in perfect conditions. The par 5 are definitely birdie holes as they are reachable for me so I plan on keep taking advantage of them. However, the par 3 are very long and tricky so you need to play them smart. The views are spectacular and makes the round really enjoyable."
Italy's Jacopo Albertoni is another player in the 7-way tie for 6th place at 6 under-par. During today's first round, he made 1 eagle, 6 birdies and 2 bogeys. He is 23 years old and represents Golf Nazionale. After his round, Albertoni was pleased on "how I played today tee to green but missed a couple short putts like on the 17th hole. However, I'm overall satisfied with my performance. Hopefully I'll be able to keep playing like today and drop more putts in the next two rounds. Buenavista Golf is a great course to go low as there are a lot of birdie opportunities but you need to be careful on a few holes. The view is spectacular though!"
Alongside Lacaze, Keunen, Bregoli and Albertoni in the 7-way tie for 4th place: Italy's Gianmaria Rean Trinchero who shot a bogey-free 6 under-par, France's Victor Veyret who also shot a bogey-free round and Scotland's Callum Bruce.

Round 2
The second round of the 2023 Tenerife Alps Open will begin again at 8:00 am local time from the 1st and 10th hole. After round 2, a cut will be made to the top 40 players and ties.
The 140 players are competing for a prize fund of €30.000 and 30,000 Order of Merit points.
Tournament Promoter
The co-sanctioned 2023 Tenerife Pro Golf Open is promoted by the Pro Golf Tour and organized also by the Alps Tour Golf Association.
It can count on the support of the Turismo de Tenerife as well as the host club, Buenavista Golf. 
Follow along on 
www.alpstourgolf.com
 or the official "Alps Tour Golf" app to keep up on all the latest news (available on App Store for iOS devices and Play Store for Android).
#risinggolfstars
#raisinggolfstars
Latest Alps Tour Golf News