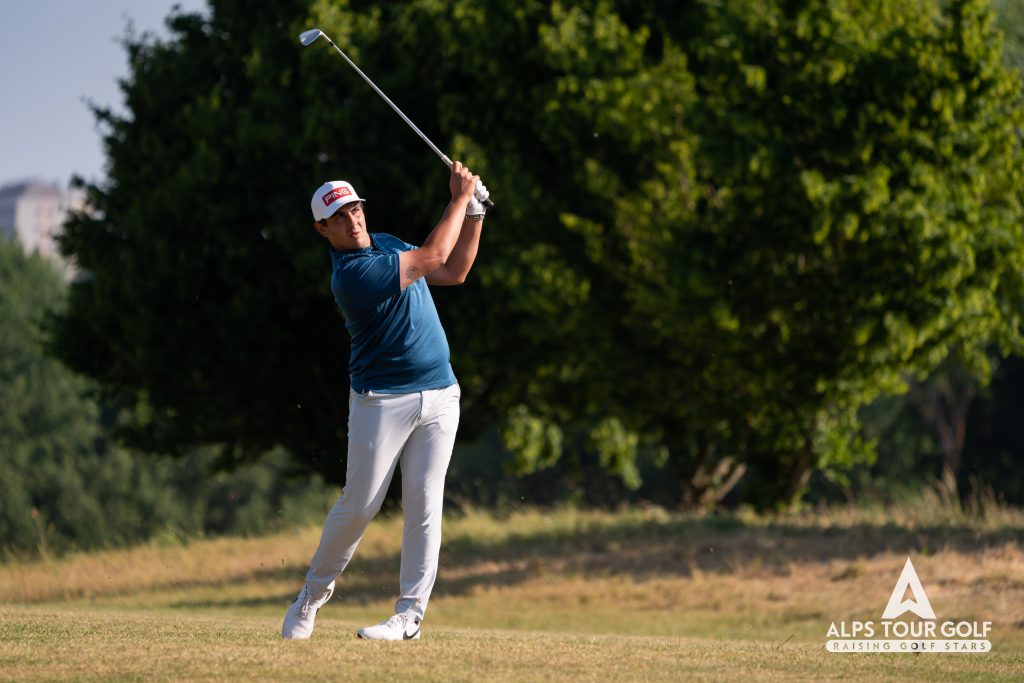 9th June 2023 | Alps Tour Golf
Luca Cianchetti is in the lead at the 2023 Croara Alps Open!
Round 2 Notes
Croara Country Club
Gazzola, Piacenza, Italy
8
th
-10
th
 June 2023
Alps Tour Media Contact: [email protected]
Leaderboard
| | | |
| --- | --- | --- |
|    Pos. |                 Name |      Score |
|       1 | Luca Cianchetti (ITA) | -12 |
|       2 | Ludovico Addabbo (ITA) | -11 |
| | Luca Galliano (SUI) | -11 |
|       4 | Callum Bruce (SCO) | -9 |
| | and 3 other players tied at | -9 |
Quick Links

Round 2 Leaderboard
Final Round Tee Times

---
Luca Cianchetti is in the lead at the 2023 Croara Alps Open! 
Gazzola, June 9th 2023- 
After two rounds at the 
2023 Croara Alps Open
, we have a tight leaderboard. Italy's 
Luca Cianchetti
 shoots a 10 under-par round to beat the course record and lead by 1. Tied for 2
nd
 place Italy's 
Ludovico Addabbo
and Swiss 
Luca Galliano
. There is a 4-way tie for 4
th
 place at 9 under-par which includes: Scotland's 
Callum Bruce
, French duo 
Benjamin Kedochim
 and
 Nicolas Peyrichou
 and Italian amateur 
Flavio Michetti
.
It began as another beautiful spring day with warm temperatures which turned into an overcast day in the early afternoon on the border between the Lombardy and Emilia-Romagna Region for the 2nd round of the 2023 Croara Alps Open. The tournament is being played at Croara Country Club near Piacenza, Italy and the second-round action began at 7:30 am this morning from both the 1st and 10th hole.
This is the first time that Croara Country Club is hosting an Alps Tour event and after tomorrow's final round, we will have an inaugural winner for this event.
Round 2 Player Quotes 
An Alps Tour previous winner, Italy's Luca Cianchetti makes 1 bogey and 11 birdies for a 10 under-par, 61 holding the tournament course record. He heads into tomorrow's final round with a one-shot lead, and a two-day total of 12 under-par. He is 27 years old and represents Modena Golf & Country Club. Over the years, he earned various wins on the tour but his most recent victory occurred at the 2021 Red Sea Little Venice Open. He won a pro-am on this course a few years ago and feels at ease. After his round, Cianchetti was happy to comment: "Getting off to a good start hitting great shots the first 4 holes with 4 birdies in a row definitely allowed me to have good momentum for the remainder of the round. I had great feelings since the beginning of the day and I'm pleased to have taken advantage of them." He now holds the tournament course record with his 10 under-par round, he is "very happy to have the tournament course record but more importantly I'm pleased because I felt really good on the course. I strongly believe that you need to be patient and believe on the things you are working on and then results will come. I've been playing well lately but I just needed to be patient for the right time."Cianchetti's single bogey of the day came on the 5th hole where, "I 3-putted missing a short putt. It can happen but luckily making that mistake allowed me to keep my focus very high." He aims to capture another trophy tomorrow since it's been a while from his last win but he "would like to try and not focus on the ultimate objective but take it as another round of golf where I will try and performance my best like today and see what happens."
Round 1 Leader, Italy's Ludovico Addabbo finds himself in a two-way tie for 2nd place only 1 stroke from the lead heading into the final round. He made 2 bogeys and 6 birdies today for a two-day total of 11 under-par. He is 24 years old and turned professional at the beginning of 2020 shortly before the Covid-19 pandemic began. After his round, Addabbo commented how today "I was really precise of the tee again today, I hit my irons shot less well but luckily always missed them on the correct side but very happy to say my putter is still solid even if I holed a few less putts. Overall, I'm still very pleased on how the round went." When asked about the conditions playing in the morning compared to the afternoon he thought that "the course is playing very similar to my afternoon wave tee-time yesterday. There is little wind and the heat was the same." When thinking about tomorrow's final round, Addabbo's plan is to "head into the round with the same strategy and the same plan, I want to be very solid off the tee and hit as many greens as possible and see what will happen on the 18th green"
Luca Galliano from Switzerland who was tied from 4th place after yesterday's first round, is now the second player in the two-way tie for 2nd place heading into the final round. He made 4 birdies and 1 bogey on his front nine and 3 birdies on the back nine for a 6 under-par 65 round. After his 6 under-par round, Galliano is looking forward to tomorrow, "I made 3 birdies in a row to end my round from hole 15 to 17 which allows me to be in a very good position heading into tomorrow where I hope to be able to capture the trophy, which would be my first win in a few years. I will head into the round with the same feelings as today and same game plan which I've seen is working well." He added that he was very pleased on how he "made a good birdie on the 1st hole which is always positive. I missed a few short birdie putts on the next few holes and unfortunately 3 putted the 5th hole for bogey and from there on I played very well."
Scotland's Callum Bruce, 24 years old who currently represents Duff House Royal Golf Club was tied for 23rd place after yesterday's 1st round, now finds himself in a 4-way tie for 4th place. During today's 2nd round, he made 1 eagle, 1 bogey, 6 birdies which 3 in a row for a 7 under-par, 64 and a two-day total of 9 under-par. He turned professional in 2023 and is playing his 1st season on the Alps Tour. Bruce commented following his 7 under-par round that he "got off to a really good front nine being able to birdie a few holes early on like 2 and 4 and then ended with an eagle on 9, the par 5. On the back nine, holes 10 to 15 was a bit quite but then I hit a close shot into 16 and got a good birdie in and on the 17th hole, I hit a great 3wood into the green to about 25ft and 2-putted that and holed a nice 20ft putt on the final hole for a good finish. I tried to stayed patient, there is a lot of birdie chances on this course but just because you don't birdie the holes everyone else does, doesn't mean you can't birdie the rest." He also spoke about how he likes Croara Country Club: "The course is great, it's in really good conditions and the greenkeeping staff did a fantastic job preparing it for us. I've spoken to other players and we are all enjoying the event being here."  Heading into tomorrow's final round only a few strokes off the lead, Bruce added, "tomorrow I will just keep playing the way I've played the past two days, not much has changed in terms of the weather I believe so the game plan I decided at the beginning of the week seems to be working so I'll continue to do that and as long as I give myself chances tomorrow should be fun and I look forward to it."
Alongside Bruce in the 4-way tie for 4th place with a two-day total of 9 under-par there is French duo: Benjamin Kedochimand Nicolas Peyrichou as well as Italian amateur Flavio Michetti.
Final Round

A total of 55 players (47 professionals and 8 amateurs) made the cut which was set at -1 (141).
The final round of the 2023 Croara Alps Open will begin at 7:30 am local time from the 1st and 10th hole. The final group will tee off at 9:10 am local time from the 1st hole.
The winner of the inaugural 2023 Croara Alps Open, will earn the winning check of €5,800 and 6,525 Order of Merit points.
Tournament Promoter
Like the majority of the Alps Tour events that are played in Italy, the 2023 Croara Alps Open is organized by the Italian Pro Tour, which is a branch of the Italian Golf Federation. They are responsible for promoting the majority of the professional golf events that occur in Italy.
The main sponsors that support the Italian Pro Tour include DS Automobiles, Fideuram Intesa SanPaolo Private Banking, Kappa, Rinascente and Poste Assicura. In addition, their media partners are the following two Italian newspapers: Corriere dello Sport and Tuttosport. The Italian Pro Tour featured social partner is Sport Senza Frontiere Onlus and with an official advisor, Infront Italy.
Follow along on 
www.alpstourgolf.com
 or the official "Alps Tour Golf" app to keep up on all the latest news (available on App Store for iOS devices and Play Store for Android).
#risinggolfstars
#raisinggolfstars
Latest Alps Tour Golf News