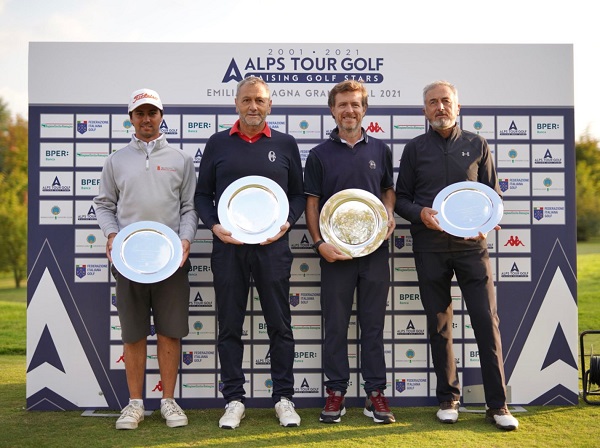 13th October 2021 | Alps Tour Golf
Paul Elissalde and his team win the Grand Final Pro Am presented by BPER Banca
It was quite a good start for the week of the Alps Tour Grand Final here at Modena Golf & Country Club, where 29 teams have been battling on the 18-holes designed by Bernhard Langer for the Grand Final Pro Am presented by BPER Banca, enjoying the sunshine and mild weather, and posting some amazing scores.
The best of them all was Paul Elissalde's team, with amateurs Luigi Favali, Nicola Zeni and Luigi Celli, with a score of 38 under par, followed by Frank Medale with Massimiliano Rossi, Davide Malavasi, Antonella Zitoli at -37; third place for Gregorio De Leo with amateurs Luca Vecchi Fossa, Piergiovanni Crotti, Glauco Bedogni; and 4th place for Ludovico Addabbo with Simona Bertocco, Elena Bagnoli and Francesca Farina at -35.
The Alps Tour wishes to thank the Modena Golf & Country Club and its President Alberto Caselli for the warm welcome and great atmosphere during the whole day, and all the sponsors who made it possible.
Tomorrow all eyes will be on the Emilia Romagna Grand Final and the 48 players competing for the 5+5 spots on the Challenge Tour, and for their 2022 Alps Tour categories. Follow the live scoring on our app!
#risinggolfstars
#raisinggolfstars
#20thanniversary
Latest Alps Tour Golf News