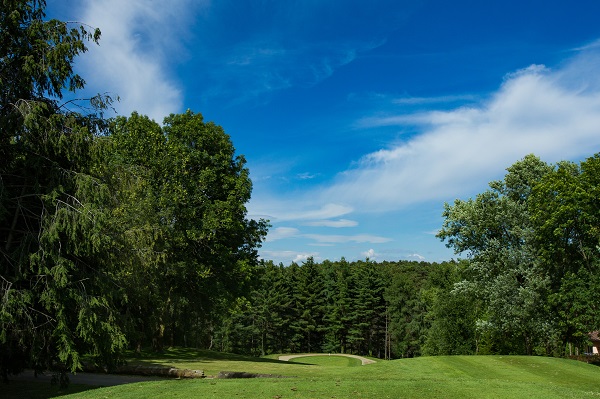 23rd May 2022 | Alps Tour Golf
The 8th edition of the Memorial Giorgio Bordoni is ready to get underway.
Como, May 23rd 2022– After a week off, the tour returns to the Northwestern part of Italy for the 8th edition of the Memorial Giorgio Bordoni presented by Aon. The event will be played at Golf Club La Pinetina near Como, Italy from Wednesday 25th May until Friday 27th May.  On Tuesday 24th May, the traditional best ball aggregate to par pro-am with 25 teams will take place.
This event is named and dedicated to highly acclaimed golf instructor, Giorgio Bordoni who unexpectedly passed away at the age of 48 in 2013. In 1991 he was one of the founders of the Blue Team Golf Academy, a unique and innovative initiative in the world of coaching. He worked many years for the Italian Golf Federation as a National Coach earning many accomplishments during his career.
The tournament has reached its 8th edition this year and has been a consistent stop on the Alps Tour schedule since 2014, except for 2020 when the event wasn't played due to the Covid-19 pandemic.
The Field-
This tournament has some notable past champions. The first edition of the tournament was won by Spain's Borja Virto in 2014, while Spain's Sebastian Garcia Rodriguez came to victory in 2019. Another Spanish victory occurred in 2021 with the current defending champion Angel Hidalgo Portillo winning with a total score of 14 under-par. Meanwhile current DP World Tour player, Italy's Guido Migliozzi triumphed in 2018. From 2015 to 2018 the tournament was won by Italian players: Marco Crespi, Stefano Pitoni, Guido Migliozzi and Andrea Perrino all of whom have been able to honor their fellow colleague, Giorgio Bordoni with their victories.
The majority of this seasons past winners that include: Italy's Stefano Mazzoli currently 2nd in the Order of Merit, France's amateur Oihan Guillamoundeguy and Portugal's Tomas Bessa Guimaraes currently 3rd in the Order of Merit will be competing for the 8th Memorial Giorgio Bordoni presented by Aon title. However, two of this season's past champions will not be playing, Markus Brier, the winner at the 30th Gösser Open and Koen Kouwenaar the winner at the 2022 Molinetto Alps Open and the current Alps Tour Order of Merit Leader.
There will be 144 players competing for a prize fund of €40,000 and 45,000 points. The winner of the 8th Memorial Giorgio Bordoni presented by Aon will earn € 5,800 and 6,525 Order of Merit points.
The Course-
Golf Club La Pinetina in Como, Italy is a very undulating 5761 meters par 70 course. It was designed by Harris Albertini Mezzalane and opened for play in 1971. It offers beautiful panoramic views of the nearby landscape that include the view of Monte Rosa which is the second highest mountain in Italy.
Golf Club La Pinetina covers 70 hectars in the Appiano Gentile Pine Forest, rich of pine trees, oak and chestnut trees as well as Scotch pine and birch trees. It's not a particularly long course, however the complex course design situated on a very hilly terrain, requires accuracy and precise strategy from each player. Thanks to the natural layout of this golf course, players will find notable holes that will allow this course to stand out from the rest.
Tournament Promoter-
This week, Aon is the tournament Presenting Sponsor at the Memorial Giorgio Bordoni 2022. Aon is also a worldwide partner of Ryder Cup 2023 that will be played at Marco Simone Golf & Country Club in Rome, Italy.
Like the majority of the Alps Tour events played in Italy, this event is organized by the Italian Pro Tour, which is a branch of the Italian Golf Federation. They promote the majority of the professional golf events that are played in Italy. The main sponsors that support the Italian Pro Tour include DS Automobiles, Fideuram, Kappa, Rinascente and Eureco. In addition, their media partners are the following three Italian newspapers: Corriere dello Sport, Tuttosport and Il Giornale. The Italian Pro Tour featured social partner is Sport Senza Frontiere Onlus and with an official advisor,Infront.
Follow along on www.alpstourgolf.com or the official "Alps Tour Golf" app to keep up on all the latest news (available on App Store for iOS devices and Play Store for Android)
#risinggolfstars
#raisinggolfstars
Instagram- @alpstourgolf
Facebook- Alpstourgolf
Twitter- @alpstourgolf
27th October 2014 | Alps Tour Golf
Nino Bertasio, 2014 Alps Tour king
The 2014 Alps Tour is now completed and the five graduates have been deemed. Italy's Nino Bertasio, 26 year old, won the ranking with 31 994,20 € and an easy margin of more than 7300 points over the second player, Spain's Borja Etchart, 26 year old as well.
Bertasio won twice this season, back-to-back titles in Open de Saint François in Guadeloupe and Asiago Open. He recorded two runner-up places and two podiums as well.
Etchart won the Alps de Andalucia on his home soil and finished once second and once third. At third place of the ranking, Autria's Tobias Nemecz. His elder brother Lukas, 25 year old, was graduated last year and Tobias, 3 years younger, walked in his relative's steps. Tobias Nemecz won twice this season, the Servizitalia Open and the Open International du Haut-Poitou. He finished the season with solid 4th place at Masters 13 and as runner-up in Abruzzo Open, the last tournament of the international schedule. Thanks to these results, he climbed from 4th to 3rd place at the ranking.
Coming at fourth place, Spaniard Borja Virto, 23 year old, who won two Alps Tour titles in 2014 : Open de Las Castillas in Spain and Open La Pinetina in Italy. Finally, the last spot went to France's Thomas Elissalde, 22 year old, who won the Gösser Open and recorded to places on the podium.
5th September 2014 | Alps Tour Golf
Borja Virto the winner – Memorial Giorgio Bordoni
[sc name="GTPlayer" id="2014_09_05_memorial_giorgio_bordoni_borja_virto_intervista_day3″ ]
Memorial Giorgio Bordoni – Borja Virto Intervista Day3
Latest Alps Tour Golf News