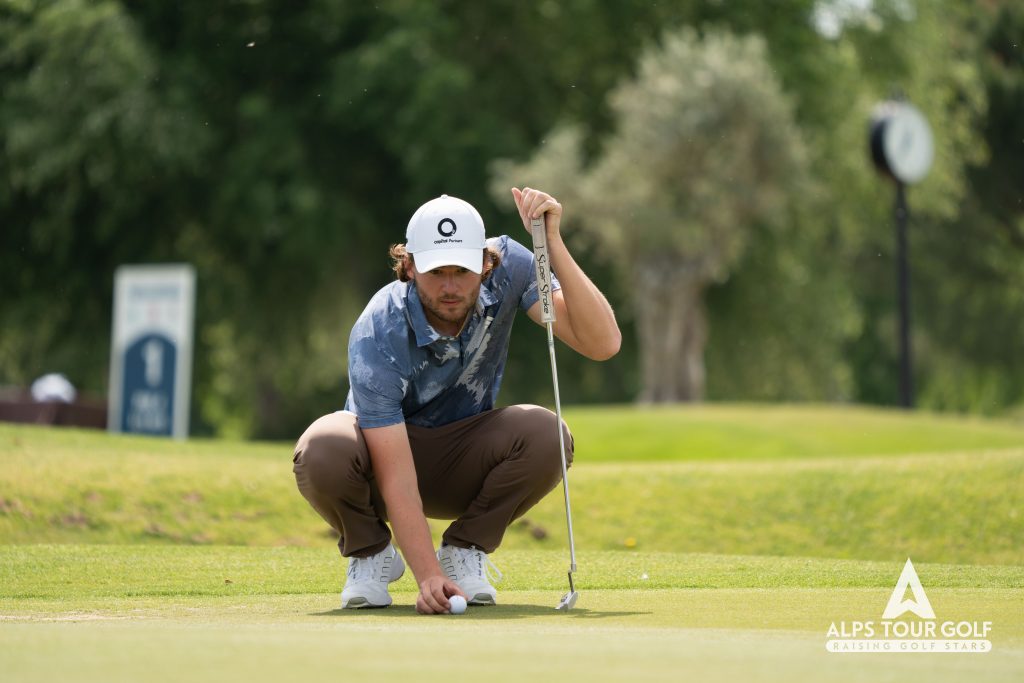 21st April 2023 | Alps Tour Golf
Kiet Van der Weele and Borja Martin co-lead after Round 2 at the 2023 Alps de Las Castillas.
Round 2 Review
Palomarejos Golf
Toledo, Spain
20th– 22nd April 2023
| | | |
| --- | --- | --- |
|    Pos. |                 Name |      Score |
|       1 | Kiet Van der Weele (NED) | -15 |
| | Borja Martin (ESP) | -15 |
|       3 | Oihan Guillamoundeguy (FRA) | -13 |
| | Pedro Oriol (ESP) | -13 |
|       5 | 3 Players at | -12 |
Quick Links
Round 2 Leaderboard 
Final Round Tee Times 
---
Kiet Van der Weele and Borja Martin co-lead after Round 2 at the 2023 Alps de Las Castillas.
Toledo, April 21st 2023 –  
Kiet Van der Weele
 and 
Borja Martin
 are in a two-way tie for the lead at 15 under-par entering the final round of the 
2023 Alps de Las Castillas
. They hold a two stroke lead over 
Oihan Guillamoundeguy
 and 
Pedro Oriol
. There is a 4-way tie for 5
th
 place at 12 under-par that includes: 
James Sugrue, Jorge Maicas, Jacobo Pastor
 and 
Christopher Hickman
.
Another beautiful day with mostly sunny skies and warm temperatures welcomed the players at Palomarejos Golf southwestern of Madrid for the 2nd round of the 2023 Alps de Las Castillas. Play began at 8:30 am from both the 1st and 10thhole. The scoring conditions were more favorable in the morning as a western wind picked up during the afternoon. Rain is forecasted for tomorrow's final round with winds at around 21 km/h.
Round 2 Player Quotes 
Netherland's Kiet Van der Weele who was tied for 3rd place at the conclusion of yesterday's 1st round, finds himself in a share of the lead after today's round at 15 under-par. He followed his opening-round of 7 under-par, with an 8 under-par in the second round for a two-day total of 15 under-par. During today's round, he made 1 eagle, 7 birdies and 1 bogey. Van der Weele, 22 years old, turned professional in September 2022 and has started the season well finishing tied for 6th place at the season opener, 2023 Ein Bay Open. After his round, he was very pleased, "Today was good, I played really well, I made some good putts on the back nine and game is very solid at the moment. On this course, you have a lot of opportunities for birdies and eagles as the par 5 aren't very long so I'm glad I was able to take advantage of the opportunities." Van der Weele, had a strong finish with 2 birdies and an eagle on his last three holes, "yes it was a really good finish heading into the round tomorrow."
Borja Martin from Spain shot a bogey-free 9 under-par round today for a two-day total of 15 under-par and be in a tie for the lead entering tomorrow's final round. He is 23 years old and playing this week as a player in the National Field. Martin belongs to the Basque Team by Olazabal, which was created by Basque Federation and Basque Government with the aim to get as many Basque young golfers to the Olympics. He has an opportunity to play weekly with Spanish Major Champion, José María Olazábal. He made 7 birdies and 1 eagle during his round. When Martin signed for his 9 under-par, he was very satisfied: "Today I played well, I had good feelings, I made a few mistakes but it was a good round overall. I made a lot of good things during today's round and had good rhythm going. I did really good on the greens today, I putted well but overall I had great sensations on the greens." 
France's Oihan Guillamoundeguy is tied for 3rd place at 13 under-par and only 2 strokes off the lead. He shot a second round of 8 under-par 64 with 7 birdies, 1 eagle and 1 bogey. Guillamoundeguy is just 18 years old and is a past winner on the Alps Tour having won the 2022 Red Sea Little Venice Open as an amateur, however, he turned professional in December 2022 and is now competing in his first season as a professional player. At the conclusion of his round, he was pleased with his eagle, birdie, birdie finish: "I was doing great on the front nine and at the beginning of the back nine the putts weren't falling. I stayed patient and made eagle birdie birdie to finish which is really nice heading into the final round tomorrow." He also commented regarding his first season as a pro, that he's "trying to stay patient as I know I'm playing well and I'm young so I just need to learn and enjoy the moment."
Alongside Guillamoundeguy tied in 3rd place at 13 under-par, Spain's Pedro Oriol. Oriol's second round included 1 eagle, 8 birdies and 2 bogeys. He shot a 31 on the front nine and a 33 on the back nine to sign his card for a second round 64.
James Sugrue from Ireland, who was tied for 3rd place yesterday, followed his 7 under-par opening round with a 5 under-par, 67 today and holds a two-day total of 12 under-par and is tied for 5th place entering the final round tomorrow. He turned professional at the beginning of 2020 however due to the pandemic, this is his 2nd full season on the Alps Tour. After his round, Sugrue commented on how: "today was very similar to yesterday, I drove the ball well and took advantage of the par 5 which I believe is very important on this golf course. I missed a few opportunities but that happens so stayed patient and took advantage where I was able to." He also added on how he is "looking forward to tomorrow, the weather was lovely again this morning and not as windy as it'll get this afternoon."
Together with Sugrue in a tie for 5th place, and three strokes of the lead heading into the final round, Spain's Jorge Maicasand Jacobo Pastor and Christopher Hickman from the United States.
The low round of the day belongs to Spain's Alvaro Hernandez Cabezuela with a 10 under-par 62 and heads into the final round tied for 13th.
Final Round
The final round of the 2023 Alps de Las Castillas will begin at 9:00 am local time from hole 1 and 10.
A total of 46 players made the cut which was set at 137 (-7). The final group will tee off at 10:20 am local time from the 1sthole.
The winner of the 2023 Alps de Las Castillas, will earn the winning check of €5,800 and 6,525 Order of Merit points.
Tournament Promoter
The 2023 Alps De Las Castillas is promoted and organized by JGolf.
The event is grateful for the support of: Real Federación Española de Golf, Federación de Castilla La Mancha, Federación de Golf de Castilla León, la Diputación de Toledo, City of Talavera de la Reina, la Junta de Comunidades de Castilla-La Mancha, Palomarejos Golf, el Consejo Superior de Deportes, Kyocera, Mahou San Miguel, Solan de Cabras and Nextcaddy.  
Follow along on www.alpstourgolf.com or the official "Alps Tour Golf" app to keep up on all the latest news (available on App Store for iOS devices and Play Store for Android).
#risinggolfstars
#raisinggolfstars
Latest Alps Tour Golf News