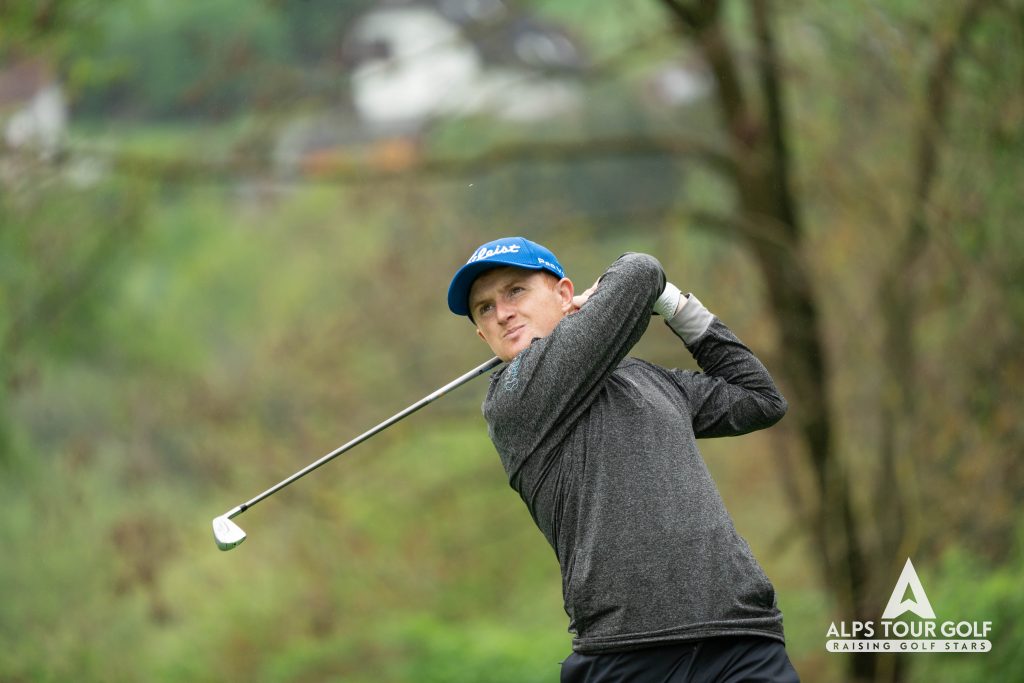 12th May 2023 | Alps Tour Golf
Ronan Mullarney currently leads as Round 2 is suspended for darkness at the 31st Gösser Open
Provisional Round 2 Review
GC Erzherzog Johann
Maria Lankowitz, Graz, Austria
11
th
– 13
th
 May 2023
Alps Tour Media Contact: [email protected]

Current Leaderboard
| | | | |
| --- | --- | --- | --- |
|    Pos. |                 Name |      Score | Holes |
|       1 | Ronan Mullarney (IRL) | -12 | F |
|       2 | Daniel Berna Manzanares (ESP) | -6 | 13 |
| | Benjamin Kedochim (FRA) | -6 | 11 |
|       4 | Paul Margolis (FRA) | -5 | 15 |
| | and 2 other Players at | -5 | |
Quick Links

Current Round 2 Leaderboard

---
Ronan Mullarney currently leads as Round 2 is suspended for darkness at the 31st Gösser Open

Maria Lankowitz, May 12th 2023– It was a very long day of golf under difficult and cold weather conditions the 144 players competing at the 31st edition of the Gösser Open had to face. After play was suspended during yesterday's 1st round at 11:58 am due to flooded greens, the Tournament Director Alessandro Pia decided at 2:00 pm to suspend play for the remainder of the day due to the continuous heavy rain fall.
After all night rain and cold temperatures which continued for the entire day, the 1st round resumed at 8:30 am local time and the 1st round afternoon wave tee times began at 9:00 am. Play was able to resume thanks to the unbelievable work performed by the Golf Club Erzherzog Johann- Maria Lankowitz superintendents lead by head superintendent Robert Keusch and his staff: Thomas Hacker, Matthias Schaffer, Josef Keusch, Johann Pölzl, Gregor Koschar and Stefan Fall.
When the 1st round was successfully completed, Ireland's Ronan Mullarney was at the top of the leaderboard with an 8 under-par, 64. In 2nd place, France's Paul Margolis with a 5 under-par,67. Tied for 3rd place only 1 shot back at 4 under-par: France's Augustin Hole, Italy's Gianmaria Rean Trinchero and Spain's Daniel Berna Manzanares.
Round 2 began at 3:00pm local time from both the 1st and 10th hole. At 7:30 pm, Tournament Director Alessandro Pia, suspended play due to darkness. The second round will resume tomorrow morning, Saturday 13th May at 8:00 am. The afternoon wave tee times for the 2nd round will begin from hole 1 and 10 at 8:00 with the final group
When play was suspended, the current 31st Gösser Open leader, Ireland's Ronan Mullarney concluded his round with a two-day total of 12 under-par. He holds a 6 strokes advantage on Spain's Daniel Berna Manzanares and France's Benjamin Kedochim, both of which still have to conclude their round.
Due to the weather delays and expected forecast, the Tournament Committee has decided to reduce the tournament to 36 holes with no cut.
The prize money will be assigned to the top 40 professional players and ties. The Order of Merit points will be given to the top 40 (and ties) Alps Tour Members both professional as well as amateur players.
The players are competing for a prize fund of €40.000 and 45,000 Order of Merit points. The winner of the 31st Gösser Open will earn €5,800 and 6,525 Order of Merit points.
Tournament Promoter
The 4th event of the 2023 season, is promoted by Murhof Gruppe. The sponsors and partners of Murhof Gruppe are Gösser Beer, Region Graz, Lipizzaner Heimat- Steiermark, Austrian Golf Federation, the city of Maria Lankowitz Wallfahrtsort Freizeitparadies and Steiermärkische Sparkasse. Their media partners are: Gepa Pictures, Antenne Steiermark andKleine Zeitung.
The Murhof Gruppe owns various golf courses throughout Austria including this week's venue.
Follow along on www.alpstourgolf.com or the official "Alps Tour Golf" app to keep up on all the latest news (available on App Store for iOS devices and Play Store for Android).
#risinggolfstars
#raisinggolfstars
21st February 2018 | Alps Tour Golf
Jack Singh Brar won maiden victory in Egypt
England's Jack Singh Brar won the Red Sea Little Venice Open at the Sokhna Golf Club (Egypt) today with -15.
Entering the final round as the leader at -10, Singh Brar shot 6 birdies and one bogey to win his first professional tournament.
« It's awesome to get my first professional win here in Egypt » 21-year-old Singh Brar said. « I turned pro in September so it's good to get a win quite early on in my professional career » he added. « The main thing for me today was to get through the front nine because that's where I struggled in the past few days. I was sort of cruising along when Zucchetti did well on the front nine, I could not get really anything going » he explained. « And then, on the way back, I got a couple of birdies in, got a few putts in and that seemed to seal the deal » he said.
« The best for me on the golf course is to chill out and have some fun » Singh Brar said.
Bernard Neumayer (Aut) finished in 2nd place overall (-10) and turned in the best card of the day (-6). « I had a great day, no bogeys,  it was a fantastic day for me. At the beginning, I played solid golf, missed no greens really, with just a few more putts in, I could have gotten a better result » Neumayer said.
Italy's Federico Zucchetti, who became leader at some point during the day, finished the tournament in 3rd place (-9). « I am a little bit disappointed, I was playing really well the whole round until I made silly mistakes on holes 14 (bogey) and 15 (double bogey) » Zucchetti said. « I'm usually a very good putter and struggling with my long game so that was a little bit surprising this week to hit many greens but I missed too many putts. I'm happy with my long game but I'm sure that my short game will come around pretty quickly, I'm positive moving forward » he said.
« The 2 tournaments in Egypt were very well run » Zucchetti added « The resort is amazing. It was nice to get the season started in a warm place with good weather and I'm sure all the players enjoyed playing these two courses ».
« The people here are so friendly, we feel welcome » Neumayer said. « The courses and the weather are always good, I like to play here, it is my second year and the second time I finish in second place, I just love it to play here ».
Weather was overcast for most of the day. Temperatures were in the mid 20s degrees Celsius.
Jack Singh Brar is the new leader of the Order of Merit, the Alps Tour official season ranking.
Players of the Alps Tour will now head back to Europe for the Golf Nazionale Open in Rome on February 28th.
6th July 2017 | Alps Tour Golf
Neumayer stormed clear in Brittany
Autria's Bernard Neumayer signed for opening round 66, -6 in Saint Malo Golf Open. The 26 year old player holed 8 birdies including hat trick from the 13th. The golf course, designed by Hubert Chesneau, also designer of Golf National, has pleased the players and more than 50 players shot under par today. The weather was perfect and warm in Brittany.
« It was a solid round, said Neumayer, I had no big mistakes. I was playing on Pro Golf Tour and I decided to play on Alps tour and I like it. »
On his toes, a pack of 5 players is one shot behind, Spain's Jesus Legarrea, Italy's Andrea Saracino, Austria's Uli Weinhandl and France's Victor Veyret and Leo Lespinasse, 2016 Alps Tour winner, was very happy with his game today.
« It's a really good 67. It was cool. I had a safe day, I hit lots of fairways and also plenty of greens. When I missed my chipping was solid. I was solid on the pars 5 as well. »
The projected cut is -2.
Latest Alps Tour Golf News