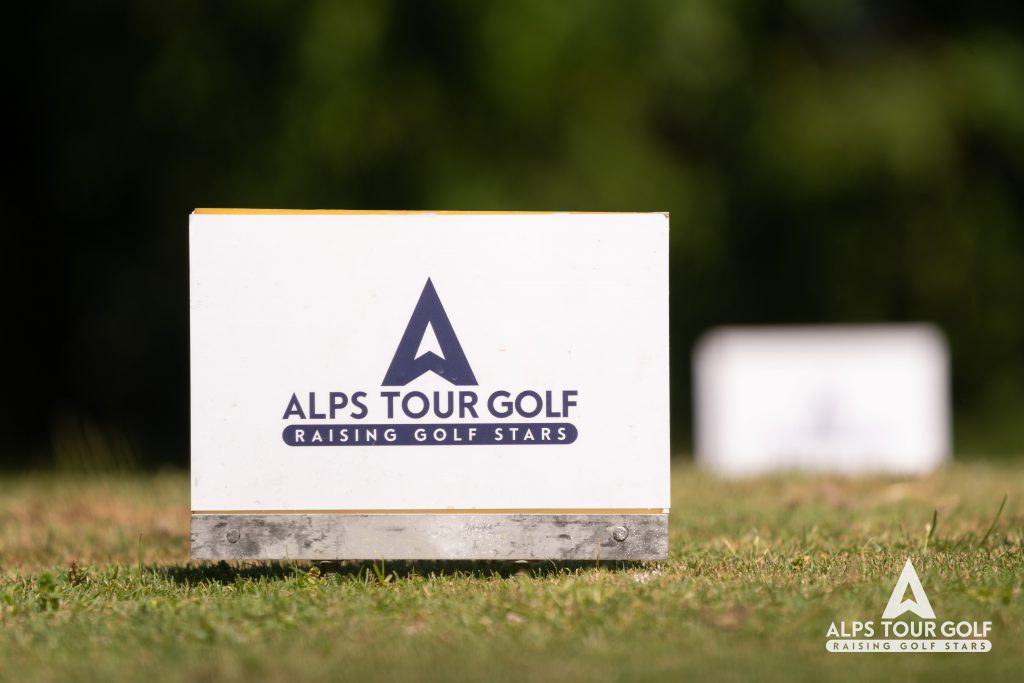 10th November 2023 | Alps Tour Golf
11th September 2020 | Alps Tour Golf
Vacarisas Victorious on Day 1
Metz, 11th September 2020 – The Spanish player Lucas Vacarisas came in at -10 (61) at the end of the first round of the Open de la Mirabelle d'Or here at the Golf de la Grange aux Ormes.
Teeing off this afternoon from the 10th, he started with a birdie on the par 5:
"I started playing very good golf from the first hole. The course is very difficult as you have to hit a good tee shot and also putt well as the greens are tricky. Happily, all my clubs worked for me today".
An excellent start for the player who has been on the Alps Tour since 2016 and has yet to savour a win, he declared it a "perfect day".
Two shots behind him at -8 (63) is his compatriot Alejandro Del Rey. The Madrid native recently turned professional after four years at Arizona State University where he finished with an impressive collegiate record. He teed off in the morning flights and entered the clubhouse at the top of the leader board.
"I started a little slowly as it was tough in the morning with the ball not flying too much. I just stayed patient and birdied a bunch of holes in the middle stretch with a final one on the 15th. It was definitely a good round today."
With an eagle, six birdies and not a bogey in sight, as the afternoon session unfolded, he watched various players climb up the board, but he kept his lead. That is until Lucas Vacarisas moved into overdrive. He had started the tenth at -5 (31) and played par until hole thirteen where three birdies in a row put him joint leader. A par followed but his final flourish of two more birdies secured him the top place on the leader board.
In joint third position at -7 (64) is Lukas Nemecz, from Austria this year's winner of the Gösser Open and the Chilean player, Matias Calderon. It was eight birdies and a bogey for Nemecz and seven birdies and pars for Calderon who was more than pleased with his play:
"A really good day. I've been struggling over the past couple of years with my mental side of the game so to have a good solid round on this first day makes me feel pretty good. So, yes, very happy about it."
Right behind them at -6 (65) is the Italian player, Guglielmo Bravetti. This veteran Alps Tour player had a bogey-free round and three birdies on each nine.
Rounding out the top ten at -5 (66) are five players including local professional Jules Coupade who previously held the course record of -9 (62) until today and his compatriot Franck Medale who was third here last year. Bradley Bawden from England, winner of the Alps Tour 2019 Q School is also there with his fellow Englishman, Marcus Thomas Mohr, victor at the 2018 Open de Saint-François Région Guadeloupe . The Irish player, Jonathan Yates, completes the group.
Making the count for the top twenty at -4 (67) are nine players. Among them the promising Spanish amateur, Joel Moscatel, WAGR 87th and Julien Quesne, two-time European Tour winner who admitted to problems with his driving:
"I'm pretty happy with my score as my tee-offs were not so good so I missed quite a few fairways which made it difficult to do better than -4. I just want to make the most of my time at the moment, to play in tournaments and play under pressure. I want to play, I need to play, so I'm very happy to be here."
The weather conditions today were practically perfect. Despite a nippy early morning start, the day turned gloriously sunny and warm. The forecast is for more of the same tomorrow. Play starts at 7:45 am from tees one and ten.
Results Day 1: click here
Stay tuned! www.wp-alpstour.ocs-sport.com and the app « Alps Tour Golf » (on App Store for iOS devices and Play Store for Android) will keep you updated on every news about Alps Tour.
Instagram @alpstourgolf
Facebook @Alpstourgolf Satellite
Twitter @AlpsTourGolf
14th December 2019 | Alps Tour Golf
15th December 2018 | Alps Tour Golf
Angel Hidalgo wins Q School's final stage
Spain's Angel Hidalgo won today the final stage of the Alps Tour's Q School with a total score of -14 at La Cala Resort , Spain. 
Hidalgo and Andorra's Kevin Esteve turned in the best cards of the day (-7). 
Maximiliano Godoy (ARG) came in 2nd place (-9 total) while Enrico Di Nitto completed the podium (-8 total).  
« I'm very happy with this win. I played very well all week » Hidalgo said. 
20-year-old Angel Hidalgo made good use of his knowledge of the beautiful and hilly La Cala courses: he is from Marbella, just a few kilometers from the Q School venue, and turned pro just one month ago. 
The young Spaniard started to play golf at the age of 2. At the age of 5, he started group lessons for kids in Guadalmina located half-hour by from La Cala. Hidalgo represented Spain in the Spanish Amateur team at the European and World Championships in 2018, won two Spanish Men's Championships both Match play and Stroke play.
«  In 5 days, I will be traveling to Asia to play the Asian Tour final » Hidalgo continued. « Depending on the outcome, I will play both in Asia and on the Alps Tour next season » he concluded. 
Following today's final qualifying stage, 38 players have obtained a category 6 on the Alps Tour which means they are guaranteed a spot in all the tournaments of the Alps Tour next season.  32 players are eligible for membership in category 8 of the Alps Tour and 75 others for category 9. 
The 2019 season of the Alps Tour is scheduled to start in February with a series of tournaments in Egypt. The full 2019 tournament schedule is due to be released at the beginning of the year.  
14th December 2018 | Alps Tour Golf
Familiar face Enrico Di Nitto sole leader of Q School
Enrico Di Nitto (ITA) is the sole leader of the Q School's Final Stage with a total of -9 after round 2 at La Cala Resort, Spain. 
Di Nitto made an eagle, 6 birdies and 2 bogeys on Asia course to finish the day at -6, two strokes clear of Spaniard Angel Hidalgo – who shot a 67 (-5) on the same course today – and Argentinian Maxi Godoy, who posted a 66 (-5) on America course with 6 birdies and one single bogey. 
Mathias Eggenberger (SUI) turned in the best card of the day, a 65 (-7) on Asia course, after making an eagle, 7 birdies and a bogey.  
Enrico Di Nitto is a familiar face on the Alps Tour as he played on the circuit during the 2016 season. At the end of that season, the 25-year-old Italian finished in 2nd place on the Order of Merit, the Alps Tour official season ranking. He played two seasons on the Challenge Tour with some mixed results. Having obtained a category 17 for next season on the Challenge Tour, Di Nitto will play on both Tours, to try to give a new boost to his career. 
70 players made the cut today set at +6 and will progress to the third and final round which will be played tomorrow on Asia course. Today's weather conditions were good.
After tomorrow's final round set to tee off at 09h15 local time, 35 players will obtain a category 6 which means for them a guaranteed spot in all the tournaments of the Alps Tour during the 2019 season.
13th December 2018 | Alps Tour Golf
Hauchard leads Q School Final Stage after round 1
With 5 birdies and a bogey on America course, Frenchman Clément Hauchard turned in the best card of the day (67, -4) today to take the lead of the Final Stage of the Alps Tour Q School at La Cala Resort, Spain.  Juan Carlos Osorio (ESP), Enrico Di Nitto (ITA) and Jack Clarkson (ENG), all on America course, are one stroke behind Hauchard. 
On Asia course, where the other half of the field has played the first round, three players are sharing the top spot at 70 (-2): Javier Ballesteros, 28, son of legendary Severiano; Argentinian Maxi Godoy, 30, who plans to try his career in Europe after some good experience in the PGA Tour LatinoAmerica, where he has collected 10 top ten places in 2018; and Canadian Callum Davison, who has recently decided to turn pro after a good amateur career.
At the end of the Q School's final stage, 35 players will obtain a category 6 which means for them a guaranteed spot in all the tournaments of the Alps Tour during the 2019 season.
Weather conditions deteriorated today compared to the last few days. Rain, gusty winds and clouds prevailed in the morning before the sun came out in the afternoon with some wind still present. Temperatures reached about 15 degrees. 
Round 2 will tee off tomorrow at 09h30 local time, with players swapping courses: those who played America today will play Asia tomorrow. At the end of the day, the cut will have the best 65 players and ties finish the tournament on Saturday, on Asia course, trying to get a "category 6" or "8", while all the others will have a "category 9" for 2019.
25th October 2018 | Alps Tour Golf
Qualifying School-La Cala: Join Us in 2019
The Alps Tour is pleased to announce that La Cala Resort will be, for the 7th time, the host of the Qualifying School scheduled from December 9 to 15, 2018.
It is with great pleasure that Alps Tour will organize its Qualifying School First Stage and Final once again in this great resort, only 39 km from Malaga airport, in the South of Spain. La Cala Resort offers wonderful facilities, hotel on site, great practice range and 3 championship golf courses.
The First Stage is scheduled on December 9 and 10 over 36 holes, and the Finale is to be played on the 13th, 14th and 15th of December over 54 holes. This year, the Final Stage will be played on Asia & America courses.
The Top 35 will obtain a full category to play the 2019 Alps Tour events.
The entry deadline for the First Stage is November 9 (November 20 for the Final Stage).
For all info and entry forms  – go to this link on our website to download terms & conditions, entry form and hotel – transfers – trolley booking forms.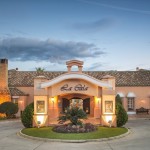 Accomodation: La Cala Resort is glad to welcome all participants in the La Cala Hotel on site with special offers, including a shuttle service between Malaga airport and La Cala Resort. All details and booking forms included in the tournament entry form.
16th December 2017 | Alps Tour Golf
Albert Venter won Final Stage
South Africa's Albert Venter wrote his name on the Alps Tour Qualifying School book. He won back to back the first and final stages. This is the first time a player recorded this result. He signed for final round 68, -3 for -12 total.
Federico Zucchetti of Italy and France's Paul Bariteau shared second place 3 shots further. Zucchetti fired best score of the day tie, 65 and Bariteau recorded a 68 card.
The weather was fresh and windy on La Cala golf course and only players from north of Scotland wore short sleeves.
The overnight leader, Venter did not start the best way his hunt to glory. He dropped one shot on the first hole but he erased his mistake with a 68 meter wedge shot holed on the next hole for eagle. His playing partners did chase him all day long and he admitted he had it was a hard day. »
There are 37 players who got their full category to play on Alps Tour next year. From England, 11, GB&I all together 15. Then the second nations are Spain and France with 6 players qualified. New countries will start on Alps Tour, one player from Israel, Colombia, South Africa and 2 from Sweden.
The season will be launched mid-february with traditional Egypt swing.
15th December 2017 | Alps Tour Golf
Venter holds firm in La Cala
South Africa's Albert Venter holds firm on top of the leaderdoard after round 2 in Alps Tour Qualifying School Final Stage. He shot 70 on Asia course to add to his opening 65. He is -8, two shots clear of France's Paul Bariteau and England's Jack Singh Brar.
Bariteau was the first to lead at the club house with -6 while the overnight leader was still on course.
« I am happy with my round. I managed to keep the ball in play and did not make too many mistakes. I played steady and holed a few putts. I have to admit my coach Oliver Serres was really helpful as he is on the bag this week. He helped me with a good strategy to make the birdie on the 18th for example and to play in the wind yesterday. »
Venter had a colorful round, 3 bogeys, 3 birdies and one eagle but eventually a decent score.
« I had a rough start, I dropped a shot on the 11th and the 12th but I managed to get back on 15th and 16th which helped me quite a bit. But unfortunately, I missed a couple of shots on the 17th and 18th so I turned even par. The wind started to pick up and I needed to stay focus on the wind which was interesting. I am very pleased with my round today but for tomorrow, you can not take everything for granted so I am going to play every shot as it comes. »
The cut felt at +5, 75 players were on the right side. The top 35 will get a full category, 6, to play the Alps Tour next season and the followers will have an 8 category.
14th December 2017 | Alps Tour Golf
Venter strong in the wind
South Africa's Albert Venter shot -6 on America course to lead after first day of Q school Final. The 21 year old player won the first stage a couple days ago and kept his momentum going into the final stage. The wind was strong and fresh on Costa del Sol today but he managed to keep the ball in play as he said.
« The course looks alike some in South Africa. It is a bit shorter but it is narrow and you have to keep the ball in play. I am happy to keep on playing well. I have some experience of playing in the wind, in Scotland for example. I played some event on European Tour, (Dunhill Links) but I missed the first stage by one so I am here to play in Europe next year. »
Venter just turned pro 2 months back. He was third at the Amateur ranking in South Africa.
Spain's Ivan Cantero Gutierrez signed for best score on Asia course with -4. Only one shot back, Italy's Federico Zucchetti and Scot Clarke Lutton, who both played on Asia course.
The top 65 and ties will make the cut after the second round is completed, the current limit is +4
Latest Alps Tour Golf News