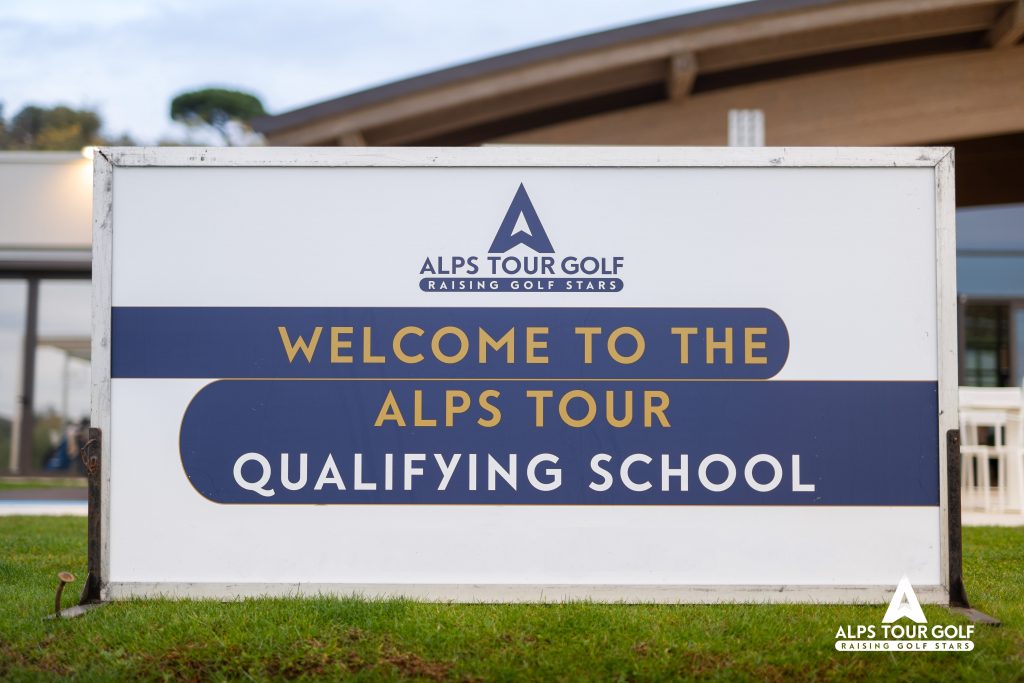 31st October 2022 | Alps Tour Golf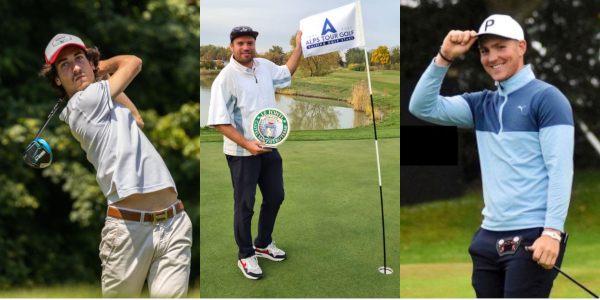 5th November 2021 | Alps Tour Golf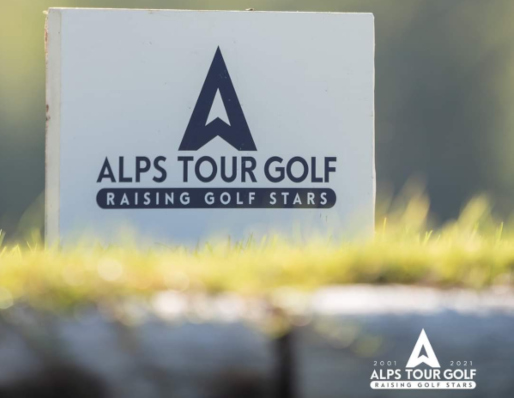 4th November 2021 | Alps Tour Golf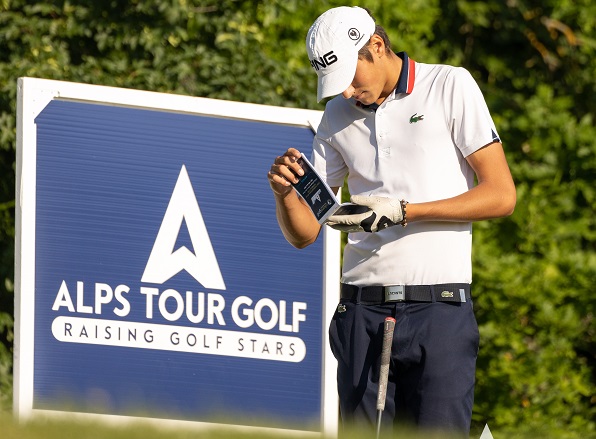 2nd November 2021 | Alps Tour Golf
30th March 2021 | Alps Tour Golf
Paul Margolis Wins the MIRA Live Soul Open
March 30th, 2021 – Lecce, Italy. Yet another suspense-filled finish for the final round of the second tournament of the Alps Tour 2021 Spring Season here at the Acaya Golf Resort where the young French amateur, Paul Margolis edged out Matteo Manassero to win the tournament by one shot at 201 (-12).
Teeing off in the flight ahead of the leader, Margolis had a rock-solid front nine with not a bogey in sight and four birdies to leave the 9th green -11. Behind him yesterday's leader, Manassero, teed off at the 9th level with the French player. However, a birdie saw him turning for home at -12. Yesterday's runner-up, Angel Hidalgo Portillo saw the leaders pulling away from him after carding a double-bogey, bogey, and birdie to move back to -6.
Margolis continued his bogey-free run on the back nine with 3 pars and two birdies to be sitting -13 on the 14th. In his rear-view mirror, was Manassero who finished the 14th hole at -12 after one birdie and a bogey. Four holes to go and everything to play for.
Bogey, par, birdie for Margolis to head for the 18th at -13. Bogey, birdie, bogey for Manassero to leave him trailing at -11 on the last hole. Margolis missed his putt to finish with a bogey and headed into the clubhouse at 201 (-12). Everything depended now on Manassero as he had birdied the 18th in the last two rounds in which case, he would have forced a play-off. Unfortunately, today he was not third time lucky and left the green with a par to hand the victory to Margolis.
A fantastic result for the amateur player from the Terre Blanche Golf Resort who just last spring decided to stop his university studies in the USA to devote himself 100% to golf. Currently pre-selected for the French team for next year's International Amateur Team Championship to be held in France. The MIRA Live the Soul Open is his first professional competition win. When asked how he felt:
" I don't think it's sunk in fully yet. It's hard to take in. I've just spent three fantastic weeks here  at the Acaya Golf Resort and this last week was particularly emotional. It's difficult to realise that on just my third  start on the Alps Tour I get a win".
Was he aware of what Matteo Manassero was doing in the flight behind him?
"Not at all. I told myself last night that I had a job to do out here today and that was to hit the best shots I could. I didn't look at the leaderboard at all and just stayed focussed on my game ".
What are his plans for the future?
" This result may change things a bit. I had planned to play the Alps Tour as an amateur but I think now I may throw myself into it whole-heartedly. I do have a project with the French Golf Federation to play in the International Team Championship next year so I just need to take the time to reorganise my schedule".
In third place is another amateur, the Italian Gregorio De Leo on 205 (-8) who was the winner of the Italian International Men's Amateur Championship at the beginning of March.
In fourth place is Angel Hidalgo Portillo from Spain 206 (-7). That keeps him at fourth position on the Order of Merit. Despite having just missed out on victory today, Matteo Manassero now heads the Alps Tour OofM after two tournaments.
The Alps Tour remains in Italy for the month of April with the next stop for the players being the Abruzzo Alps Open at the Miglianico Golf & Country Club in Pescara from 22nd – 24th April 2021.
Final Results: click here
Stay tuned! www.wp-alpstour.ocs-sport.com and the app « Alps Tour Golf » (on App Store for iOS devices and Play Store for Android) will keep you updated on every news about Alps Tour.
Instagram @alpstourgolf
Facebook @Alpstourgolf Satellite
Twitter @AlpsTourGolf
29th March 2021 | Alps Tour Golf
Manassero the Recidivist Takes the Lead End of Day 2
March 29th, 2021 – Lecce, Italy. Yesterday's play concluded this morning with no change in the leader at the MIRA Live the Soul Open but by the end of the day Matteo Manassero finds himself in the same position as at last week's MIRA Golf Experience Acaya Open after thirty-six holes. Ahead by one stroke on 133 (-9), he moved twelve places up the board after shooting a -6 (65) today with 7 birdies and a bogey. A pleasing result for the Italian:
"A very solid round. Well, we're in the same position as a few days ago, -9 and up on the leader board and that's obviously a really good feeling but golf is like that! I'm always really focussed on the work I'm doing and on the process of becoming better so those are really good signs that I'm definitely going in the right direction and it's really good to have another opportunity tomorrow. The last one didn't go too well. In the end I lost by one shot, so I guess a few putts were the key but it's always like that. Anyway, it's really good after that to come and have two really good rounds again and be in a different but similar position and be on the leader board".
Angel Hidalgo Portillo retains his second place from yesterday on 134 (-8) alongside the Italian Enrico di Nitto. Teeing off at 13:10 Hidalgo kept the suspense going right up to the end. Starting at -6, six birdies and two bogeys saw him approach the 17th at -10 but he concluded the round with two bogeys for a -2 (66) for the round to leave him trailing the leader by one stroke. Di Nitto who was second on the 2019 Alps Tour OofM and now plays on the Challenge Tour scored a -6 (65) to join Manassero with the lowest round of the day. Not having played since November, Di Nito was glad to be back in competition:
"This is a very good place to start. The course is great, conditions are tough and it's very important to have some tournaments before the start of the season. It was a very, very good day. I had some good feelings and I tried to take them to the course today. I made some great putts and some great shots to the green. On the back nine the wind was picking up a bit, so I had to stay focussed, more so than in the beginning and it paid off".
Three players share fourth place at 135 (-7) including yesterday's leader, Cristiano Terragni. The birdies did not fall for him like yesterday and with four bogeys he finished at +1 (72). The Dutch player, Koen Kouwenaar, remains in contention with a -2 (69) after his third position finish yesterday and the French amateur, Paul Margolis remains solid having carded a -3 (68).
Manuel Elvira from Spain also lost a bit of ground today moving from third to seventh after doing par (71) for 137 (-5) whilst two Italian amateurs are right behind him on 138 (-4) Gregorio De Leo and Alessandro Tadini.
The cut came at 144 (+2) with 47 professionals and 9 amateurs going through to tomorrow's final.
Windy conditions are forecast for Tuesday after two relatively calm days, so anything could happen as we saw last week, here at the Acaya Golf Resort. First flights tee off at 08:00 am from the 1st and 10th with the leaders heading off at 09:39 am.
Round 2 Results: click here
Stay tuned! www.wp-alpstour.ocs-sport.com and the app « Alps Tour Golf » (on App Store for iOS devices and Play Store for Android) will keep you updated on every news about Alps Tour.
Instagram @alpstourgolf
Facebook @Alpstourgolf Satellite
Twitter @AlpsTourGolf
28th March 2021 | Alps Tour Golf
MIRA Live the Soul Open Suspended due to Darkness
March 28th, 2021 – Lecce, Italy. After the start of play was delayed for an hour this morning due to fog the MIRA Live the Soul Open was suspended this evening at nightfall with four games still out on the course.
Leader in the clubhouse is Cristiano Terragni from Italy. Teeing off from the 10th, he started with a birdie. He followed suit on the 11th negotiating well the scrub and bunkers on the right and the series of ponds on the left. A bogey on the par 4 12th but after that the rest of his round was smooth sailing with 7 more birdies and the rest all par to finish at -8 (63).
"I was pretty relaxed this morning. I tried to stay focussed during the delay. I felt good during the practice round. I was really disappointed in the first tournament playing in the windy conditions and on this course, it was really tough (missed the cut, Ed.) but it probably helped me to see some points of my game that were not at their the best and so I worked on these the last two days. I felt good during the practice round and so I was pretty relaxed this morning.  I was maybe lucky in a couple of situations and sometimes luck helps but overall, I'm really happy with my round and I hope to continue like this over the next couple of days".
Winner of the 2011 Feudo di Asti Open in his first season on the Alps Tour, he moved over to the China Tour in 2016.
Two shots behind him on -6 (65) is Angel Hidalgo Portillo. After his fourth-place last week, the Spaniard looks to be on form this season. Winner of the 2018 Qualifying School, he has consistently finished in the first 20 in the last two seasons. His seven birdies and just one bogey is his best result on the course so far.
In joint third position at -5 (66) we have a quartet of players: Koen Kouwenaar from the Netherlands, Manuel Elvira from Spain, the Portuguese player, Tomas Bessa Guimaraes and the Italian amateur, Gregorio De Leo. The Dutch rookie had a bogey-free round and 5 birdies for a much-improved game on the course and Elvira had his first round under par here at the Acaya Golf Resort, both having missed the cut last week. Bessa Guimaraes was in joint second place heading to the 18th, but a bogey dropped him back a slot. De Leo did 33 on both the front and back nines for his best score to date on the course.
Six players sit at 7th position on -4 (67) including the winner of last week's Mira Golf Experience Acaya Open, the Scot, Ryan Lumsden and the only other amateur in the top ten, Paul Margolis from France.
Despite the fog this morning the weather conditions were much improved today on last week. This was reflected by the scores with 50 of the players playing to par or under compared to just 18 on the first day last week. However, the wind could pick up again over the next two days.
Play will resume at 7:30 am tomorrow.
Round 1 Results: click here
Stay tuned! www.wp-alpstour.ocs-sport.com and the app « Alps Tour Golf » (on App Store for iOS devices and Play Store for Android) will keep you updated on every news about Alps Tour.
Instagram @alpstourgolf
Facebook @Alpstourgolf Satellite
Twitter @AlpsTourGolf
26th March 2021 | Alps Tour Golf
Ryan Lumsden Wins the Acaya Open
March 26th, 2021 – Lecce, Italy. It was a thrilling day for the Final Round of the MIRA Golf Experience Acaya Open where the young Scottish player, Ryan Lumsden, finally imposed on 204 (-9), one stroke ahead of the joint runners-up, Matteo Manassero from Italy, and Theo Brizard from France. But the battle went right down to the line.
Lumsden had a bogey-free, round with 5 birdies, but as he headed into the clubhouse, his victory was not assured with two more flights to come in, so a pleasant surprise:
"My win was a little unexpected as I was looking back and seeing great players playing behind. I played solid today. I was quite tidy, but I didn't think I'd made quite enough birdies. I had a short putt on 18th for birdie, but it just slid by the edge so when that one missed, I thought it might be a struggle. But I definitely had a bit of luck on my side as well".
The win was even more satisfying as Lumsden has had a tough winter going through tonsilitis, Covid-19 and surgery which meant he only got back to his game recently:
"I got back into golf about a month ago. I flew out to America to train and play a few qualifiers. It was not pretty for that first week as the balls were going everywhere when I hit them but now it feels good as I've worked really hard for the last month to get back to a functional level. It feels nice to have that rewarded so quickly and have 2021 get off to a good start".
Indeed, all eyes were riveted on two flights behind Lumsden and the head-to-head between yesterday's leader Matteo Manassero and the French amateur Theo Brizard. Teeing off with Manassero on -9 and Brizard on -5, they both started with a birdie on the par 5 dogleg. However, at the end of the first nine, a dazzling performance by Brizard with a total of 7 birdies, a 29 (-7) to open put him at -12. As they headed to the tenth, Manassero was trailing by one shot at -11 after 3 bridies and a bogey.
At this stage, Rumsden, two holes ahead was at -8. Back to even-stevens at -11 on the tenth with par for Manassero and bogey for Brizard. The eleventh posed problems for both players, with a bogey for Manassero (-10) and double bogey for Brizard (-9).
When the pair reached the seventeenth, Rumsden was in the clubhouse with his -9 after a final birdie on the sixteenth. Brizard had clocked up 2 more bogeys and 1 birdie to sit at -8 and finished with a par. Manassero got to the eighteenth green on -9 after 2 bogeys and a birdie and a play-off looked to be in the offing. The final putt proved to be elusive, and bogey left him tied for second place with Brizard.
Rumsden's win puts him at the top of the Alps Tour Order of Merit 2021 with the amateur Theo Brizard in second place. Third on the OofM is Angel Hidalgo Portillo from Spain who finished fourth today. Next on the OofM are French players Paul Elissade and Edgar Catherine who finished joint fifth today.
Theo Brizard was the highest placed amateur at the tournament, but the top Italian amateur Gregorio de Leo finished a more than respectable sixth.
So, an exciting finish to this opening tournament that augurs well for the rest of 2021. And the season continues rapidly with the MIRA Live the Soul Open here at the Acaya Golf Resort from March 28th-30th. Players will stay on-site, get in some practice and be ready for another tournament on Sunday with a field of 122.
Final Results: click here
Stay tuned! www.wp-alpstour.ocs-sport.com and the app « Alps Tour Golf » (on App Store for iOS devices and Play Store for Android) will keep you updated on every news about Alps Tour.
Instagram @alpstourgolf
Facebook @Alpstourgolf Satellite
Twitter @AlpsTourGolf
24th March 2021 | Alps Tour Golf
Nicolas Platret Leader after Round1 at Acaya
March 24th, 2021 – Lecce, Italy. Nicolas Platret from France came into the clubhouse at -5 (66) to take the lead at the inaugural competition of the 2021 Alps Tour season here at the Acaya Golf Resort. He swung back into action after five months without any competitive play and was focussed on the result based on applying what he has been doing with his coach in France over the past few weeks rather than the score. He talks us through his round:
"I started early this morning at 7:20 so it was kind of windy and pretty cold so for the first few holes I just tried to keep the ball on the fairway and hit as many greens as possible. I got some good opportunities for birdie in the first few holes and so I was quickly two under after 5. Then I had a good up and down on 6 for par. Then 7 and 9 downhill are pretty easy par fives so I had two birdies there. Unfortunately, I had a bogey on 8 with a ball in the water. So, after the front nine I was pretty confident because it was windy and not easy to play. The back nine for me is a little tougher than the front nine, so I tried to do the same thing as on the front nine. I made some good birdies on 12, 16,17. I had a bogey on the 11th but for me it's the toughest hole on the course, so I just tried to stay patient and take the opportunities for birdie when I had them".
This is Nicolas's second season on the Alps Tour, and he will be hoping to keep the lead to secure his first victory with his best finish to date being second place at the 2019 Open de la Mirabelle d'Or.
One shot behind at -4 (67) is Matteo Manassero who played two under on each nine. Two birdies and a bogey-clear front nine plus three birdies and one bogey on the back nine leave him in serious contention. The Italian player sat second for the first two rounds in his previous tournament with the Alps Tour, ultimately going on to win the Toscana Alps Open last year.
Just behind him in third place are three players.  The Scot, Ryan Lumsden, winner of his first Official World Golf Ranking professional title at the Journey to Jordan #2 at Ayla Golf Club in March last year and with two top ten finishes on the Alps Tour in 2020, he carded five birdies and two bogeys for a solid -3 (68). Joinng him are the two Spanish players Alejandro Del Rey, winner of the 2020 Open de la Mirabelle d'Or and Angel Hidalgo Portillo, runner-up at the Toscana Alps Open Last year.
In sixth spot there is a group of six at -2 (69). Two French players; Romain Guillon who was joint leader when he entered the clubhouse and Paul Elissalde. The Italian players, Jacopo Vecchi Fossa along with Davide Buchi who is the highest ranked amateur today. Mathias Eggenberger from Switzerland and the Dutch player, Pierre Verlaar complete the group.
Despite the difficult windy conditions, we saw a total of eleven eagles out on the course today, all of them on the par 5's with Edouard Espana from France scoring two of them which helped him to finish at par for the round.
The forecast for tomorrow is partly cloudy and the temperatures will continue to be below average for the time of year and the wind will also be present if less so than today.  Tee off starts at 7:00am from tee 10 and 7:05 from tee 1. The cut will take place on completion of the second round.
Results Round 1: click here
Stay tuned! www.wp-alpstour.ocs-sport.com and the app « Alps Tour Golf » (on App Store for iOS devices and Play Store for Android) will keep you updated on every news about Alps Tour.
Instagram @alpstourgolf
Facebook @Alpstourgolf Satellite
Twitter @AlpsTourGolf
15th June 2019 | Alps Tour Golf
Italian Gregory Molteni wins the Acaya Open Dailies Total 1 to claim his first Alps Tour career victory
June 15th 2019 – In a closely fought final round, Italian Gregory Molteni was at the top of an international podium for the first time in his 16 years career as a pro with a final score of -11 for the three days to take home the €5,800 prize money.
He started the day one stroke ahead at -7 of his playing partner, Austrian Timon Baltl at -6. Both Molteni and Baltl played a steady first 6 holes, each birdying the first and then serial pars until the 7th where Molteni's one stroke advantage disappeared when Baltl birdied the hole.
Neck and neck coming into the 8th the pressure increased as Molteni made par but Baltl carded another birdie to draw one stroke ahead.
Unfortunately, Baltl's hooked his tee shot on the par 5 ninth into the high rough on the left of the fairway. The ball was declared lost but Baltl still managed bogey with his second ball. However, Molteni carded a birdie to take back the lead as they started the back nine.
Par on the 10th for both players then Molteni faltered on the 11th with a double bogey for Baltl's par which saw his lead evaporate and put Baltl in the lead again by one stroke.
Molteni response was immediate with a birdie on the par four 12th to put the players all square again. The Italian sun seemed to be shining on him as he birdied the par three 13th versus Baltl's bogey. Molteni was back in command with a two-stroke lead heading into the final five holes.
Molteni preserved his two-stroke lead as both players parred the 14th and 15th. With just three holes to go,Timon Baltl had not had his last word as he continued to fight back hard and birdied the 16th whilst Molteni made par. The two-stroke lead was now down to one with just two holes to go.
Both players demonstrated nerves of steel at the 17th with a birdie for each. The final hole was now the decisive one.
Hole 18, par four, just one stroke difference and everything to play for. Could Timon force a play-off? Here he talks us through the final hole:
Timon:" "I hit a great tee shot on 18 which is very, very difficult and Gregory missed his one into the water. I made a bad second shot, missed the green, maybe I was little bit too aggressive going for the flag. Quite a good chip then just missed from 1.5 metres to force a play-off. Of course, at the moment I'm very disappointed but anyway happy with the game this week."
So, Gregory Molteni came through victorious to raise his first professional trophy in an international tournament. Molteni: "I've been close many times but never won…I want to dedicate this win to my father Pietro, today it's his birthday. I have wanted to dedicate something to him for a long time and now I have this opportunity".
Besides playing on the Alps Tour, Molteni has also played on both the European Tour and Challenge Tours with some good rounds, but no victories. However, he has not been a regular tournament player in recent months having turned his focus to teaching. Molteni: "Maybe my change of focus to teaching has allowed me to put less pressure on myself, to be less obsessed about performance and perfection".
He did not neglect to pay tribute to his playing partner, Timon Baltl: "Timon was a hard contender. He never gave up during the whole round. On the 18th, I thought we would go to play-off". Indeed, Baltl's result today moves him up to fourth on the Order of Merit in this, his second year on the Alps Tour.
Third place went to the Argentinian Maximiliano Godoy (-8). Englishman James Sharp shared joint fourth (-7) with Italian Edoardo Lipparelli. Lipparelli's result now raises him to the top of the Order of Merit.
Acaya Open Dailies Total 1 was promoted by Italianprotour, branch of the Italian Golf Federation, with the support of Dailies Total 1 as title sponsor and Puglia Outlet as official sponsor, while Italianprotour can count on Banca Generali Private as title sponsor, BMW as main sponsor, Kappa and Leaseplan as official suppliers, and Infront as official advisor. 
Latest Alps Tour Golf News