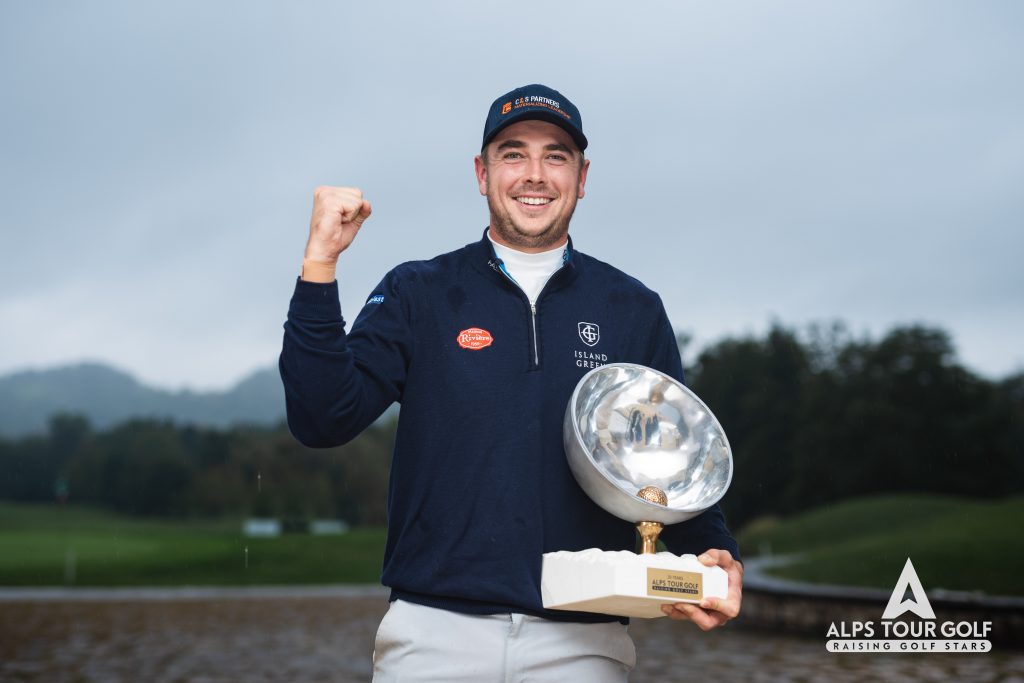 20th October 2023 | Alps Tour Golf
Augustin Holé wins the 2023 Alps Tour Grand Final Presented by AURALIS Limitless Lighting
Cavaso del Tomba, October 20th 2023  – After 1 hole of sudden-death play-off, France's Augustin Holé wins the 2023 Alps Tour Grand Final Presented by AURALIS Limitless Lighting with a birdie on the 1st playoff hole. Holé, alongside, Spain's Quim Vidal concluded their final round at Asolo Golf Club tied for the lead, therefore, took part in a 2-way sudden-death playoff thanks to their final score of 10 under-par. Tied for 3rd place at 9 under-par Italy's Elia Dallanegra, Ireland's Paul McBride and France's Benjamin Kedochim.
Ireland's Ronan Mullarney wins the 2023 Alps Tour Order of Merit and secures himself one of the five sought-after 2024 Challenge Tour cards that were up for grabs. Alongside Mullarney, Spain's Quim Vidal, Netherland's Kiet Van der Weele, France's Oihan Guillamoundeguy and England's Jack Floydd earned the remaining 4 cards that will give them access to the 2024 Challenge Tour.
The winner's trophy that was handed to Augustin Holé was designed and created by artist-designer Roberta Verteramo.
The final round of the 2023 Alps Tour Grand Final Presented by AURALIS Limitless Lighting began at 9:00 am local time from both the 1st and 10th hole under overcast skies with some occasional light rain showers at Asolo Golf Club in Cavaso del Tomba, Italy.
Final Round Player Quotes

Augustin Holé 
from France wins the 
2023 Alps Tour Grand Final Presented by AURALIS Limitless Lighting
 after an incredible birdie putt from about 18 meters on the 1
st
 playoff hole against Spain's 
Quim Vidal
. He earned 9,500 Order of Merit points and the winner's check of €10,000.  He followed his opening round of 9 under-par, with a 4 under-par and a 3 over-par to end the tournament at 10 under-par. After his victory, he was very emotional: 
"I couldn't have wished for anything better than this. I fought hard today and throughout the entire event. I was looking for this victory for over a year. It's been a goal of mine to win an Alps Tour event for over a year and to be able to do it today, I'm speechless. I lost my dad a couple of years back, and this one is definitely for him and for my family around me. I'm so grateful to have the people that I have around me, my staff, my friends so this one is for them and for myself. I give all of them credit but also myself. I now have Stage 2 of Q-School and hopefully, I will be able to repeat the same thing there but we will see how it goes. Now I will enjoy it and take a few days off."

Ireland's 
Ronan Mullarney
 wins the 
2023 Alps Tour Order of Merit
 rank and earns one of the coveted 
2024 Challenge Tour
cards that was up for grabs. Throughout the season, he won two events, one in Austria and one in France. After 
Mullarney 
secured his Order of Merit title he commented: 
"Absolutely this was one of my goals from the beginning of the year. As much as it is great being on the Alps Tour, tons of nice people, I'm glad to be off the Alps Tour and move on to the next step. I was happy with my golf this year, I feel ready to compete there. I was able to play a few Challenge Tour events before and I was able to step up my game so now I'm ready." 
When asked about his experience playing on the Alps Tour he added: 
"The standard of the Alps Tour is extremely high. The courses are great, and it's a good test of your game." 
Tournament Promoter
The 
2023 Alps Tour Grand Final Presented by AURALIS Limitless
Lighting
 is promoted directly by the 
Alps Tour
.
For this event, we are grateful to have AURALIS Limitless Lighting as the tournament presenting sponsor. Auralis is the first integrated industrial hub in the lighting field. A unique, vertical and comprehensive group of excellence that defines a new era in the lighting sector through a strong drive for technological innovation, the pursuit for beauty, and a clear mission aimed at promoting the culture of light as a tool to improve the quality of people's lives.
The tournament also has numerous sponsors and partners such as: Ricoh, GAS Milano 1984, Battistella Golf, Extreme Factory, Imball Veneta, Golf 2.0 Megastore, Twïntee, Federazione Italiana Golf, Fédération Française de Golf, Real Federación Española de Golf and Österreichischer Golf-Verband.
Follow the livescoring starting tomorrow morning on www.alpstourgolf.com or the official "Alps Tour Golf" app.
#risinggolfstars
#raisinggolfstars
Latest Alps Tour Golf News