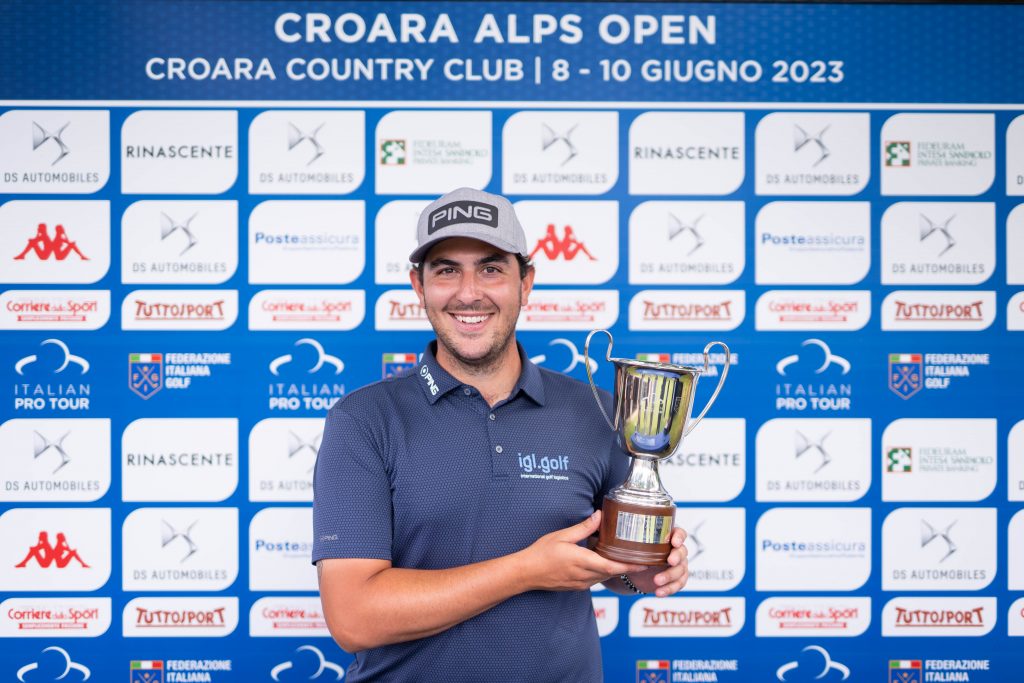 10th June 2023 | Alps Tour Golf
Luca Cianchetti wins the 2023 Croara Alps Open! 
Final Round Review
Croara Country Club
Gazzola, Piacenza, Italy
8
th
-10
th
 June 2023
Alps Tour Media Contact:
[email protected]
Leaderboard
| | | |
| --- | --- | --- |
|    Pos. |                 Name |      Score |
|       1 | Luca Cianchetti (ITA) | -17 (196) |
|       2 | Andrea Romano (ITA) | -12 (201) |
| | Ludovico Addabbo (ITA) | -12 (201) |
|       4 | Jose Manuel Pardo Benitez (ESP) | -11 (202) |
| | and 2 other players tied at | -11 (202) |
Quick Links
---
Luca Cianchetti wins the 2023 Croara Alps Open! 
Gazzola, June 10th 2023- Italy's Luca Cianchetti wins the inaugural 2023 Croara Alps Open with a total score of 17 under-par. Tied for 2nd place with a three-day score of 12 under-par an Italian-duo: Andrea Romano and Ludovico Addabbo. In a three-way tie for 4th place just one stroke back at 11 under-par: Spain's Jose Manuel Pardo Benitez, Italy's Cristiano Terragni and Swiss Luca Galliano.
There was a change in weather conditions for today's final round at the beautiful Croara Country Club. The day began under overcast conditions and then turned into some rain for a couple hours. Nonetheless, it remained overcast for the conclusion of the day. Play began at 7:30 am local time from both the 1st and 10th hole. The leaders teed off at 9:10 am from hole 1.
Luca Cianchetti becomes the inaugural winner of this stop as this is the first time that Croara Country Club hosted an Alps Tour event.
Final Round Player Quotes 
Luca Cianchetti
 from Italy captures another 
Alps Tour
 trophy at the 
2023 Croara Alps Open
 with a three-day score of 17 under-par. He shot 6 birdies and 1 bogey during today's final round for a 5 under-par, 66. He is 27 years old and represents 
Modena Golf & Country Club
. Before today's win, his most recent triumph occurred at the 
2021 Red Sea Little Venice Open
. After his win, he was ecstatic, 
"I'm very happy to have won here in Croara, I won a pro-am here a few years ago and played numerous junior events and I feel very comfortable on the course. More importantly, being from Modena which is in the same Region as Croara Country Club, I'm very satisfied to have won at home." 
He went on to add that, 
"I'm very pleased that the old Luca is starting to come back, but I'm more focused on working on finding the calmness I used to have while on the golf course instead of only focusing on my technique." 
Cianchetti
 plans on 
"playing all of the Alps Tour event as obviously my ultimate goal is to qualifying for the Challenge Tour by earning one of the five coveted cards. I would also like to congratulate my fellow Italian Andrea Romano on an amazing final round and my pairing as it was a great battle."
Italy's Andrea Romano, just 22 years old shot an incredible bogey-free 8 under-par final round to conclude the tournament tied for 2nd place with a three-day score of 12 under-par. He made 4 birdies on the front nine and 4 birdies on the back nine today. After his round, Romano was very pleased to conclude the event with a bogey-free final round aiding him in making a major move on the leaderboard. He commented that, "the only bogey chance I had today was on the 11th hole but I made a clutch par putt from 2 meters to avoid it." He went on to add that, "it's been a tough 3 weeks for me not making last three cuts by a lot. After the first round of this event I was thinking about taking a two-week break but it was weird. I knew I was swinging well and when I began my 2nd round I walked to the tee telling myself I have all the chances to get a good round together and I had to believe in myself. I was able to put a 7 under-par round together and today an 8 under-par leaving some shots behind."  Romano added that he feels like he "needs to have a bit more self-confidence and consistency in his game to hopefully capture a win soon."
Round 1 Leader, Italy's Ludovico Addabbo found himself tied for 2nd place after round 2, concluding the tournament tied for 2nd place alongside his countryman Andrea Romano 5 strokes from the win. He is 24 years old and turned professional just before the Covid-19 pandemic began in 2020. During today's final round, Addabbo made 3 birdies on his front nine and 2 bogeys on the back for a 1 under-par, 70.
The tournament ends with a three-way tie for 4th place at 11 under-par with Spain's Jose Manuel Pardo Benitez, Italy's Cristiano Terragni and Swiss Luca Galliano. Just 1 stroke back tied for 7th place Italian amateur Alessandro Radig, France's Antoine Santarelli and Mathieu Prost and Netherland's Lars Keunen.
After 7 events, Netherland's Kiet Van der Weele keeps the Alps Tour Order of Merit lead with Ireland's Ronan Mullarney in 2nd place and England's Jack Floydd closes out the top three spots. This week's winner, Italy's Luca Cianchetti jumped 23 spots and has moved into 4th place.Final Round
Luca Cianchetti winner of the 2023 Croara Alps Open, earns 6,525 Order of Merit points and the winning check of €5,800.
The next scheduled event is set for June 15th-17th at Isla Canela Golf Links specifically on the Valle Guadiana Links course in Ayamonte, Spain for the 2023 Alps de Andalucía. 
Tournament Promoter
Like the majority of the Alps Tour events that are played in Italy, the 2023 Croara Alps Open is organized by the Italian Pro Tour, which is a branch of the Italian Golf Federation. They are responsible for promoting the majority of the professional golf events that occur in Italy.
The main sponsors that support the Italian Pro Tour include DS Automobiles, Fideuram Intesa SanPaolo Private Banking, Kappa, Rinascente and Poste Assicura. In addition, their media partners are the following two Italian newspapers: Corriere dello Sport and Tuttosport. The Italian Pro Tour featured social partner is Sport Senza Frontiere Onlus and with an official advisor, Infront Italy.
Follow along on 
www.alpstourgolf.com
 or the official "Alps Tour Golf" app to keep up on all the latest news (available on App Store for iOS devices and Play Store for Android).#risinggolfstars
#raisinggolfstars
Latest Alps Tour Golf News