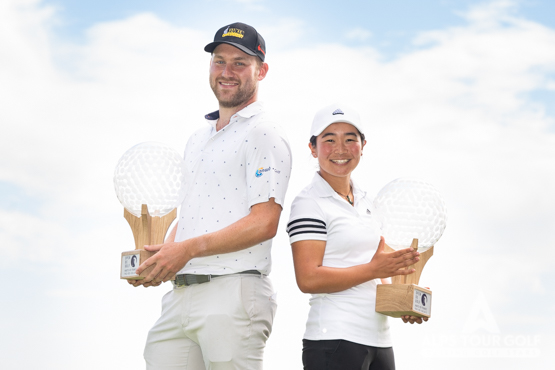 2nd July 2022 | Alps Tour Golf
Davey Porsius wins his 1st Alps Tour event!
St.Omer, July 2nd 2022– Davey Porsius wins the 2022 Hauts de France- Pas de Calais Golf Open co-sanctioned event with a three-day score of 4 under-par . In 2nd place just one stroke back: Italy's Gregorio De Leo. There was a three-way tie for 3rd place at 2 under-par which included: Manfredi Manica, Julien Sale (am) and Andrea Saracino. In 6th place with a score of 1 under-par, Franck Daux. Tom Vaillant, remains the current Alps Tour Order of Merit leader.
The final round of the 2022 Hauts de France- Pas de Calais Golf Open co-sanctioned event began at 6:30 am from the 1st hole with alternating tee times between the LETAS and Alps Tour players. When the first groups teed off, it was a warmer morning compared to the last 2 days with an overcast sky and a light breeze, nevertheless soon after the sun peaked through which led to a beautiful but again windy day for the final round.
The 2022 Hauts de France – Pas de Calais Golf Open was a great success and the tournament promoter has agreed to renew the tournament with the same format for the 2023 season. The format for the 2023 season will once more include players from the Alps Tour and LET Access Series competing together yet for two separate prize funds and trophies.
Final Round Players Quotes-
Netherland's Davey Porsius wins the 2022 Hauts de France- Pas de Calais Golf Open by 1 shot. He shot a final round of 1 under-par that included 4 birdies, 1 bogey and a double bogey. He has been close to capture his first win numerous times this season but was never able to close out. His golf game proved to be in great shape and his mindset helped him capture the win. After his round, Davey was satisfied to comment: "It means a lot, last week I had a 4 strokes lead into the final round and completely blew it. So, I talked to my coach to figure out what happened and how to improve going forward. I talked to him yesterday and I told him I'm not going to try and win but just wanted to put together a good round and see what that brings. Therefor not trying to win actually helped me win." This week has most likely been one of the hardest weeks on tour this season due to the difficult scoring conditions and tough course layout. Davey continued to explain: "I always like playing the more difficult courses, the birdies on this golf course aren't easy so I'm happy to have been able to win here my first event on a tough course. That makes me think and shows me I'm hitting the ball well and putting well also." When asked about his schedule for the upcoming events, he said: "I'm going to stick to my plan, take a week off next week, see my coach and then get back to playing all of the events with hopefully more wins."
One of this seasons past winners, Italy's Gregorio De Leo who won the 2022 Memorial Giorgio Bordoni was tied for 2nd at the end of round 2, and shot a final round of 1 under-par to conclude the tournament in 2nd place. With a three-day score of 3 under-par, he commented: "Today was a tough round, the wind was strong again and the pins were tough. This has been one of the hardest courses so far this season and I was able to only make one bogey today and I'm happy. The scores this week showed how tough the course was. I'm happy overall. Finishing 2nd even if it was by 1 shot it is always a good result going forward."
In a 3-way tie for 3rd place at 2 under-par: Italy's Manfredi Manica, French amateur Julien Sale and Italy's Andrea Saracino. In 6th place at 1 under-par France's Franck Daux.
Only 5 players were able to shot an under par final round, resulting in 6 players concluding the tournament with an under-par score.
LETAS-
On the women's side of the tournament, New Zealand's Momoka Kobori kept her lead throughout the final round to clinch her second win on the LET Access Series. She carded three-under 70 shots today to win by four strokes. Dutch Amateur Lauren Holmey finished tied for second at -4 with Spain's Noemi Jimenez Martin. Noemi Jimenez Martinshot an incredible 7 under-par in her final round today to have the course record but unfortunately it was an unofficial course record due to the preferred lies conditions the players had this week.
Final Round-
Davey Porsius winner of the 2022 Hauts de France- Pas de Calais Golf Open co-sanctioned event, earned 6,525 Order of Merit points and the winning check of €6,400.
For the Final Round leaderboard click here or on the official Alps Tour Golf app.
The players head back to Spain next week for the 14th event of the season, the 2022 Alps de Las Castillas. The event is scheduled from July 7th – 9th at Club de Golf Soria in Soria, Spain. A full field of players is expected to be competing for the title. The tournament defending champion is Ryan Lumsden.
Tournament Promoter-
The tournament this week is promoted and organized directly by the host club, Aa Saint-Omer Golf Club.
The tournament presenting sponsors are Région Hauts-de-France and Pas-de-Calais Mon Département. The sponsors and partners that support the 2022 Hauts de France- Pas de Calais Golf Open are CAPSO Communauté D'Agglomération du Pays de Saint-Omer, Najeti Hôtels & Golfs Collection, Autosphere, Renault Saint-Omer, Vittel, Sdez, Sysdeco, France Boissons, Golf + and BFM Grand Littoral.
Follow along the Alps Tour action on www.alpstourgolf.com or the official "Alps Tour Golf" . (available on App Store for iOS devices and Play Store for Android)
#risinggolfstars
#raisinggolfstars
Instagram- @alpstourgolf
Facebook- Alpstourgolf
Twitter- @alpstourgolf
Latest Alps Tour Golf News