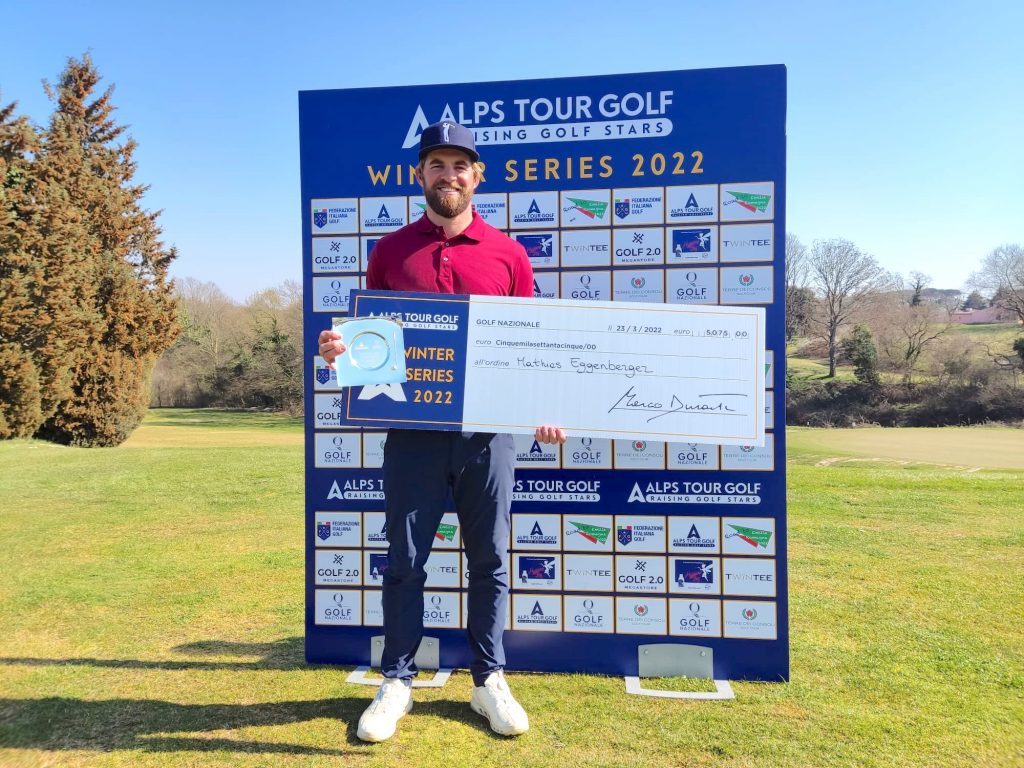 Mathias Eggenberger ended the week with 3 rounds under par (67-71-68).
23rd March 2022 | Alps Tour Golf
Mathias Eggenberger wins the Winter Series Golf Nazionale with a 5 strokes margin
Italy, March 23, 2022 – Swissman Mathias Eggenberger wins the second leg of our Italian Winter Series at Golf Nazionale with a 5 strokes margin and a total score of 206 strokes, -10 (67-71-68).
Eggenberger, 30, who earned his card for the Alps Tour in 2018 and had his previously ever-best score right here on this very course last October where he finished 2nd at the Golf Nazionale Alps Open, maintained the lead since R1 thanks to a solid game in one of the hardest courses on the entire Tour.
He dropped only 5 strokes during the week (3 today) and managed to hole a great number of birdies (14).
Eggenberger had a tough start due to 2 bogeys on 3rd and on 4th which complicated his round but his short game was by his side. In fact, he managed to hole 7 birdies to card a daily -4, the second best score today after Tomas Bessa Guimaraes who nailed an impressive -6.
"I'm really happy. It took me a long time but it finally came. I got very close last year but now I'm simply glad I won. My next tournament will be in Pescara and hopefully I will play as good as I have been playing here. I had a really solid game along the 3 days and I managed to hole some important putts at the end which is great. I didn't know I was leading the tournament until the 18th when I looked at the leaderboard and turned out I had a 4 shots margin on the 2nd place. That made the last putt easier". 
Two golfers finished tied at the second place on -5: Dutchman Davey Porsius, 26, representing Goyer, who has been playing nicely since the start of the season, and French amateur Tom Vaillant, just 20 years old from Cannes-Mougins, who has been among the top players this year since the first tournament on the Alps.
"I'm very happy – said Vaillant. To end a tough week with 3 rounds under par is always good. This is my best result on the Alps Tour so I'm proud of it and now I'm looking forward to battle again for the win". His game has been pretty solid throughout the whole week (70-70-71) and now he is on the launch pad for the next stop at the Abruzzo Alps Open 2022.
"I had a really great start – said Porsius – and thanks to a good tee shot on 5th , where I holed a 5 meter putt, and a great up & down on 7th, I managed to close the front nine 3 under par. My putts didn't fall on the back nines but it is really good to finish on T2. I've hit really a lot of good shots and this is very important. We'll see what will happen in Abruzzo".
It is a 3 way-tie for the 4th place: Portuguese Tomas Bessa Guimaraes, 25, winner of the 2022 New Giza Open, Dutchman Koen Kouwenaar, 24, and French amateur Julien Sale, 24,  3rd in the Order of Merit, finished with a total score of 212 strokes (-4). Bessa Guimaraes carded the lowest score of the tournament during the final round thanks to a brilliant series of birdies (6), 1 eagle on 5th and just 2 bogeys on 12th and 17th.
Italian Stefano Mazzoli, who finished on 8th place on -2 due to a daily round in 74 strokes, keeps the lead of the Order of Merit after the 5th tournament of the season with 12,076.50 points. Chasing the first place there are on 2nd and on 3rd position respectively Bessa Guimaraes with 10,984.50 points and  Julien Sale with 10,768.50 pts.
Golf Nazionale confirmed once again to be one of the hardest courses of the season. Only 15 golfers ended their tournament under par with the front nine holes playing an average of 37.28 strokes and the back nines with a 37.71 strokes average.
The Alps Tour Season will move to Miglianico Golf & Country Club which will host the Abruzzo Alps Open 2022 from April 13th to 15th. All the previous winner will be attending the tournament won last year by Italian Jacopo Vecchi Fossa with a total score of 198 strokes.
Final Result: click here or check on the Alps Tour Golf app.
Stay tuned! www.alpstourgolf.com and the app « Alps Tour Golf » (on App Store for iOS devices and Play Store for Android) will keep you updated on every news about Alps Tour.
#risinggolfstars
#raisinggolfstars
Latest Alps Tour Golf News