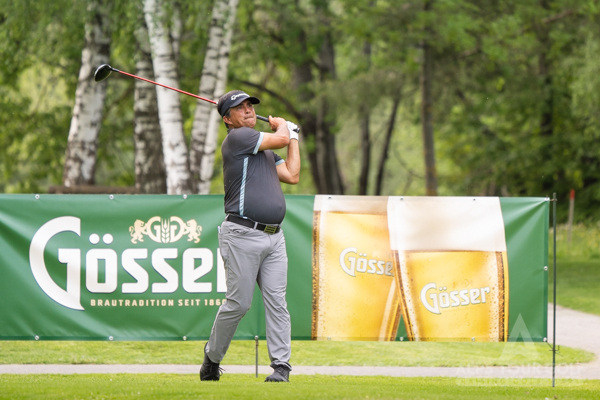 12th May 2022 | Alps Tour Golf
David Morland IV leads after Round 1 with an 8 under-par 64 round.
Graz, May 12th 2022- A beautiful spring day with perfect scoring conditions in the Western state of Styria welcomed the players for the 1st round of the 30th Gösser Open. Play began at 7:20 this morning from the 1st and 10th hole. The tournament is being played at GC Erzherzog Johann in Maria Lankowitz, its host since 2000.
At the completion of the first round with good scoring conditions, we have a packed leaderboard with Legends Tour player David Morland IV leading the field with a brilliant 8 under-par round 64.
Round 1 Leader Quotes-
David Morland IV from Canada, one of the five Legends Tour players that was invited to take part in the 30thanniversary of the Gösser Open, is leading after the 1st round. Morland IV, turned professional in 1991 and has played on various tours, including the PGA Tour. He earned his Legends Tour card in 2020 after attending qualifying school. He shot an 8 under-par round 64 today with 6 birdies on the front nine holes and 2 on the back nine. "When I got to the golf course this morning and saw my friend and fellow Legends Tour player, Clark Dennis at the top of the leaderboard, that was my motivation to get me going and play well.  I had a lot of opportunities on the back which just stayed on the edge but I'm happy with my par save on the 18th hole." Morland IV is very happy to be playing this week against a younger field, "It's great for the game of golf, if we can pass anything to them and they can learn anything us from its great."
Italy's Luca Cianchetti, a multiple winner of the Alps Tour is two shots of the lead with a round of 6 under-par 66. He was very consistent throughout his round with 3 birdies on the front 9 holes and 3 birdies on the back 9 holes. Cianchetti's last win was at the 2021 Red Sea Little Venice Open.  After his round, he said: "I am very happy with the way I played and the direction my game is going in. I think the course is in great conditions and greens are really good and fast."
Another player who is just two shots of the lead is, Italy's Edoardo R Lipparelli representing Circolo Golf Adriatico. Lipparelli is a past winner on the Alps Tour, won the 2018 Alps Tour Order of Merit and has collected a number of top 3 finishes. His round included, 1 eagle, 6 birdies and 2 bogeys for a 6 under-par 66. He was pleased with the way his round went today, "I made a couple mistakes that cost me, but I was able to recover making a lot of birdies. The course is in great conditions and the greens aren't very easy to read."
Davey Porsius from Netherland's has had a couple of setbacks in his amateur career but has been playing consistently since the start of this season and is also at 6 under-par after the 1st round. In 2018, Porsius played in the KLM Open and then qualified for the Alps Tour. After his round today, Porsius was pleased with his start and hopes to continue this way the rest of the tournament "I started off quite well, being 6 under through 10 but left some shots out there on the last 8 holes." He also stated how he is comfortable with this golf course, "I love this course, the views, I always enjoyed coming here. It is a very enjoyable course to play, not the hardest but not the easiest either. This year we have slightly different conditions than we are used to but I think they are at an advantage for us longer hitters." Porsius has kept his expectations low after missing a couple of cuts but is now playing well and hopes to capture a win as quickly as possible.
Spain's Alvaro Hernandez Cabezuela who is playing in his 1st season as a professional player but his second on the Alps Tour, shot a 6 under-par 66 and also just two shots back in a tied for second place. After his round, Alvaro was very pleased, "I played great today. I had a lot of good birdie chances and was able to recover when I missed the green. The greens are rolling well. I'm happy to be back on track after a few difficult events and looking forward to enjoying two more rounds here."
Felix Schulz from Austria shot a consistent 1st round at the 30th Gösser Open with a front nine score of 33 and a back nine score of 33 which included 7 birdies and just 1 bogey for a total of 6 under-par 66.
Among the 150 players competing this week you can find 118 professionals and 32 amateurs. The tournament winner will earn 6,525 Order of Merit points.
Tournament Promoter-
This week's event is promoted by the Murhof Gruppe. They own various golf courses throughout Austria including this week's venue. The sponsors and partners of Murhof Gruppe are Gösser Beer, Region Graz, Lipizzaner Heimat- Steiermark, Austrian Golf Federation, the city of Maria Lankowitz Wallfahrtsort Freizeitparadies and Steiermärkische Sparkasse. Their media partners are: Gepa Pictures, Antenne Steiermark, Kleine Zeitung.
Round 2-
The second round of the 30th Gösser Open, will begin again at 7:20 am from hole 1 and 10. It will be an intriguing second round to follow due to the possible incoming severe weather which is forecasted.
For the complete Round 1 leaderboard click here or go on the official Alps Tour Golf app.
Follow along on www.alpstourgolf.com or the official "Alps Tour Golf" app to keep up on all the latest news (available on App Store for iOS devices and Play Store for Android).
#risinggolfstars
#raisinggolfstars
Instagram- @alpstourgolf
Facebook- Alpstourgolf
Twitter- @alpstourgolf
Latest Alps Tour Golf News