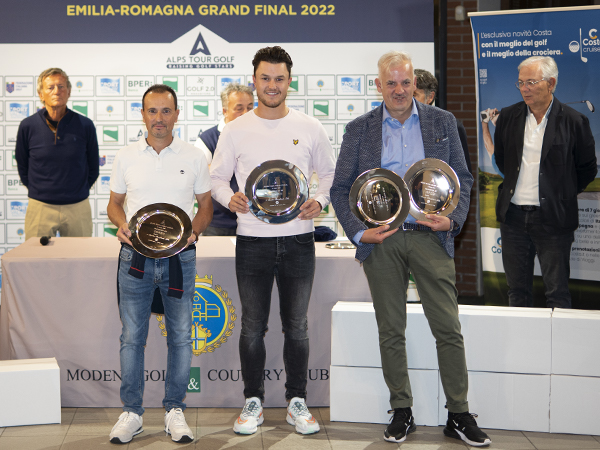 5th October 2022 | Alps Tour Golf
Vince Van Veen and his team win the 2022 Emilia Romagna Alps Tour Grand Final Pro-Am presented by BPER Banca
Modena, October 5th 2022- It was a beautiful start to the week here at the 2022 Emilia Romagna Alps Tour Grand Final with today's 2022 Emilia Romagna Alps Tour Grand Final Pro-Am presented by BPER Banca. There were 29 teams competing on the Bernhard Langer designed Modena Golf & Country Club, host of this week's event.
Vince Van Veen won today's pro-am alongside amateurs Adriano Belluti, Andrea Gatti and Rocco Larocca with an amazing total score of 47 under-par. In 2nd place Stefano Mazzoli's team a total score of 43 under-par and in 3rd place Tomas Guimaraes Bessa with a total score 41 under-par.
The Alps Tour would like to thank Modena Golf & Country Club, its President Alberto Caselli, all of the staff and all of their members for the warm welcome received as well as to all of the sponsors who made today possible.
Today's pro-am also had the support of numerous sponsor suppliers such as: Costa Crociere, Jaguar Land Rover, Sky Sport, Golf 2.0, Hygien Fee and Tweentee. As well as numerous partners like: Geo Group, Farmacia Costa, Consultants, Nanoprom, Costruzioni Generali due, Spin Automazioni, Golf'us, Ecoricerche, Gruppo Fiori, GSM, Slurp, Blondi Gioielli, Termoidraulica Venturelli/Ferretti Costruzioni, ITAS Assicurazione Agenzia Bevilacqua, Marano Lamiere, Poligolf Modena, Modula, Voiello and Parmigiano Reggiano.
The first round of the 2022 Emilia Romagna Alps Tour Grand Final begins tomorrow morning at 8:30 am. There will be 45 players competing for one of the five coveted 2023 Challenge Tour, that will be assigned to the top 5 ranked players in the Order of Merit at the end of this week's event as well as the 2022 Emilia Romagna Alps Tour Grand Final trophy and their 2023 Alps Tour Categories.
Follow along on www.alpstourgolf.com or the official "Alps Tour Golf" app to keep up on all the latest news and livescoring.
#risinggolfstars
#raisinggolfstars
#2022EmiliaRomagnaAlpsTourGrandFinal
#emiliaromagna
#BPERProAm
Latest Alps Tour Golf News